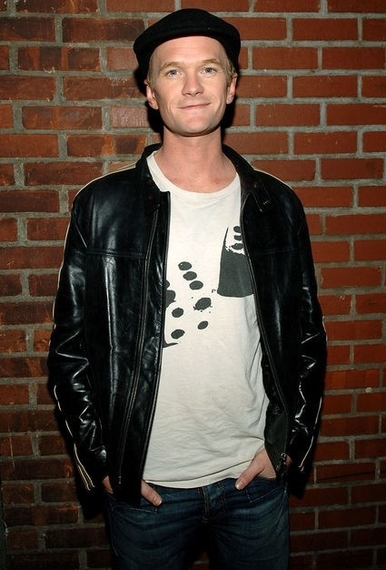 I'll never forget the night I saw Neil Patrick Harris blush. It was 2000, and I was an editor at Teen People magazine. Sebastian Bach's publicist had invited a couple of my colleagues and me to see the Skid Row frontman in the Broadway musical Jekyll and Hyde, and we'd jumped at the offer. Who knew we'd get two retro-celeb sightings in one night?!
After the show, we were hanging out backstage in Bach's dressing room. I was wondering whether I should remind him of the time I interviewed him several years earlier and he referred to his wife as "my chick," and whether he still thought "AIDS kills fags dead" (to quote the t-shirt he caught tons of flak for wearing in 1989), when, suddenly, he lost it. Another visitor had entered his lair, one who was completely unexpected. "Oh my God! It's fucking Doogie Howser!" Bach shouted, leaping from his chair and excitedly shaking the hand of Neil Patrick Harris.
I felt a little bit sorry for NPH and jealous of him at the same time. Sebastian Bach knew who he was! What a lucky guy! I was just some anonymous journalist that Bach's publicist was forcing him to entertain.
On the other hand, Doogie Howser, M.D. had been off the air for nearly a decade at the time. Who'd want to be well into his 20s and still be best known for something he did as a teenager? At least my peak career years were (hopefully) ahead of me. The way Bach identified NPH could have been construed as a wink-wink slam, or as a term of endearment/commiseration, from one supposed has-been to another.
What did I know at the time? I never thought that nearly a decade and a half later NPH would be more famous than ever -- and not just as a character he used to play. I wonder how Sebastian Bach would respond to him now.
NPH's comeback is one that you probably didn't see coming because it wasn't really a comeback at all but rather a slow and steady rebuilding. There wasn't any huge "He's back!" hype, no one big part that was supposed to catapult him back into the spotlight (see the buzz currently surrounding Michael Keaton and his almost-certain-to-be-Oscar-nominated role in the upcoming Birdman). NPH remained regularly employed in the years after Doogie ended in 1993 -- a part opposite Madonna and Rupert Everett in 2000's The Next Best Thing here, an appearance as himself in 2004's Harold & Kumar Go to White Castle there -- though with a paucity of fanfare, more as a "working actor" than as a star.
When he returned to full-time series TV in 2005, it wasn't in his own vehicle. Barney Stinson was a supporting character in How I Met Your Mother's Friends-style ensemble, not even significant enough in the estimation of main character Ted Mosby to be deemed his "best friend." But NPH kept taking off with the show (it was an arrogant character played self-deprecatingly, which is a tough balancing act), and his career gained momentum, though without the added pressure or expectations of his ever becoming the Jennifer Aniston of the group.
A host of accolades and job opportunities followed, including repeat Emmy and Golden Globe nominations (for HIMYM), a recurring gig hosting and producing the Tony Awards (for which he won several Emmys), a 2010 Emmy for guest starring on Glee, hosting and producing gigs at the 2009 and 2013 Emmys, a 2014 Best Actor in a Musical Tony for Hedwig and the Angry Inch, a supporting role in the current Oscar hopeful Gone Girl, and finally (for now), the biggest hosting gig of all, at the 2015 Academy Awards. It's the ultimate Hollywood anointment after actually winning one.
How did he do it? How did NPH manage to sidestep not one but two potential career landmines: entering adulthood on camera and coming out on camera? I'd say timing was key to his not being blown away by the first one. Slow and steady won his race, and NPH never made it feel like a race. His re-ascent was so gradual, so underexposed, that it was easy not to notice it happening until it had.
Somewhere down his road, NPH quietly evolved into sort of the male version of America's sweetheart, although unlike the ones who are thrust into public consciousness fully grown, America had watched him grow up into a young man. He had skipped the rebellious phase that has ruined both the careers and the lives of so many former child stars. He was attractive, which always helps, but not in an unapproachable or unattainable way (although he has been taken for a decade, by husband David Burtka, with whom he has two children).
Yes, he's can be as nasty as the rest of us (He once called The Young and the Restless star Eric Braeden, aka "Victor Newman," a "D-Bag" on Twitter when Braeden dropped out of reprising his HIMYM role as Robin Scherbatsky's dad), but he's remained likable because he's so relatable. He reminds you of some great guy you grew up with, even if you never saw Doogie Howser, M.D.
Unless, of course, you're Eric Braeden, who had a very Victor Newman-like reaction to NPH's slam in 2010.
"I have been in this business for 50 years, have seen so many actors come and go -- most of them never to be seen or heard from again. I suggest whoever this young fellow is that he enjoy his success and count his blessings and save his money."
While Braeden's ire was understandable and his comments certainly could have applied to a number of young TV stars, they seem almost absurd now in response to NPH. This supposed flash in the pan, who had already spent more than two decades in the business at the time, has done what he struggled to do after Doogie Howser ended: He's become a grown-up star.
As for being gay in Hollywood, NPH is the perfect example of how to do it without being typecast, or worse, unemployed. He came out nearly a decade ago when there was considerably more stigma attached to it and nearly every gay performer was still in. Now he gracefully alternates between playing LGBTQ and straight characters the way some actors go back and forth between TV and movies, a different type of round trip, one for which NPH has now collected an abundance of frequent flier miles.
When he was cast on HIMYM, he was not yet publicly out, and had he been in 2005 when gay marriage still seemed like an impossible dream, perhaps he wouldn't have won the role. Barney Stinson was the kind of character that most casting agents probably wouldn't have wanted to entrust to an openly gay actor. It's OK for openly straight actors to play gay, but the general consensus in Hollywood seems to be that if you want a heterosexual lothario to be accurately portrayed, you probably shouldn't go with a gay actor. By the time NPH publicly came out in late 2006, it was hard to imagine anyone else as Barney.
What I loved about NPH on How I Met Your Mother is that he made Barney such a convincing ladies' man without playing him "straight." It was a seemingly effortless characterization that was specific to character without being specific to sexual orientation. If the writers had written Barney as going after men instead of women, NPH could have played him the same way. In his hands, Barney was completely free of stereotypes and clichés, which is so much more than I can say for most gay TV characters played by straight actors.
Through Barney, through the extra-curricular work he did while playing him for nine seasons, and through the work he's done since, NPH has made a name for himself that many formerly typecast TV stars would envy: his own. I know exactly what Sebastian Bach would say if he saw him now: "Oh my God. It's fucking Neil Patrick Harris!"
Calling all HuffPost superfans!
Sign up for membership to become a founding member and help shape HuffPost's next chapter