Joe Engel was involved with professional baseball from age 19 through his mid-60s. He spent most of his career associated with Clark Griffith, owner of the Washington Senators. Engel pitched for the Senators from 1912-1915 as well as his final year in the Majors, 1920. He then went to work as a minor league scout for Griffith throughout the 1920s. In late 1928/early 1929, Griffith purchased a baseball team in Chattanooga, Tennessee called the Chattanooga Lookouts to be a minor league affiliate for the Senators. Griffith put Engel in charge of the franchise, and Engel embarked on a three decade-long stint as the head of the Lookouts. In those three decades, Engel worked on dozens of publicity stunts designed to raise attendance. While the intent of these stunts were nothing more noble than to get people into the seats, one of those stunts managed to result in a remarkable and little-known piece of feminist history. Read on to learn about the teenage girl who struck out Babe Ruth and Lou Gehrig back-to-back!
Engel first seemed ready to purchase the Atlanta Crackers minor league team (who played in the Southern Association) on behalf of Griffith, but out of seemingly nowhere he changed his plans and instead purchased the Chattanooga Lookouts (also of the Southern Association). Part of the deal to purchase the Lookouts came with a promise from Griffith that he would build a new stadium there. The stadium was quickly built to be available in time for the 1930 season, and Griffith and Engel spared no expense in creating one of the greatest minor league stadiums of the era (it cost over $150,000!). Engel, always humble, named the stadium after himself. Engel Stadium was completed in October 1929. As you might recall, something else took place in October 1929, the great stock market collapse that led to the Great Depression. So right from the get-go, Engel had to fight an uphill battle to get people to come to see the Lookouts.
Opening day in 1930 saw over 15,000 people in attendance. 1931s Opening Day did even better, with over 17,000 customers. But the rest of the decade saw much harder times, leading to Engel coming up with crazier and crazier stunts. Perhaps his most famous was the 1936 event where the Lookouts gave out an actual house to a winning ticket holder. Over 24,000 people (an attendance record at the time) attended the game (amusingly enough, the winning ticket holder was not actually at the game). In 1938, Engel started an "Elephant hunt," where paper mache elephants would be hunted by "savages" in loin clothes. The elephant hunt became so popular that Engel took the event on the road to other minor league stadiums. He did other strange stunts like a joke "call to Hitler." Attendance fell over the years to the point where Engel was pushed out as head of the team in the late 1950s.
But the story at issue today occurred in the earlier, headier days of the team in Chattanooga, when Joe Engel signed a 17-year old pitcher named Virne Beatrice "Jackie" Mitchell, one of the very first female pitchers in professional baseball history!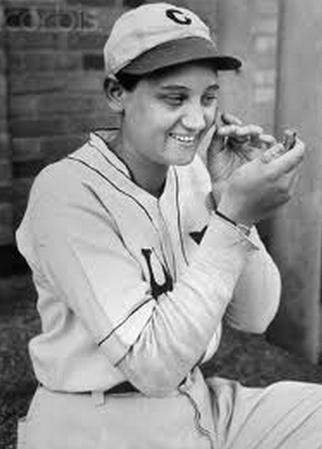 When Mitchell was a young girl, she was taught how to pitch by her next door neighbor. Her neighbor's name was Charles Vance. Vance was seemingly a career minor leaguer at the time (after having had a short stint in the majors in the mid-1910s). Soon after, though, at the age of 31, he had a resurgence during the 1920s with the Brooklyn Dodgers. Better know as "Dazzy" Vance, he is a member of the Baseball Hall of Fame (I featured Vance's remarkable career path to stardom seemingly out of nowhere during his 30s in a piece here). The pitch Vance taught her was a unique breaking pitch she called a "drop ball." In 1930, when she was 16 years old, Mitchell played on an all-girls team in Chattanooga. It was while on that team (named, of course, the Engelettes), that she came to Joe Engel's attention. She began training with other future major players and playing in tournaments across the South. On March 25, 1931 (while she was in Texas playing in a tournament), Joe Engel announced that he had signed Mitchell to a contract to pitch for the Lookouts.
Mitchell's signing itself got the Lookouts a goodly amount of publicity, but even more was due to come. You see, back in the 1920s and 1930s, Major League Baseball clubs would do exhibition tours playing against their minor league affiliates during spring training (this would be the only way some small town residents could see Major League stars in person - it also kept the ballplayers in shape). After spring training in 1931, the Yankees scheduled an exhibition game against the Chattanooga Lookouts on the way back up North. The game was scheduled for April 1, 1931.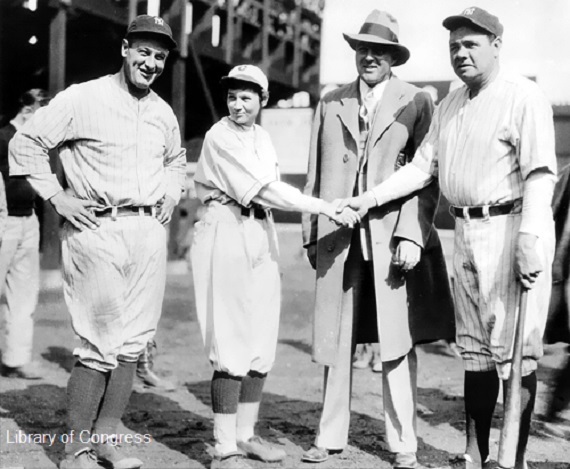 The New York Daily News covered the upcoming game thusly:
The Yankees will meet a club here that has a girl pitcher named Jackie Mitchell, who has a swell change of pace and swings a mean lipstick. I suppose that in the next town the Yankees enter they will find a squad that has a female impersonator in left field, a sword swallower at short, and a trained seal behind the plate. Times in the South are not only tough but silly.
The Lookouts started the game with pitcher Clyde Barfoot. He promptly gave up a double and a single, bringing up the tremendous back-to-back duo of Babe Ruth and Lou Gehrig, two of the greatest hitters in baseball history. Lookouts manager Bert Niehoff then called for the 17-year-old Mitchell. The rookie lefthander (wearing a custom-made uniform) threw ball one to Ruth, but the Bambino swung and missed at the next two pitches (all breaking balls - that's all that Mitchell threw). The next pitch caught the corner for a called strike three! Ruth threw his bat on the ground in "anger" (I have no idea if he was actually angry or not).
Gehrig came up and promptly struck out swinging on three pitches!
Mitchell then walked the next batter, Tony Lazzeri, and was pulled from the game. She received a standing ovation. Barfoot returned to the mound and proceeded to see the Yankees win the game 14-4.
Babe Ruth was quoted after the game as stating "I don't know what's going to happen if they begin to let women in baseball. Of course, they will never make good. Why? Because they are too delicate. It would kill them to play ball every day."
The New York Times noted, though:
Cynics may contend that on the diamond as elsewhere it is place aux dames. Perhaps Miss Jackie hasn't quite enough on the ball yet to bewilder Ruth and Gehrig in a serious game. But there are no such sluggers in the Southern Association, and she may win laurels this season which cannot be ascribed to mere gallantry. The prospect grows gloomier for misogynists.
However, misogyny won out in the end. A few days later, Mitchell was cut from the team (it is unclear why exactly - some say baseball's commissioner put pressure on Engel, some say Engel just got his publicity and wanted to move on). Either way, it was a big blow to women trying to break into men's professional baseball. Two decades later another minor league team tried, and this time, it actually led to women being outright banned from baseball period (I covered that sad story in a previous column here).
Mitchell continued to play baseball as a barnstormer, but eventually grew sick out of the circus-like atmosphere of the games (like having to play an inning while riding a donkey) and retired at the ancient age of 23 in 1937 and took an office job working for her father's company. She refused to un-retire when the All-American Girls Professional Baseball League was formed in 1943.
She threw out the first pitch at a Chattanooga Lookouts game in 1982. She passed away in 1987.
Thanks to Jean L. S. Patrick's The Girl Who Struck Out Babe Ruth, David Jenkins's Baseball in Chattanooga and Michael Aubrecht's great feature on Mitchell for the Baseball Almanac (where he found the great newspaper quotes featured above).
Be sure to check out more legends about entertainment and sports at my site, Legends Revealed, here. Feel free (heck, I implore you!) to write in with your suggestions for future installments! My e-mail address is bcronin@legendsrevealed.com.
REAL LIFE. REAL NEWS. REAL VOICES.
Help us tell more of the stories that matter from voices that too often remain unheard.