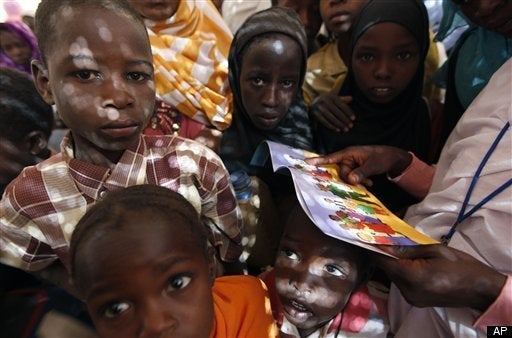 On Friday, I learned that Adam Ismail Bush was assassinated by a Sudanese government hit squad. Adam was a resident and leader at Hamidiya camp for internally displaced persons (IDPs) in Zalingei, Darfur. He was silenced because he spoke up for the rights of the nearly three million displaced Darfuris.
I scarcely knew Adam. We had spoken by phone some months ago. He asked me to convey his thanks to all those in America who are trying to help the IDPs and refugees of Darfur. Then he passed the phone to several other camp leaders who also wanted to express their thanks.
Adam tried to phone me on the day he died. He did not reach me and my return call was not answered. I now understand why. His call had been an attempt to bear witness to the horror of Darfur.
The same week, the residents of Abu Shouk camp also sent out their own plea, via Radio Dabanga, one of the only media outlets regularly reporting on the circumstances inside the camps. The residents noted they will pass this Eid Al Fitr, a holiday marking the end of Ramadan, in displacement for the seventh year in a row. They said that they are homeless and have nothing to protect them from the hot sun and rain. They have been trying to preserve what remains of their modest shelters after rains washed them away.
"Despite its ongoing agony, Darfur is slowly disappearing from international sight," writes Sudan expert, Eric Reeves.
"An absence of data, reports, and news dispatches has created what Human Rights Watch has recently called an "information vacuum," and moral energy and political focus have inevitably begun to dissipate."
According to Mohamed Suleiman, a Darfuri now living in the United States and the President of the San Francisco Bay Area Darfur Coalition, Adam's murder is part of the Sudanese government's ominous "New Strategy" in Darfur that includes silencing the outspoken voices, especially in the camps. Five members of the Camps Council, a body formed by the IDPs to organize themselves, were also murdered alongside Adam. "I was told by a Darfuri in Darfur that the government is creating disturbance incidents and then its squad enters the camps in civilian clothes and murders leaders of the IDPs," said Suleiman. "In the incident of the assassination of Adam Bush and his colleagues, eyewitnesses said that a group of armed men in plain clothes entered the camp and headed straightforward to the leaders, murdered them, and retreated swiftly."
The new strategy largely abandons diplomatic efforts to end conflict in Darfur and shifts the emphasis to "development." This shift is code for sending the nearly three million people who live in camps, under the protection of U.N. forces, back home to their villages, where they are to be "protected" by the very Sudanese forces that have been slaughtering them for the last seven years.
According to Laura Jones, Policy Analyst at Enough Project, the international community, in its desire to focus on the upcoming referendum which will determine whether the country will split in two, is offering its approval for a government strategy that will likely lead to more suffering among the displaced.
"You don't have to look far in the region to realize the government's true intentions include some combination of military action, camp closures, and manipulated returns, despite its use of humanitarian lingo."
Many believe that the Obama administration's conciliatory approach to Sudan under Special Envoy Scott Gration's leadership has emboldened the repressive regime in Khartoum and paved the way for the murders of innocent civilians like Adam. Reeves writes:
"In the year since Gration ...set the course of U.S. policy, the regime has accelerated violence in Darfur, restricted humanitarian access even more severely, blocked reports on humanitarian conditions, and become even more hostile to the UN peacekeeping force (UNAMID)."
On September 8, in a major foreign policy address, Secretary Clinton seemed to support Gration's incentives-based approach toward the regime in Khartoum. "The reality is that this [an 'inevitable' Southern vote for secession] is going to be a very hard decision for the north [the Khartoum regime] to accept, and so we've got to figure out some ways to make it worth their while to peacefully accept an independent South," she said. These words are a far cry from the official U.S. policy Secretary Clinton announced in October 2009 that has not been implemented by the administration. That policy was based on benchmarks and decisive action, including pressures and consequences on those obstructing peace and justice, as the regime in Khartoum clearly has been doing. The official policy also promised a quarterly review process by National Security Council Deputies that has since been abandoned. Perhaps if the United States had followed through on the implementation of its announced policy, Adam Bush would be alive today.
As Secretary Clinton and President Obama prepare for a crucial meeting on Sudan to be held on September 24 as part of the United Nations General Assembly, I hope they will remember Adam, and the hundreds of thousands of innocent civilians that have died before him in Darfur. They deserve to be remembered. And they deserve to have not died in vain.
Calling all HuffPost superfans!
Sign up for membership to become a founding member and help shape HuffPost's next chapter