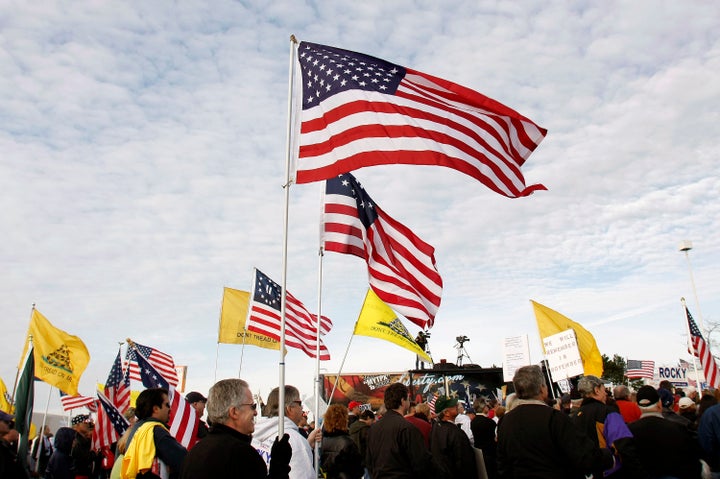 While the occasional spasms of extremist rhetoric and legislative initiative are often dismissed as nutty episodes in Arizona Gone Wild politics, some observers are wondering if state Superintendent of Public Instruction John Huppenthal crossed the line of lawlessness in his latest Ethnic Studies bombshell announcement.
In short: Did Huppenthal commit a felony at his extremely odd press conference this Wednesday at the Arizona Department of Education in Phoenix if he knowingly presented the results of an independent audit of Tucson's Ethnic Studies/Mexican American Studies Program in a false manner, in order to justifying his ruling that the program was out of compliance with the state's controversial Ethnic Studies ban?
While the Tucson Unified School Board voted today to appeal Huppenthal's decision, the Ethnic Studies teachers' attorney Richard Martinez also announced his intention to file a preliminary injunction to halt Huppenthal's 60-day deadline for the school district to bring the program into compliance or lose 10% of its state funding.
Despite Huppenthal's charges to the contrary, the 120-page audit concluded: "During the curriculum audit period, no observable evidence was present to suggest that any classroom within Tucson Unified School District is in direct violation of the law A.R.S. 15-112."
Huppenthal, who campaigned for the state's top education post last year with the inflammatory slogan that he was "one of us" and would "stop la raza"--raza means race or people in Spanish, and refers to the Mexican American community -- used the audit results by the private Cambium firm as part of his rationale to find the Ethnic Studies Program in violation of the state law for promoting resentment towards a race or class, advocating ethnic solidarity, and using a curriculum designed primarily for pupils of a particular ethnic race.
But, for example, did Huppenthal violate Arizona Article 38-423, which refers to public officers, and stipulates: "A public officer authorized by law to make or give any certificate or other writing, who makes and delivers as true such a certificate or writing containing a statement which he knows is false, is guilty of a class 6 felony"?
At his press conference and in a written statement, Huppenthal specifically noted:
The materials gathered by, and submitted to, the Arizona Department of Education, as well as the materials the auditors reviewed contained context promoting resentment towards a race or class of people.
In truth, the audit results contradicted every single one of Huppenthal's charges, including his misrepresentation above. According to the audit:

No observable evidence exists that instruction within Mexican American Studies Department promotes resentment toward a race or class of people. The auditors observed the opposite, as students are taught to be accepting of multiple ethnicities of people. -- pg. 55
To be fair, Huppenthal did note that the "two-thirds of the final audit report was beyond the scope of the legal determination I am making today."
What is beyond the scope? Academic achievement.
Noting that students in the Ethnic Studies Program "graduate in the very least at a rate of 5 percent more than their counterparts in 2005, and at the most, a rate of 11 percent more in 2010," the audit concluded the Ethnic Studies programs "are designed to improve student achievement based on the audit team's finding of valuable course descriptions aligned with state standards, commendable curricular unit and lesson plan design, engaging instruction practices, and collective inquiry strategies through Approved State Standards."
Huppenthal's teachers in Arizona are held accountable by the state Board of Education for "unprofessional and immoral conduct." Specifically, the Board of Education is obliged to investigate any actions that "deliberately suppress or distort information or facts relevant to a pupil's academic progress," or "misrepresent or falsify pupil, classroom, school or district-level data from the administration of a test or assessment."
While Huppenthal's elected position does not fall within the jurisdiction of these guidelines, should he be investigated for similar violations of "unprofessional and immoral conduct" as a state official by the Board of Education or the state legislature?
All of these are reasonable questions that deserve answers -- or more specifically, a state or federal investigation.
For Huppenthal's part, while his increasingly disgraced and extremist role as education chief in Arizona has brought applause from right-wing commentators like Glenn Beck, he has greatly disappointed the very students and teachers and even mainstream observers in Tucson's public school community he is mandated to protect.
For a state official who has admonished Ethnic Studies teachers for overlooking the nation's forefathers, he'd be wise to remember the words of Thomas Jefferson: "Honesty is the first chapter of the book of wisdom."

Support HuffPost
The Stakes Have Never Been Higher
Popular in the Community