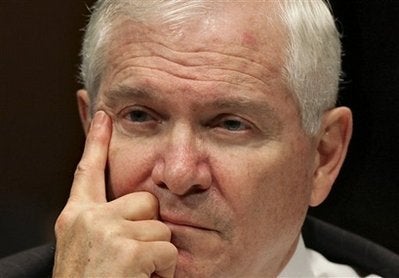 One day after President Barack Obama signed an executive order to close down the detention center at Guantanamo within a year, the New York Times ran a front page story detailing how a released detainee from that facility had gone on to help head a local al Qaeda affiliate in Yemen.
The timing seemed suspicious.
Then, last week, word came from the Associated Press that "three senior Pentagon officials tapped by the Bush administration to oversee detainee policy at Guantanamo Bay remain on the job despite President Barack Obama's order to reverse course."
That revelation was enough to prompt Sen. Dianne Feinstein to ask Defense Secretary Robert Gates to investigate the "burrowing" of political appointees to career positions. It also has some foreign policy hands wondering whether that late January Times story was leaked by Bush loyalists as a way of sending a signal to the new president.
"The question isn't so much that [these burrowed employees] will have their hands on policy, because the Obama people have a pretty firm grip on it," said a Democrat outside of the administration. "The problem is they have their hands on information and can cause a problem as a result. I wouldn't be surprised if there was some sources from inside the Pentagon that released that information."
According to the source, officials at the Pentagon would have access to information regarding legal cases against detainees, documentation of interrogations, and intelligence on detainees admitted to and released from Guantanamo.
"Allegations of improper 'burrowing' of political appointees to career positions are very troubling to me," Feinstein wrote in her letter to Gates. "This is especially disconcerting within the Office of Detainee Affairs due to the nature of the policy recommendations that office provides regarding Guantanamo."
Larry Korb, a defense specialist for the Center for American Progress and former Reagan official, voiced these concerns even before the burrowing came to light.
"This is obviously going to be a problem, which was basically brought on by deciding to keep [Robert] Gates," he said. "I don't blame Gates. He asked him to stay and wants his own people ... I think it is going to make it more difficult and I think it was no accident that the day after [Obama] put out this executive order, the front page story on the New York Times was about this released detainee."
An official with the Department of Defense said he could not "speculate on how or why one media organization would have the story first." But he noted that there were press reports about a video made by the ex-Guantanamo detainee, Said Ali al-Shihri, before the New York Times story.
"The fact that ex-Guantanamo detainees recently made a video for al Qaeda was widely reported in the press after it was posted online," said Commander J.D. Gordon, a spokesman at the Office of the Secretary of Defense.
The three officials highlighted by the Associated Press were Susan Crawford, the senior judge in charge of terrorist trials at Guantanamo; Sandy Hodgkinson, the Deputy Assistant Secretary of Defense who oversees detainee affairs policy; and Tara Jones, a special assistant in the Pentagon's policy office.
Because Jones was recently retained as a temporary civil service employee, she can turn her job status into that of a permanent government post. Hodgkinson, meanwhile, retains the right to convert her job to a civil service position because she initially worked as a career employee at the State Department. In other words, they are burrowed in, and Obama's ability to remove them from their jobs is restricted.
REAL LIFE. REAL NEWS. REAL VOICES.
Help us tell more of the stories that matter from voices that too often remain unheard.