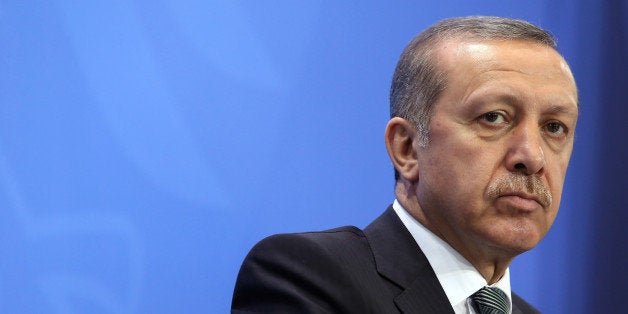 Erdogan, desperate and angry over his losing battle to oust Syrian president Bashar al-Assad, ordered the shooting down of a Russian fighter jet. Erdogan has been actively pursuing the ouster of Assad since 2012, but Russia's recent intervention in Syria, in alliance with Iran and its highly ideologically and politically motivated proxies, has resulted in a serious setback for Erdogan's plans.
Putin's determination to destroy Turkey's proxies at the Syrian borders and to thwart Erdogan's plan to create a no-fly/buffer zone in the area has derailed Erdogan's plans for Syria. Erdogan hoped to use the buffer zone as an operational hub aimed at bringing down President Assad.
Russian attacks on Turkmen-dominated areas in Bayirbucak, where the Russian plane was downed, would also inflict serious collateral damage to Turkey. The Turkish government regards the area in north-west Syria, presently under the control of the Bayirbucak Turkmens, as an important buffer zone preventing the territorial expansion of Syria's Kurdish-minority militias, whom it regards as terrorists linked to the Kurdistan Workers' Party (PKK).
Erdogan's objective in shooting down the plane was to provoke Russia into a harsh response. He hoped the response would bring Russia into conflict with the whole of NATO, which would help reverse Turkey's declining fortunes in the Syrian war.
Erdogan's calculations went terribly wrong. Following the incident, Turkey requested an emergency meeting with NATO members. Contrary to Erdogan's expectations, although, members did not support Russia, neither did they wholeheartedly support Turkey. Many members questioned Turkey's action and, according to Reuters, "expressed concern that Turkey did not escort the Russian warplane out of its airspace." In a clear indication of the suspicion among NATO members regarding Turkey's real intention behind its adventurism, some diplomats told Reuters, "There are other ways of dealing with these kinds of incidents."
Not only didn't Cold War II happen, French President Francois Hollande, who promised "merciless" revenge in the aftermath of Paris attacks, met with Putin and they agreed to form an alliance against Daesh (also known as ISIS/ISIL) in Syria. The outcome of such an alliance is that the "Assad must go" mantra will be overshadowed by the war against Daesh--something that Erdogan hated to occur. Erdogan's plan to bring the West and Russia into conflict became even more unattainable when France's move was followed by Britain and then Germany.
Turkey also lost significant room to maneuver in the post-shootdown of the Russian fighter jet. Russia, by deploying the powerful S-400 surface-to-air missile system in Hmeymim airbase near Latakia, sent a strong signal to Turkey--a de facto no-fly zone already in effect south of the Turkish-Syrian border.
Russia also sent Turkey and NATO a clear message by arming its fighter jets with air-to-air missiles. On November 30, the Russian Air Force announced that "today, for the first time ‪Su34‬ fighter-bombers departed for combat sorties with air-to-air short- and medium-range missiles.... The usage of such weaponry is necessary for providing security of the aircraft of the Russian" air force, the announcement read. ‬‬‬
Moscow also authorized numerous economic sanctions against Ankara ranging from tourism to agricultural products as well as sanctions on energy and construction projects.
Erdogan took a conciliatory stance after the incident. In a speech in Ankara, he said, "We are strategic partners ... 'Joint projects may be halted, ties could be cut'? Are such approaches fitting for politicians?" Erdogan even requested a meeting with Putin while both leaders were in Paris for the COP21 climate change conference on November 30, but Putin rejected the request.
Russians launched a heavy campaign to damage Erdogan's credibility and reputation. Vladimir Putin and numerous other Russian politicians leveled accusations regarding Turkey's sponsorship and cooperation with ISIS as well as allegations of buying oil smuggled by ISIS.
On November 30, on the sidelines of the climate change summit in Paris, Putin stated, "At the moment we have received additional information confirming that that oil from the deposits controlled by Islamic State militants enters Turkish territory on industrial scale." He even went further to say, "We have every reason to believe that the decision to down our plane was guided by a desire to ensure security of this oil's delivery routes to ports where they are shipped in tankers."
In response, Erdogan said he will resign as the country's president if Russia provides evidence that implicates Turkey in any oil trade with ISIS.
Later, Sergei Lavrov, the Russian Foreign Minister, said, "We have repeatedly publicly stated that oil from the IS-controlled territories is transported abroad, particularly to Turkey. The facts that substantiate these claims will be formally presented in the UN in particular, and to all parties concerned."
Then on December 2, the Russian Defense Ministry held a briefing concerning ISIS funding. During the briefing, which included a PowerPoint presentation, satellite images, and videos, Deputy Defense Minister Anatoly Antonov said, "According to our data, the top political leadership of the country - President Erdogan and his family - is involved in this criminal business."
Antonov added, "In the West, no one has asked questions about the fact that the Turkish president's son heads one of the biggest energy companies, or that his son-in-law has been appointed energy minister. What a marvelous family business."
On December 3, without mentioning specifics, Putin declared there was more evidence to come. "We are not planning to engage in military saber-rattling," he said. "But if anyone thinks that having committed this awful war crime ... are going to get away with some measures concerning their tomatoes or some limits on construction and other sectors, they are sorely mistaken."
At this point, it is apparent that Putin's ultimate objective is to take advantage of the opportunity presented to him to severely damage Erdogan's name and trustworthiness, both domestically and internationally, or, even better, bring him and his regime down as a perceived power behind the extremists and the anti-Assad forces in Syria. This is in line with Russia's plan for realizing its strategic objectives in Syria.
Calling all HuffPost superfans!
Sign up for membership to become a founding member and help shape HuffPost's next chapter