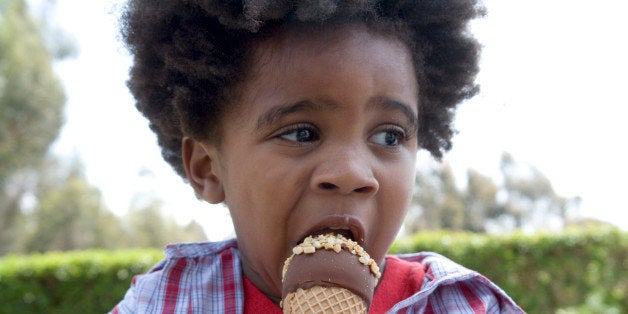 If, like me, your kids are enrolled in a few different summer camps this summer, you might have had a seemingly never-ending pile of paperwork to fill out. There were sunscreen forms, medical forms, allergy forms, photography consent forms, camper information sheets and friend request forms. One form, however, that I never saw was a parental consent form to feed my kids whatever junk the camp wants to feed them.
Before I sign my kids up for camp, I call and ask about the foods they serve for snack (or lunch, if they serve lunch). I've heard all sorts of responses, from carrot and hummus to bags of Oreos and soft drinks. I find most camps are well-versed in talking about the snacks they serve, though sometimes they seem surprised that a parent would want to know what their kid will be eating. I'm constantly surprised that parents don't want to know what their kids will be eating.
This summer, I knowingly chose to send my daughter to a camp that serves bags of chips for morning snack and an ice cream cone for afternoon snack. It certainly isn't my preference, but I agreed to send her and I'm not about to complain about the junk that I knew they would be serving.
What I didn't realize, though, is that the junk doesn't stop there. A few weeks ago, they handed out donut holes on the bus to camp. It was 8 a.m. and my daughter had just had breakfast. When the bus aide asked me if my daughter could have one, as my 6-year-old stood next to me, I felt trapped. Asking a question like this with my daughter standing right there didn't give me much wiggle room to say, "No, thanks." I know the bus aide meant well, but really, donut holes at 8 a.m.? I certainly didn't sign up for that.
At the July 4th costume party, a seemingly fun and festive event, the "Best Costume" winners were awarded Slurpee gift cards. Fortunately, my daughter's costume, while very cute, was no match for some of the amazing costumes others were wearing. And, my 6-year-old actually doesn't know what a Slurpee is. But I do. And I didn't sign up for Slurpee prizes at a camp contest.
Last week, my daughter got Smarties for doing a good job at rehearsal for the Parent Show dance performance. I definitely don't remember signing a consent form allowing my daughter to be rewarded for her good work with food, and junk food no less. When I asked a question on the First Bites Facebook page about summer camps and food rewards, I was shocked to read how frequently camps are "rewarding" our kids for all sorts of things that don't need a reward -- like attending a gymnastics class -- and using all sorts of junk to do it. What happened to a good old fashioned high five or a group hug? Even just an enthusiastic "well done" would have felt good. Using food as a reward undermines my own parenting approach. For me, food should not be used as a reward or for punishment; it is for nourishment. And this isn't just about me -- there is considerable research about the dangers of using food as a reward. The U.S. Department of Agriculture (USDA), Center for Science in the Public Interest and countless other non-profit organizations and educational institutions have spoken out on the dangers of using food as a reward.
It's summer and camp is all about being outside, making new friends and enjoying some time off. But as the paperwork indicates, it's not all care-free fun. Camps, and their teen counselors, have an obligation and a responsibility to protect our children, be it from sun burns or sprained ankles. Given the considerable evidence indicating that the food we eat is negatively impacting our health, how responsible is it of our camps to feed our children junk without our permission? Sure, it may seem like just a donut hole here and a pack of Smarties there, but shouldn't I be the one to decide if and when my own children get to eat this "food"? And while my children don't have any food allergies, I can't even begin to imagine how nightmarish this whole scenario must be for children with severe food allergies and their parents.
It's time our summer camps, like our schools, step up and be part of the solution, not the problem, and support the efforts of families to give our children a strong and healthy start to life. It's time for camps to realize that they don't have our consent to push junk food on our kids "just because" it's summer.
Call your child's camp. Tell them what a wonderful summer your child is having and then talk to them about the food they are serving for lunch and snack time, and also "just because" it's hot or a celebration or they did a good job. Ask them to show you how much they care by committing to not pushing junk on our kids. Remind them that they are mentors and role models and what they say -- and do -- influences our kids. And ask for their help. We need to come together to change our food environment on behalf of our children.
I urge you to sign the petition authored by Salud America! to get sugary beverages out of our kids camps. This is an important first step and way to demonstrate to the American Camp Association, and the camps across the country, that our children's health is too important to ignore. From here, we can move to Slurpees and Smarties. And, ultimately, eliminate even the need for a parental consent form for junk food.
Visit First Bites and join the First Bites community on Facebook and Twitter for more information about kids' health habits and nutrition.