Take a good look at this face. While it may appear as though I was being silly, I was not. I asked my sister, Amy to snap a photo to capture what I thought was my hideous appearance, which taught me a big lesson in humility.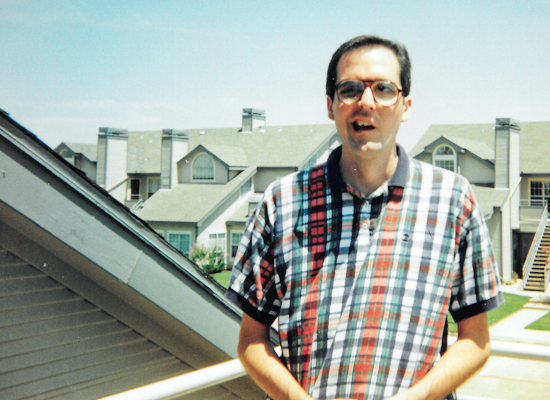 Half my face was paralyzed by a viral infection known as Bell's palsy. Doctors told me it likely traveled into my ear and the swelling of a canal that runs just below the ear cuts communication between the brain and facial nerves. It almost always affects just one side of the face.
At the time, I was relieved it wasn't a stroke. But relief didn't last long. Since my eyelid wouldn't shut I could not wear my contact lenses because my eye would not stay lubricated.
That meant I had to pull out my thick, Coke bottle glasses. I hated those things and only wore them at night, just before getting into bed.
I wore them regularly as a kid and was often teased. "Four eyes" was something I got used to, but as I moved into contacts, the teasing stopped and I was determined to hide those glasses forever.
It wasn't meant to be. I had to put on those awful glasses and head to the radio station where I worked.
It gets worse. Not only was I being vulnerable with my coworkers, I had to face the public.
Former presidential candidate Ross Perot was holding a "United We Stand" convention and our radio station was broadcasting live from the location.
Politicians, political analysts, fellow broadcasters and the voting public could all see me reading the news with a paralyzed face and those dorky glasses.
Suddenly, I was that eight year old kid again -- self-conscious about my appearance. But I got through it. Showing that vulnerable side to my coworkers was intimidating at first but it made me a stronger person. I'm no longer ashamed of those glasses. They are a part of me but they don't define me.
The Bells Palsy eventually left my body, but I still think about that period in my life. It was a lesson in humility.
In the 20 years since, I managed to secure a job at network level, working for ABC News, even appearing on television.
But as much as my ego might like to boast, I remember that lesson.
I've embarked on a new career with a book about to be published. This conjures up questions like, will the book sell? Will my message resonate with people? Or will there be another lesson in humility?
Whether it's a best seller or a flop, I'm ready to put myself out there and be vulnerable again.