Five days after the surprise resignation of Lebanese Prime Minister Saad Hariri, the Lebanese public is still waiting for his return to Lebanon in order to understand the reason behind his decision that took the public by surprise. (For more on this, see my article the day after the resignation here and further comments about what to expect here.)
"Lebanon is used to affronts to its sovereignty...no one has seen anything quite like the spectacle that has played out over the past few days. Saad Hariri, the prime minister, who had previously shown no signs of planning to quit, unexpectedly flew to Saudi Arabia and announced his resignation from there, to the shock of his own close advisers. He has not been back since, and no one is sure when, or if, he is returning."
On Thursday November 9, Reuters quoted three sources stating that Hariri is "being held by Riyadh, and Beirut plans to work with foreign states to secure his return" (first source); that "Saudi Arabia had ordered him to resign and put him under house arrest" (second source, a senior politician close to Saudi-allied Hariri); and that "Saudi Arabia was controlling and limiting his movement" (third source familiar with the situation).
On the other hand, the report mentions that "Saudi Arabia and members of Hariri's Future Movement have denied reports that he is under house arrest. But he has put out no statements himself denying his movements are being restricted".
One theory that was reported (image below) by Saudi-owned Al-Arabiyya, later cross-published on Kataeb.org and the Lebanese Forces website, is based on an Iranian website - Amadnews - it described as "reformist".
The report states that the Iranian Supreme Leader's advisor, Ali Akbar Velayati, who was on a state visit to Lebanon last week, met with Hariri and tried to coerce him into implementing what Tehran demanded in support of Hezbollah or else Lebanon would see a great mess, and Hariri would meet his father's fate (Rafiq Hariri died in a terrorist attack on February 14, 2005).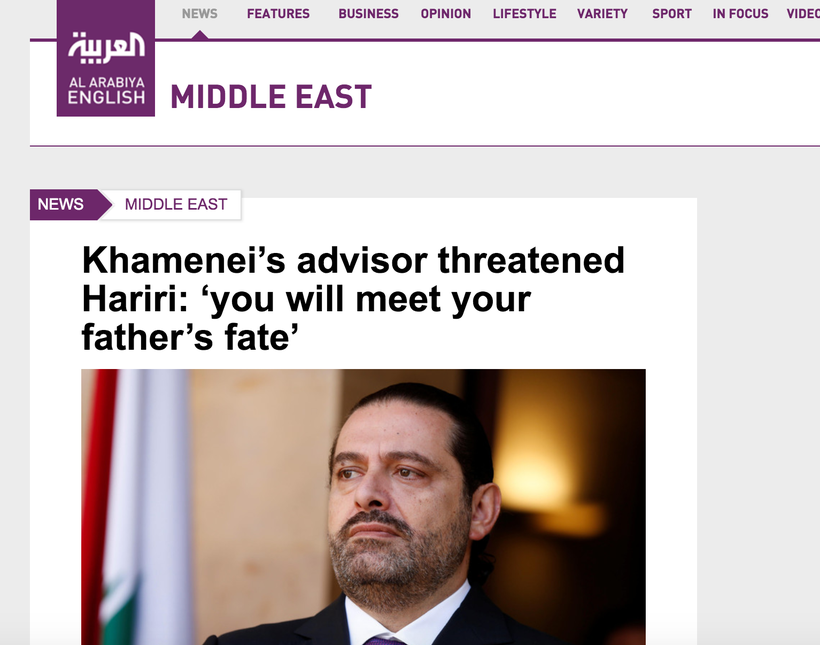 The article also said that "Ali Akbar Velayati threatened Saad Hariri at the end of the meeting after the latter refused to bow to Iranian guardianship and stand against Trump's strategy".
Furthermore, it alleges that:
"Velayati asked Hariri to stand before the media and declare his full support for the Hezbollah group because it is resisting the Zionist entity. Hariri replied that he could not do so, but at the same time he said nothing against Hezbollah. Khamenei's advisor then brought in commanders from Hezbollah's security apparatus and asked them to present documents proving that the Lebanese Future Party had provided Western sources with sensitive information that led to the elimination of Hezbollah's field commanders in Syria by Israel. The Iranian website stated that after examining the document, Hariri informed Velayati that he will not pledge his support to Hezbollah and that he is going to resign. The website continued on saying that Velayati's threat to Hariri was basically: "You will meet the same fate as your father." At that point, Hariri stormed out of the meeting.
The problem with this story is that for starters, it seems unlikely that an Iranian official would address a Lebanese PM in this way in Beirut.
Also, why didn't Hariri's aides and advisors report this incident if he indeed "stormed out of the meeting"? This incident would have been witnessed by some of the Grand Serail employees and would have settled once and for all the controversy surrounding his surprise resignation - if indeed he received death threats "in person".
Moreover, why did Al-Arabiyya not mention it last Saturday as the unequivocal reason for Hariri's resignation, and why didn't Hariri himself mention it in his resignation statement?
Another cause for doubt is that Hariri's Future newspaper reported the Velayati meeting positively the following day (which was also the day Hariri flew to Riyadh and resigned) stating: "Tehran says from Beirut: we support Lebanon's independence" as the following image shows: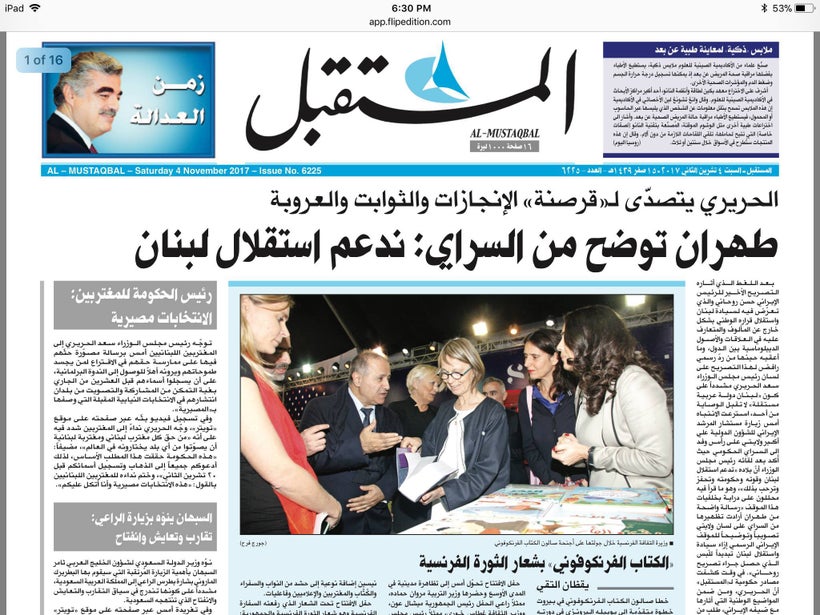 Finally (in this non-comprehensive brief reaction to this report), the Iranian website reporting this conversation is based outside Iran (which in itself is not a problem) cites only one anonymous "informed source close to Velayati".
Another Iranian website, Fars News, described by some as a "semi-official" news agency, had a different account of the Hariri -Velayati meeting, also according to an "informed source":
"During the meeting, Hariri raised the Saudis' demands before Velayati, calling on Iran to stop supporting the oppressed Yemeni people and improve ties with the Persian Gulf Cooperation Council (PGCC)," the source added. In response, the source said, Velayati called on the Saudis to stop bombing the innocent Yemeni people and remove the siege on them to pave the way for political talks. "The improper demand of Hariri and the Saudis was that the Islamic Republic of Iran leaves the righteous side in the Yemen case but when they became disappointed, they immediately recalled Saad Hariri to Riyadh so that he will declare his resignation outside Lebanon," the source said.
Obviously, only Mr. Hariri can offer answers to this and many other questions confusing the Lebanese public since his resignation.
Calling all HuffPost superfans!
Sign up for membership to become a founding member and help shape HuffPost's next chapter
This post was published on the now-closed HuffPost Contributor platform. Contributors control their own work and posted freely to our site. If you need to flag this entry as abusive,
send us an email
.