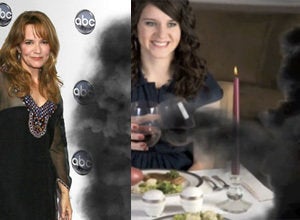 Eric & Justin Stangel, Letterman's head writers, posted a just-for-fun "Lost" parody on YouTube yesterday. They turned off the comments on the post (not a great sign), but Nikki Finke put the video on Deadline Hollywood and the reaction was less than warm. "Wow, that was completely unfunny. How do you have a job writing for Letterman when kids all across America are making funnier stuff than this every day? And their [sic] brothers? Ugh," said one commenter. "This horribly unfunny 'parody' reminds me why I stopped watching Letterman 5 years ago. This gentleman is the head writer? Wow. Sad, very sad. So tell me...is Dave still doing will it float? Yeah...that was some kind of funny wasn't it," wrote another.
But the most damning quips came from those folks pointing out that the Onion wrote an article with a shockingly similar premise a year before. The piece, titled "Smoke Monster From 'Lost' Given Own Primetime Spin-Off Series," focused on "a half-hour family-oriented comedy called Where There's Smoke." The show the Onion described took place in suburbs of Chicago with a host of crazy characters and Lea Thompson playing the monster's wife.
The Stangel brothers' video is about the premiere of "Smokey's House" a sitcom set in San Francisco with a cast of kookie characters and a hot love interest.
Calling all HuffPost superfans!
Sign up for membership to become a founding member and help shape HuffPost's next chapter