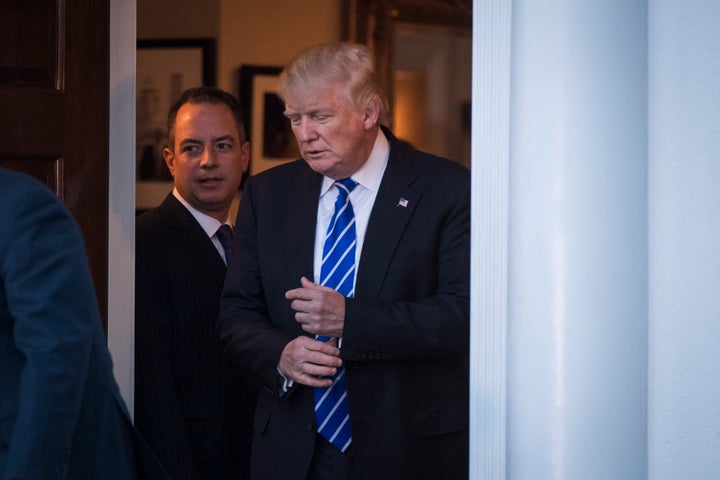 Reince Priebus had a problem. His boss, President-elect Donald Trump, was scheduled to have an on-the-record meeting with reporters and editors from The New York Times.
Priebus thought ― certainly not for the last time ― that Trump wasn't prepared for the meeting. But it's not easy to tell Donald Trump he's not up to a task. So, according to three sources who spoke to the same New York Times, Priebus made up a little lie.
The Times, he told Trump, had tried to unilaterally change the terms of the meeting. Priebus reportedly offered up this fib "believing it would result in a cancellation, these people said."
It did. Trump promptly took to Twitter and shut the whole thing down.
Trump eventually learned that the Times hadn't changed the terms of the meeting, and when the gray lady refused an only-off-record gathering, he buckled and made time for the reporters.
So did Reince Priebus lie to Trump? Believing that requires you to believe the Times' three sources are telling the truth. We don't know specifically who they are, and Hope Hicks didn't respond to a request for comment. But pretty much everybody in Trump's inner circle, from Kellyanne Conway on down to Steve Bannon, has every incentive to clip as much off of Priebus' wings as possible.
Priebus, the chief of staff, commands a central position within the organization structure as gatekeeper to the president. Priebus' main power is in whom he lets in and whom he doesn't. The less that Trump trusts Priebus, however, the more he'll sidestep the gate and lean on other advisers like Bannon.
The public lying and knife-fighting might be giving off the impression of incompetence and chaos, but it may also just be how Donald Trump likes it.
Calling all HuffPost superfans!
Sign up for membership to become a founding member and help shape HuffPost's next chapter