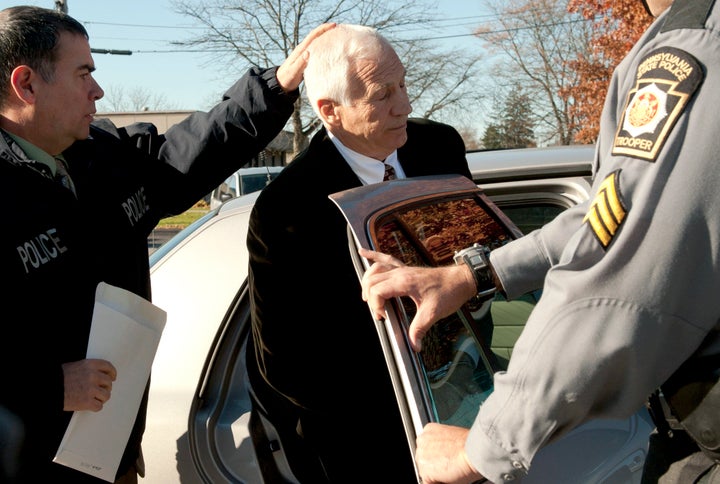 Though the CEO of the charity linked with the Penn State sex scandal -- and alleged cover up -- resigned Monday, could the nonprofit have done more to protect the vulnerable children it serves?
Second Mile, a nonprofit that offers programming to disadvantaged children, claims that it wasn't aware of the serious sexual allegations charged against its founder until he admitted to the 2008 investigation the Post-Gazette reports.
Jerry Sandusky, 67, a former Penn State defensive coach, was charged with 21 felony counts for allegedly sexually abusing eight boys over a 15-year period and using the organization he established to find his young victims, according to the Wall Street Journal.
But, law experts say it was within Second Mile's grip to find out if its children were at risk for abuse.
"If they really wanted to find out the truth, they could have," Jeff Herman, a Miami lawyer specializing in sex abuse cases told USA Today. "One allegation is a red flag. It puts you on notice. If after that point you don't do anything, it's on you."
Herman said several Second Mile families had contacted him, according to the news outlet.
The sexual allegations stretch as far back as 1998. An 11-year-old boy, whom Sandusky met at a Second Mile picnic, according to the 23-page grand jury report, said that the former coach showered with him at the university, grabbed him, lathered him up with soap and said "I'm going to squeeze your guts out."
The victim's mother notified university police who investigated the case, but decided there would be no criminal charges, according to the grand jury.
In 2002, university staff was made aware of Sandusky's alleged sex acts with young kids.
A graduate assistant told Coach Joe Paterno that he saw Sandusky having anal sex with a boy who appeared to be about 10 years old, according to the grand jury. Tim Curley, Penn State's athletic director and Gary Schultz, senior vice president for finance and business, told the student that they had taken the locker room keys away from Sandusky and had alerted Second Mile about the incident.
Schultz never alerted university or local police enforcement.
It wasn't until 2008, when Sandusky told the charity that he was being investigated, that the organization prohibited him from having contact with Second Mile's children.
"Although he maintained there was no truth to the claims, we are an organization committed first and foremost to the safety and well-being of the children we serve," the nonprofit stated on its website. "Consistent with that commitment and with The Second Mile policy, we immediately made the decision to separate him from all of our program activities involving children."
However, according to ydr.com, Sandusky's name remained on the site's mission statement until late in the afternoon on Nov. 7, two days after he was initially arraigned.
Just as the organization distanced itself from Sandusky, though, one of its volunteers decreased the bail that prosecutors had suggested. According to Deadspin.com, prosecutors asked that when Sandusky was initially arraigned on Nov. 5 that he be released on $500,000 bail and be forced to wear a leg monitor. District Judge Leslie Dutchcot, a Second Mile volunteer, however, ordered that Sandusky be freed on $100,000 unsecured bail, but only pay if he failed to show up for a court hearing.
As the court proceedings continue –- and Second Mile remains under fire –- the charity continues to insist that it remains unequivocally committed to protecting and nurturing the children it serves.
"[The victims'] pain and their healing is the greatest priority, and my thoughts and prayers have been and will continue to be with them," said Dr. Jack Raykovitz, who stepped down as the charity's CEO. "I hope that my resignation brings with it the beginning of that restoration of faith in the community of volunteers and staff that, along with the children and families we serve."
Calling all HuffPost superfans!
Sign up for membership to become a founding member and help shape HuffPost's next chapter