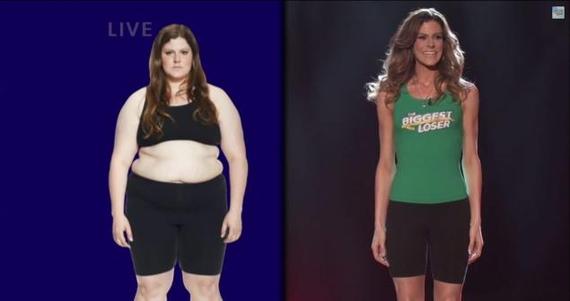 Credit: 'The Biggest Loser' via YouTube.com
With more than a third of the country struggling with obesity, it's no wonder that shows like "The Biggest Loser" have become a cultural phenomenon. Many eyes were wide open on Tuesday night as the television program crowned its latest winner, Rachel Frederickson, and those on social media went wild -- not just with congratulations.
The winner dropped an entire person, losing 155 pounds. That may have been done before on the show. What caused a stir is the fact that Frederickson finished the show at a slight 105 pounds. She literally lost 60% of her body weight.
Some viewers, and even some not watching, commented that Frederickson appeared "too thin" and unhealthy-looking. Though the show celebrates the dwindling numbers on the scale, did this contestant take the message a bit too far?
According to the World Health Organization's Body Mass Index (BMI) guidelines Fredrickson's 18% BMI is below what's considered healthy (18.5%). Exercise physiologist and fitness expert Jessica Matthews says this type of weight loss and the show itself should be viewed cautiously.
"While shows like 'The Biggest Loser' may inspire some individuals to begin an exercise program and engage in more healthful behaviors, it's important for individuals to note that such an extreme approach to losing weight can be unsafe and ineffective as well as de-motivating for many people," contends Matthews.
Social media didn't appear to be the only voice or face of concern for this season's winner, 'Biggest Loser' long-time trainers Bob Harper and Jillian Michaels also had an interesting reaction as seen in this video.
Frederickson's final weigh-in does beg the question: How much is too much and how soon is too soon when it comes to weight loss?
When it comes to weight loss, it's important for individuals to set realistic goals, says Matthews. "The rate of safe weight loss, and more importantly long-term weight maintenance, is 1-2 pounds per week," she says. "Individuals should be aware that making lasting lifestyle changes takes time and commitment and the psychological aspect of behavior change is not to be overlooked."
Representing the show, NBC and Shine America say they support Frederickson and all the contestants on the show, though not definitively addressing the "too thin" controversy. Jillian Michaels also evaded a direct response via Twitter.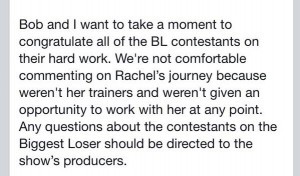 Jillian Michaels's response to Rachel Frederickson's weight loss
And Frederickson's trainer, Dolvett Quince, left a somewhat vague endorsement on his personal Facebook page, but the message doesn't tackle the million dollar question either.
It remains to be seen what this controversy will mean to diehard fans of the show.
"'The Biggest Loser' gets a great deal of criticism due to the emphasis on weight loss," says Senior Consultant for Behavioral Sciences with the American Council on Exercise, Dr. Michael Mantell. "Not enough attention is focused on the backdrop of what healthy weight loss involves: medical supervision, fitness training, behavioral coaching, healthy nutrition and long-term support."
Healthy weight loss will most likely be at the forefront following this season's finale and the response to 'The Biggest Loser's' winner may dictate cultural perception.
Tara Weng is formerly a medical/features producer at the NBC television affiliate in Boston, MA, and National Editor of Health/Parenting channel at GalTime.com.