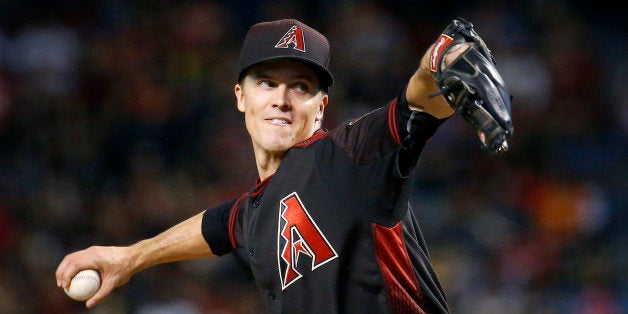 Baseball is really a team sport. It takes a lot of good players to win. One superstar can't get a baseball team to the playoffs and beyond. Just ask the San Francisco Giants. For years they had a beefed up Barry Bonds and captured no World Series crowns. Then they put together a balanced team and, viola, three World Series wins in five years.
The Diamondbacks seem to be following a different approach. They are rattling their bats by spending almost 40 percent of their payroll on one player -- Zack Greinke. Sure, he was the best pitcher in baseball last year with a mind-boggling ERA of 1.66. That's great, but it's less than half of his career average. What are the odds he does that again, and what are the odds any major league starter maintains a full season ERA of under 2?
Not good! Since 1934, or a combined 164 seasons for both major leagues, a pitcher qualifying for the league lead in earned-run average has only done that seven times, with the last being in 1995. As the statisticians say, performances revert to the mean, and the results in baseball have borne that out. Maybe Greinke will prove the exception, but it is certainly statistically unlikely. So far this year he has dug himself into a nice little hole, as his ERA through his first six starts is 5.50.
Greinke will earn about $34 million this year, while the next highest-paid player on the team will collect about $7.5 million. Sure that will change when Paul Goldschmidt becomes a free agent. Nevertheless, the Diamondbacks are spending all that money on one player who just had a year for the ages with a WAR (wins above replacement) of 9.3. What if instead of shelling out so much for Greinke, the Diamondbacks had signed Jason Kipnis, Mike Moustakas, and Justin Upton? The three of them had a combined WAR of 13.4 last season without having off the chart years. It's not unreasonable to think they could easily repeat their performances. And their combined salaries for this year -- $34 million.
In addition to Barry Bonds with the Giants, we've had some other good examples showing that one player does not make a team great. The Texas Rangers' experience with Alex Rodriguez should give any general manager pause before signing one superstar without a good team around him. After the 2000 season, A-Rod became a free agent and moved from the Seattle Mariners to the Texas Rangers. For the 2001 season he was paid $22 million, which represented about 25 percent of the Rangers' total payroll. And how did he perform? Great! He drove in 135 runs and led the league with 52 home runs. And how did the Rangers do in 2001? They improved their record from 71 wins to 73 wins, or, obviously, a meager two games in the standings. He stayed with the Rangers for two more years (and hit an average of 52 home runs in each of those two years) which saw the Rangers win 72 games and then 71 games. So as I see it, his three years with the Rangers resulted in an average of one win per season more than the team's total the year before he arrived.
So A-Rod's performance on the field was more than solid, but it really made no difference to the team's overall performance. When this happens, too often we hear management justify their signing by telling us to consider the economics and not merely the win-loss record. I don't have access to the Rangers books, but I do know their attendance in 2000, the year before he arrived, was 2,800,000. The average attendance for the three years he played with the Rangers was about 2,425,000. So I guess we have to conclude that with a losing team A-Rod was not putting butts and into seats either.
Let's take a look at A-Rod's old team in Seattle. Never mind one player does not make a team great, how about three all-time greats does not either. In 1996 the Seattle Mariners had Rodriguez (in his first full major league season), Ken Griffey, Jr. and Randy Johnson. A-Rod's first full season in the show was very strong. He hit 36 home runs and drove in 123 runs, while in batting .358. Griffey Jr. slammed 49 home runs, drove in 140 runs, and hit .303. Johnson was hurt for most of the season and posted a 5-0 win-loss record before being forced to sit out the remainder of the season. The team won 85 games with the two superstars in the lineup.
1997 saw all three megastars performing very well. Although A-Rod's home run production and RBI totals declined somewhat, he still hit .300. Griffey Jr. continued very strong -- pounding out 56 home runs and 147 RBIs while hitting .304 (for which he was named league MVP). Johnson had the proverbial "career year" with a 20-4 win-loss record, an ERA of 2.28, and 291 strikeouts. The Mariners improved to 90 wins, won the division, and advanced to the playoffs where they were eliminated in the division series by Baltimore.
1998 rolls around and A-Rod and Griffey, Jr continue strong at the plate. They combined for 98 home runs and 270 RBIs. In 23 starts Johnson saw his ERA balloon to 4.33 and was traded to the Astros after posting a 9-10 win-loss record. The Mariners won 76 games that season despite rock-solid performances from A-Rod and Griffey, Jr. In 1999, despite losing Johnson, and with a A-Rod and Griffey, Jr. again having very solid years (combining for 90 home runs and 245 RBIs) the team improved to 79 wins.
So what happens in 2000? Griffey, Jr. leaves to join the Reds, leaving only A-Rod of the original triumvirate. He has a super solid year with 41 home runs and 121 RBIs while hitting .316. The team improved to 91 wins. So now we are in 2001, and the Mariners are left with none of their three future locks on the Hall of Fame (actually, because of A-Rod's drug use maybe he won't get in or won't for a long time). As we know now, in 2001 A-Rod put up 52 home runs and 135 RBIs with his new team in Texas. How much did the Mariners miss that production? Hard to tell, I guess, because in 2001 the Mariners won 116 games, setting the American League record which still stands.
The success of the Mariners without their superstars, the success of the Giants without Bonds, the success of the Oakland A's from 2010 through 2014, and that of many other teams seems to say that one player cannot carry a baseball team. Baseball is not basketball. The addition of Michael Jordan, Tim Duncan or LeBron James can and does produce championship teams, but procuring one great player in baseball does not get you there.
Then there's another consideration. What happens to the Diamondbacks if Greinke is injured? They'll get nothing for all their money. Wouldn't the team be better off with three very solid players who are likely to repeat their performances than one superstar who is not? Let's see how this plays out over the season. Perhaps lightning will strike and Greinke will be unhittable again. But maybe not. I am perfectly aware that a sample size of one is a risky proposition. Maybe Greinke will prove the exception and defy the odds. But in this case, those odds are quite long. Unless the Diamondbacks are successful in implementing the approach of the Oakland A's, or are willing to shell out like the Yankees, their fans may be in for quite a drought.
Leland Faust is an honors graduate from UC Berkeley (economics) and Harvard Law School. He was the founder of CSI Capital Management where he served as chief investment officer from 1978 through 2011 and managed over $1.5 billion. Since 1978 he has represented over one hundred NFL, NBA and MLB all stars.
Barron's has named him four times to its annual list of top 100 independent investment advisors in the country. He has also been named to the Sporting News' list of the 100 most powerful people in sports, one of only two investment advisors ever to be included in that roster. He is a tri-athlete, public speaker and author. His first book is scheduled for release in the Fall, 2016.
Follow Leland Faust on Twitter: www.twitter.com/LelandFaust and Face book www.facebook.com/LelandFaust.
Calling all HuffPost superfans!
Sign up for membership to become a founding member and help shape HuffPost's next chapter