By Jamie Zahlaway Belsito
If your cell phone ringer was on, and you had signed up to receive alerts, you may have been jolted out of a deep slumber last Saturday morning by an "Amber Alert" in the state of Massachusetts. People took to Twitter to complain about being woken up, and not being able to go back to sleep.

The Amber Alert stated that Tiffany Cherry, a 36-year-old mom, and her seriously ill 10-week-old infant, Quavai Cherry, had left the state of Pennsylvania, and had maybe headed to, or were in, the state of Massachusetts. The alert said the mother had ignored emergency medical personnel to get her child to a hospital for severe dehydration, and "fled the state."
After the deactivation of the Amber Alert, a more detailed story around Tiffany Cherry and her son began to unfold.
Tiffany Cherry was arrested when she arrived at Boston Children's Hospital seeking care for her son.
Tiffany Cherry had given birth to her son at Children's Hospital.
Tiffany Cherry had a previous pregnancy that ended in late-term loss of the child in utero.
Tiffany Cherry was exclusively breastfeeding her son.
Tiffany Cherry's nuclear family resides in the Boston area.
Tiffany Cherry had full custody of Quavai.
As a maternal mental health wellness advocate, and a champion on policy and issues relating to Postpartum Depression, I began thinking that perhaps this mom was potentially affected by Postpartum Depression (PPD.)
Did Tiffany Cherry have PPD symptoms that caused her to take extreme measures to get what she believed would be the best possible care for her son, driving many miles to the hospital where she gave birth, in the city where her family lives?
PPD can come in the form of OCD, anxiety, panic disorders, PTSD, and/or depression. PPD symptoms can appear during a women's pregnancy, or anytime after the birth of a child, usually within the first 12 months of the baby's life. Another mental illness that can present itself following the birth of a child is postpartum psychosis (PPP). PPP can present with delusions, hallucinations, irritation, hyperactivity, lack of sleep, paranoia and/or suspiciousness, mood swings and/or difficulty in communicating.
Both PPD and PPP symptoms can also present after a miscarriage and/or pregnancy loss. PPD and PPP are temporary, treatable conditions, and do not mean that the mother is a bad parent. Approximately 20 to 25 percent of all new moms experience some variation of PPD, and approximately 0.1% of moms experience PPP.

Aside from the glaring "Why was this Amber Alert issued?" question, I wanted to know whether anyone screened Tiffany Cherry at Boston Children's Hospital for PPD or PPP?
Massachusetts has an amazing program for mothers called MCPAP for Moms (Massachusetts Child Psychiatry Access Project) that has been working to educate and support OB/GYNs, primary care doctors, hospitals and pediatric offices on how they can help identify moms dealing with PPD/PPP, and get them the appropriate support they need.
It would seem obvious that Boston Children's Hospital would not only be aware of and using such a program, but also aware of how difficult and dangerous PPD/PPP can be.

After being arrested at Boston Children's Hospital, Tiffany Cherry's infant son was put under the custody of the Department of Children and Families (DCF.)
Such a move makes it difficult, if not impossible, for this breastfeeding mom to get her milk to her child. How will that affect her 10-week-old son, who was exclusively breastfeeding and closely bonded to his mother?
Since her child was dehydrated, it's possible that breastfeeding may have been challenging. Breastfeeding is an integral part of mother/infant bonding, as the child associates with their mother's smell and milk. Whatever recommendations a doctor and/or hospital may have to help keep Tiffany Cherry's son, Quavai, fully hydrated, would not negate her ongoing breastfeeding relationship and bonding with her newborn son.
Did the jail system screen Tiffany Cherry for PPD/PPP? Did DCF screen Tiffany Cherry for PPD/PPP? The DCF has a history of missteps and mishaps. Tiffany Cherry took her newborn child to Boston Children's Hospital, a place she believed her son would get the best care. It seems unfathomable that someone, somewhere in those three agencies did not think to screen her.
I have reached out to Boston Children's Hospital and DCF to inquire if they screened Tiffany Cherry for PPD/PPP. I have not received a response. I spoke with Tiffany Cherry's attorney to ask if she was screened. The attorney was unable to answer my question.
My gut instinct continues to tell me that this mom, Tiffany Cherry, may be suffering from some form of PPD or PPP. If my gut feeling is correct, these symptoms could have potentially led her to go to extremes for her son: making sure he was going to the "best" hospital, in a familiar area where she felt safe and had access to her immediate family. All for the benefit of her son.
Tiffany Cherry and her child deserve the utmost in care and every support available to help them right now. And all new moms and moms-to-be deserve to benefit from the awareness and training that MCPAP provides.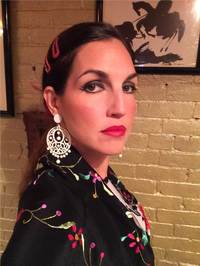 Jamie Zahlaway Belsito is a maternal mental health and wellness advocate, a member of the North Shore Postpartum Depression Taskforce, a mother of two, and a post-partum depression survivor.