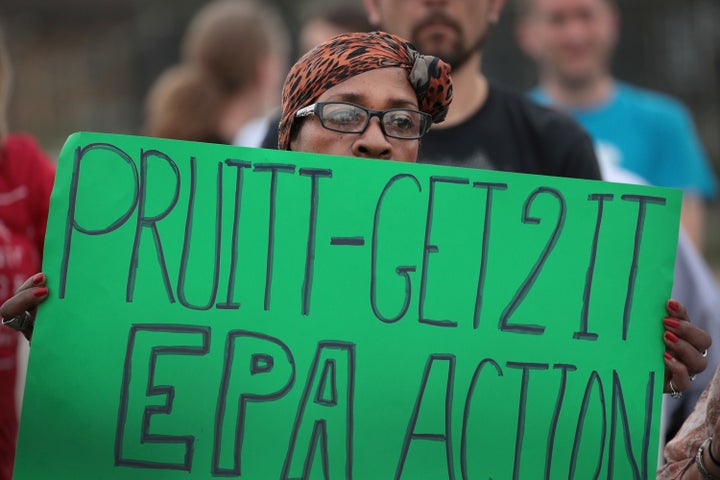 EPA chief Scott Pruitt has launched a new public relations campaign to explain his actions as a "Back to Basics Agenda." The more accurate title of Pruitt's campaign would be "Back to Pollution."
It Depends on What the Meaning of the Word "Environment" Is
How far is Pruitt willing to go to reshape the mission of the Environmental Protection Agency? Apparently, it starts with redefining the "environment" that EPA is charged with protecting. According to EPA's press release, Pruitt wants EPA to focus on creating "an environment where jobs can grow."
Missing from Pruitt's announcement: any mention of protecting public health, which has historically been the centerpiece of EPA's mission from the very beginning, as still captured (for how long?) on EPA's website:
"The mission of EPA is to protect human health and the environment"
Pruitt Picks Mine with Record of Pollution Violations for Kick Off
Pruitt chose Consol's Bailey Mine Complex in Pennsylvania to kick off his new PR campaign. Pruitt neglected to mention that the mine operators were caught illegally dumping pollution into the Ohio River, and they agreed to pay a $3 million fine in 2016 for violating the Clean Water Act. Thanks to the work of EPA's enforcement office, working together with Pennsylvania and the Justice Department, illegal dumping was stopped and the polluter was held accountable.
"Pruitt hopes to create the illusion that he is strengthening clean air and clean water protections, when he is in fact undermining those very safeguards..."
That formula would change under Trump. Under Trump's budget proposal, enforcement of pollution violations under the Clean Water Act and Clean Air Act are on the budget chopping block. According to the New York Times:
"Sharp cuts in the agency's enforcement programs could curtail its ability to police environmental offenders and impose penalties. The budget proposal reduces spending on civil and criminal enforcement by almost 60 percent, to $4 million from a combined $10 million. It also eliminates 200 jobs."
[Deiuliis] acknowledged that a relaxation of regulations on mining and carbon emissions under the Trump administration would help coal. But not enough to persuade Consol to stay in it. If anything, the optimism injected into the coal sector by the election result and the re-emergence of large miners from bankruptcy, such as Arch Coal Inc., simply provides a window to offload the business:
Is Pruitt Erasing Public Health from EPA's Mission?
Pruitt seems intent on avoiding any acknowledgment that protecting public health is the primary function of EPA, a point that rankled Fox News' Chris Wallace as Pruitt evaded his questions in a recent interview:
"WALLACE: But, sir, you're giving me a regulatory answer, a political answer. You're not giving me a health answer. I talked about 90,000 fewer asthma attacks, 300,000 fewer missed days in school and work."
Pruitt conceded to Wallace that clean air and clean water could be a focus "in the future" — but only after he gets through cutting away agency regulations and "overreach."
Hiding the Ball from The Public
Pruitt did get one thing right in naming his new campaign: he certainly is trying to take EPA several steps "back" – back to times when it was easier for irresponsible companies to pollute our air and water.
Fortunately, there is a much-dedicated staff working at EPA who continue to do the job they have done faithfully across Republican and Democratic administrations to protect the air we breathe and the water we drink. It's up to all of us to speak up and make sure they are allowed to do their job.
Popular in the Community