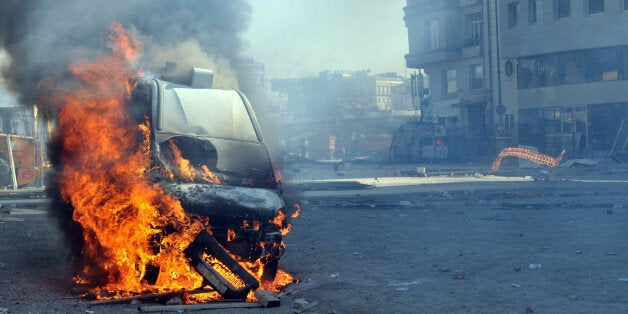 Turkey's government would have you believe that Kurdish terrorists killed more than 100 Kurdish party faithful at a peace rally. It's clear the Erdogan regime thinks the world is pretty stupid to believe that. Amazingly, Western leaders are buying it.
That bomb blast, this time in Ankara, is the third recent Kurdish party (HDP) peace rally to be attacked with explosives (the others were at Diyarbakir and Suruc), with nearly 200 casualties at all three attacks. All of these have occurred since the HDP won enough votes to deny Erdogan's party a majority in Turkey's parliament.
"For some time, we have been receiving intelligence information based from some (Kurdish rebel) and Daesh statements that certain suicide attackers would be sent to Turkey...and that through these attackers chaos would be created in Turkey...The (Kurdish rebels) or Daesh could emerge (as culprits) of today's terror event."
He promised to catch and punish the attackers. If so, he probably doesn't need to look very far. Here's the evidence.
Davutoglu also blames Daesh, the Turkish term for ISIS. Yes, that's the same ISIS that Turkey said they would bomb, but deliberately missed. It's the same ISIS that Turkey's government does little to keep recruits from coming in, or bombers evidently from going out.
Immediately after the bombing, Prime Minister Davutoglu's regime shut down all social media sites "to avoid spreading panic." The bomb already did that. Such a move was only designed to keep the truth from leaking out.
Erdogan must still be laughing at their naiveté.
Western powers have repeatedly fallen for Erdogan's lies. Meanwhile, ISIS and the Turkish ruling party get stronger, terrorism grows, and our Jewish and Kurdish allies get weaker. It's time to ask why. If you agree with me, it's time to contact our leaders and demand answers.
John A. Tures is a professor of political science at LaGrange College in LaGrange, Ga. He can be reached at jtures@lagrange.edu.
Calling all HuffPost superfans!
Sign up for membership to become a founding member and help shape HuffPost's next chapter