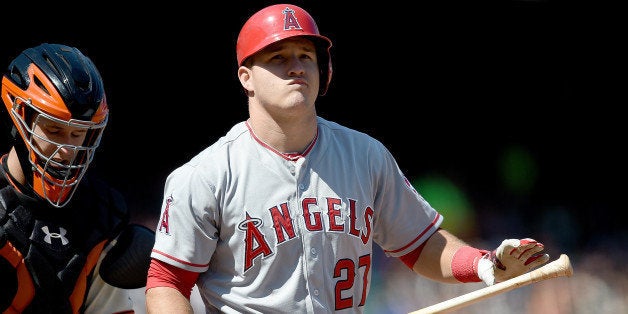 On Saturday, Angels outfielder Mike Trout tweeted his support of Floyd Mayweather before the big fight.
He was hit with scolding and shaming by the Twitterati for rooting for a fighter in the biggest boxing match of the century so far. Hundreds of people called out Trout for supporting a fighter with quite a checkered-past, most notably with domestic violence arrests.
Trout is the best player in baseball and has a squeaky clean image -- generally because he is a squeaky clean guy. It is actually news that he was rooting for a less than honorable citizen in a boxing match.
MLB.com reported that Trout was "told to stay away from further tweets about the fight". The article did not say who told him to stay away.
But the Twitterati basically told him to stay away anyway.
So apparently, nobody can use the tools of technology without being shamed, scolded and cajoled by whoever squawks up to the Twitter microphone. And the powers that be shrink in the face of the online "Mob Rules" pseudo-activism.
We don't know who Mickey Mantle was rooting for when Cassius Clay fought Sonny Liston in 1964. Back then there wasn't an outlet for an athlete to reach his audience directly and talk about things that he enjoyed off the field. We didn't have Twitter back then, and now we do, but Mike Trout just got told not to tweet about some things.
So we are back to 1964 in a lot of ways. That is not progress.
Calling all HuffPost superfans!
Sign up for membership to become a founding member and help shape HuffPost's next chapter