Did it ever happen to you to sit at a table in the food court at the mall, having lunch with your friends, and when you leave the table to buy an ice cream, you discover that you have zero money left in your wallet?
This happened to me just yesterday. True story!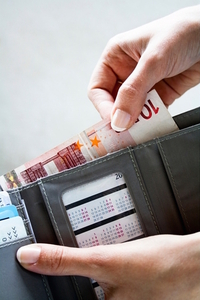 Really?
I know you might be thinking: "Come on Consuela, you probably spent it all on shopping!" It's the first thing that crossed my mind too. And I would have probably lived with that idea if it wasn't for a special 5€ bill that I've been carrying in my wallet for over 4 years, which was also missing. So by negligently placing my purse at the back of my chair, somebody picked my wallet, took out all the money, and placed the wallet right back. The police said it's a classic case of theft. Although I had lost about 100$ altogether, losing that special 5€ bill upset me the most, because I had attached a big sentimental value to it.
The Attachment
Four years ago, I decided to take a sabbatical from work and leave Canada, the country where I grew up and lived for over 20 years, to challenge my status quo and complete my MBA in Dubai. Little did I know that this was about to be the biggest spiritual and self-growth journey that I had yet experienced. I discovered a lot, cried a lot, changed a lot, and then moved on to a new phase in my life: I found love, got married, got a very well paying job, and remained in the UAE for another 4 years.
I did a lot of inner work throughout my MBA year. During spring break, I went on a 5-day trip to Cyprus alone and read Ronda Byrne's book "The Magic". I practiced the daily gratitude exercises that she had suggested and one of them was to take a paper $ bill (in my case it was 5€), write words of gratitude on it, and keep it in my wallet to always remember how fortunate I've always been to receive money whenever I needed it. After doing all the gratitude exercises for 28 days, I was amazed by the abundance that kept coming into my life. So clearly, I had a big attachment to that 5€ bill, as it reminded me of the amazing power of gratitude.
The Lesson
But you see, by taking this 5€ bill away from me, the Universe had a bigger message to deliver, and I spent all day yesterday trying to figure it out. I was starting to remember that lately, I've lost a lot of things that I still owned from the UAE (for example, our dogs ate 7 pairs of my shoes bought in Dubai and the wallet that I gave to my husband as a first Valentine's Day gift when we were dating). I could see that there was something there for me to understand, and I finally got it: "It was time to move on from that previous phase in life and make space for the abundance that the new stage is meant to bring".
Loud and clear, it totally made sense! In 2015, my husband and I went through some major changes. We left the UAE, moved to Europe, followed our passions, started our own businesses, and embarked on a whole new journey together. This journey has different things to bring us, and different lessons to teach us. But if I remain attached to the phase that just ended, it's impossible to fully experience the new phase that we stepped into.
The Outcome
So here I am, filled with gratitude that the Universe didn't give up on me (I could be really stubborn sometimes!), and showed me what I needed to know in order to break free and move on.
Did you ever experience situations that appeared to be misfortunes but turned out to be blessings in disguise?
****************************************************************
Consuela Dezso is a Women's Career & Business Coach and Speaker dedicated to empowering professional women who thrive for a meaningful career & life to embrace their skills and passions, share their individuality with the world, and obtain happiness and abundance in the process. She holds an MBA in Business Strategy and a Coaching Certification, but most importantly, a passion for "bringing out the best in others."
Have a look at Consuela's career transformation programs here or book a complimentary strategy call to discuss how she can help you achieve your goals. You can collect her insights on a conscious career, life & business at www.consueladezso.com and follow her on Facebook and LinkedIn @ Bringing Out the Best in You
REAL LIFE. REAL NEWS. REAL VOICES.
Help us tell more of the stories that matter from voices that too often remain unheard.