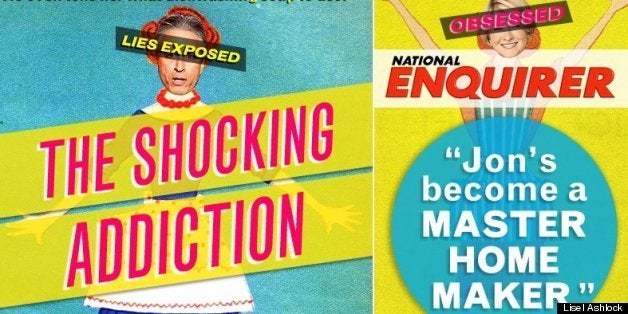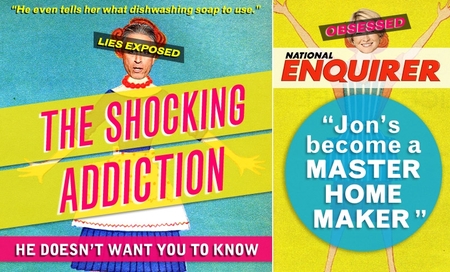 WHY? WHY, NATIONAL ENQUIRER, DID YOU HAVE TO WRITE SUCH A SCANDALOUS ARTICLE ABOUT MY HUSBAND... WHY???
The April 26th headline read, "Late-night funny man Jon Stewart has morphed into his idol Martha Stewart and turned into a domestic diva!"
I read the headline and for a moment, I had to ask myself, Could there be any truth to it? No matter how outrageous those stories were, I always imagined there was some kernel of truth in there somewhere. Had I just not been paying attention? Had I been too busy to notice that my husband was putting his dirty clothes into the hamper instead of right beside the hamper? Had he stopped leaving perishables out on the counter after making a sandwich? Was HE the one making the bed everyday?
I had once heard that Martha Stewart was fond of Jon. Immediately realizing the upside, I offered Jon a hall pass. I imagined how much better my life would be with my sister-wife Martha by my side. Our bed sheets ironed and folded into hospital corners; a perfectly-labeled food pantry; freshly-baked peach tarts in my children's lunches; flower arrangements in all the right places. Surely, these advantages would outweigh the awkwardness that might arise at bedtime...
According to The National Enquirer, "Jon picks up the towels and linens, cooks and does most of the cleaning himself. He enjoys playing the role of housewife." Oh, if only this were true of either one of us!
They go on to say that "like Martha, he's incredibly hands-on at home. Jon just really loves helping out around the house."
Like Martha?!!! For the love of Pete, I have my own online magazine with a healthy serving of crafts, cooking and home design, and you're going to just toss this honor to my husband? Doesn't he have enough accolades already? What have I ever done to you, National Enquirer? Why do you try to hurt me so deeply?
So, now that my illusions have been shattered and I've come to see that The National Enquirer is staffed by imaginative fiction writers, I would like to humbly make my first writing submission to them:

Jon Stewart Mistaken for Rod Stewart in St. Barths

Jon Stewart was mistaken for Rod Stewart when he sidled up to an 82-year-old woman who was relaxing poolside at a posh Caribbean resort. He leaned in and asked the woman, "Do you think I'm sexy?" Jon's gorgeous, intelligent wife witnessed the whole thing. As she stood there with the Caribbean sun bouncing off her six-pack abs and well-toned physique, she just mumbled, "What can I do? He loves the senior set."

Popular in the Community