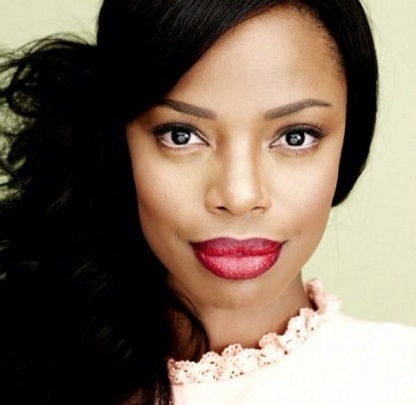 Jill Marie Jones is the female lead and all around badass state trooper turned zombie-killer "Amanda Fisher" in the new Sam Raimi / Starz produced series Ash vs. Evil Dead, premiering on Saturday, October 31st at 9:00 pm ET/PT. Jill Marie Jones' Twitter , AVED Twitter: @AshvsEvilDead , Ash vs Evil Dead Official Trailer
Speaking with Jill Marie Jones was total awesomeness for me since I love horror movies, Sam Raimi and you know, Bruce Campbell who are both from one of my favorite shows, Xena: Warrior Princess.
I love talkers and Jill Marie Jones is just that! Try to look away from her stunning picture up there long enough to read this interview! Onward!
Tell us about your audition.
My audition for Ash vs. Evil Dead was hands down the most interesting audition I've had to date. One of the notes was to act out both scenes entirely. Now, that may sound like a regular Tuesday audition, but trust me, it was not. They wanted all the movement, which is not something that is typically done in an audition, and there was a lot! Just imagine yourself pretending to have a gun and entering a house on full alert. I was walking around invisible corners while shooting my pretend gun, fighting and getting punched by make believe people, falling to the ground, etc. It was WILD, and I loved it! They were very protective of the script and with the fear it would be leaked, we were only given the sides of the character we were reading for. Amanda Fisher's sides read like a horror drama. Funny enough, I thought that it was a typo when it said it was a comedy on my original appointment sheet. AVED is unique because you have humor, ass kicking, and of course, in true Evil Dead fashion, lots of blood...but also the horror in the show is really scary. You have all this goodness wrapped up in one show, I can't wait for the world to see it! I didn't meet the amazing Sam Raimi and the rest of our wonderful producers until after I got the offer. I did read for AVED, but there was another network that wanted me for a role. Our incredible network (STARZ) and producers swooped me up quick and offered me the show and the rest is history. I'm SO HAPPY they did because it was the one I really wanted!
What do you think about the horror genre?
I love the horror genre. It's up my dark dirty road. I grew up on Friday the 13th, Nightmare on Elm Street, Halloween....those were definitely my favorites. I wasn't really into gore until later on, but especially now after Ash vs. Evil Dead, I'm like "More blood? Yes please!"
Actor Bruce Campbell has been in the business forever. Did you ever feel intimidated by his presence?
I wasn't intimidated, but I have the utmost respect for Bruce Campbell and the character and world he created. Bruce set the tone and we followed his lead. It can be a bit scary stepping into a project so huge and highly anticipated. Luckily for me, the shoes I wear in the world of Ash vs. Evil Dead have never been worn. I'm not reprising a role so I've had the great freedom of finding her and creating without limitations. The number one thing I wanted was to do was make sure I did the legacy justice and make the die-hard fans happy.
Tell us a behind the scenes story for American Horror Story: Asylum that you never told publically?
I don't have any funny or crazy stories; however, producers and the cast members were amazing and one of the best sets I've been on. And of course, it' not too difficult playing opposite of the talented and sexy Dylan McDermott. It was like a master class.
What's it like working with the legendary Sam Raimi?
He's a genius, man! He directed our first episode. It's so inspiring to be in the company of such a creative mind. It's great when you meet someone at his level that's so kind and has a heart of gold. He has such a gentle touch in his directing style. He gets his shots, but he does it with such respect, and not just with the cast members, but with the crew. Working with him is a dream.
What are your food and workout routines?
I eat pretty healthy, but let's keep it real, I'm from Texas and I love food! Everything in moderation, right? I wouldn't call myself a fitness nut, but I'm active. I enjoy hiking, boxing, and spinning. I like to mix it up to keep myself entertained.
You played Toni Childs for six years on the series Girlfriends. What's it like working for six years with one character vs. a guest spot which might only be one episode?
It's great being able to be a part of a family for multiple seasons. Girlfriends will always live on in my heart, and having the opportunity to play such a complex character as Toni Childs was a dream come true. It is where it all began and I thank the incredible Mara Brock Akil for seeing in me what I've always seen in myself. One of the benefits for being a series regular is you have more time to find and explore the character, it's different with a guest spot. The audition may be on a Monday and it shoots that Wednesday, so you don't have the luxury of time to get in the mind of the character. On the flip side, it's definitely fun to get to do these guest spots and do something completely different than you've ever done before.
Did you ever have braces? Love that smile!
Thank you! I did, I've actually had braces twice. Once when I was in Junior High, and then funnily enough, when I was on Girlfriends. What's even crazier, three of the four Girlfriends had braces at the same time, during the same season.
REAL LIFE. REAL NEWS. REAL VOICES.
Help us tell more of the stories that matter from voices that too often remain unheard.