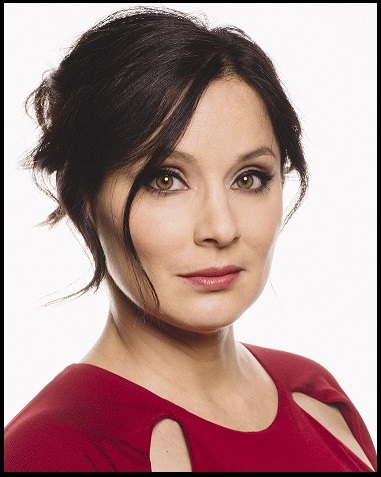 Jacqueline Piñol plays Pepito in Fox's new animated series Bordertown
Jacqueline's Twitter , Jacqueline's Website
Photo by Elisabeth Caren.
In Part I of my interview with Jacqueline Piñol, we learned she's an advocate of HypnoBirthing. I don't even know what HypnoBirthing is, and I gave birth to my three hatchlings, so check out this link if interested.
Huh? Where was I? Oh, yes! Jacqueline Piñol -- the actress who currently voices Pepito in Seth MacFarlane's Newest Comedy Series Bordertown!
Acting aside, I love Jacqueline because she talks. A lot. Like, I had to edit out 15 pages of answers. Okay, not 15 pages, but you get my drift! She's so bubbly; it makes me smile!
What was life like growing up and with two younger sisters?
My age gap with them is seven and five years so as kids they always got along better between themselves than with me. This is why I played by myself a lot. They were too "young and not cool" to play "my" games. What a meanie I was! As adults now of course we get along better and it's nice to have someone who you know will always have your back and you have their back no matter what! We moved to California when I was five and although I always wanted to say I was a New Yorker because I was born there I didn't really remember N.Y. enough to claim it. Didn't have my New York accent down back then. I think growing up in L.A. vs. New York makes you a little less rough around the edges and that's not to say either one is good or bad, just different. One of my sisters actually now lives in N.Y. and let's just say she's learning to get some thick skin! I think I grew up happier in California than if my parents stayed in N.Y. for the simple reason that they are both Latin American from tropical weather and the cold weather just makes them cranky... so they did us a favor by moving to California.
You're in Amazon's Bosch, Season 2, premiering Spring 2016. What's it like working on an Amazon show vs. a prime time network show?
I am beyond thrilled to be on Bosch. I was already a fan when I got cast. I devoured the 1st season! Fans beware, the 2nd season is going to be even better! I play a detective and what I love about my role is that it is written as a strong, experienced woman who can carry her own in a man's world. Working on an Amazon show is different than network TV because it feels more like you are shooting a film. We have the luxury of taking just a little more time to get though the shots... although with this cast of pros things always run smoothly and everybody brings it every day. There is also an element of realism and simplicity in Bosch that might be considered too risky for network TV. I applaud Amazon for putting out shows like this.
What type of work do you feel most comfortable in and which is the most challenging?
I would say that among the different avenues of my craft, I hands down prefer to do drama film and TV. It's where I feel challenged and inspired to create. Yes, I also feel comfortable BUT I never want to get too comfortable or I might lose the drive to create the spark in my work. Voice over work is a close second. It allows me get in touch with the kid in me and I never want to lose that.
You played Ricky Martin's younger sister on General Hospital. What was it like working on a soap opera back in the day?
OH MY GH DAYS. Short lived but OH SO MEMORABLE!! RICKY MARTIN!! When I booked that role I was like a screaming teenager at a Justin Bieber concert (but in the privacy of my room of course). No one knew who Ricky Martin was back then like they do now... but I did! Being a Latina I grew up being a HUGE fan of MENUDO and he was a member of Menudo. I had such a crush on him. I remember being in the make-up chair when he walked into the make-up room and I saw him in person for the first time. I was numb. I don't even remember if I could speak. He was so down to earth and sweet and friendly. He walked right up to me and introduced himself ,"Hi I'm Ricky Martin. Nice to meet you." ...and he smiled that sexy smile of his... I can't remember what I said but "OF COURSE I KNOW YOU ARE RICKY MARTIN AHHHHHHHH" is what I was probably thinking. Working with him was a true joy and by far one of the personal highlights of my career. The General Hospital cast and crew was very welcoming to me but I can't remember any stories other than OMG I am playing Ricky Martin's younger sister!!!! Years later when he broke out as a superstar in the U.S. all my friends were like "OMG and you got to play his sister!!!" Ummmm, yeah dorks, I told you all he was the awesomest!!!! Now they cared. At least in their eyes I discovered him. Haha!
How did you get into acting? What advice would you have for someone else starting out at a young age?
I enjoyed being in school plays since my elementary days. I also sang and I just loved being on stage; it took me away from reality and into a fairytale land back then. I knew I wanted to be an actress and pursue a career as an artist since I was 12. My parents were not stage parents at all but there was something in me that drove me to pursue it and find a way in. What advice would I give to anyone starting at a young age? Hmm, well there are a few things. #1. Always always study your craft but stay true to yourself! #2. Become great at something outside of acting, something that you're really passionate about. #3. GO TO COLLEGE AND TRAVEL THE WORLD. Getting an education and traveling the world will always make you a more interesting person, hence actor. You will have more to draw from, you will have more to offer and you will be much happier pursuing the ever so changing and unpredictable career of the artist.
You love chocolate. How do you keep in shape?
Yes, I love love chocolate. And not just any chocolate. I prefer dark chocolate and decadent chocolate desserts -- the kind you get at Serendipity -- or Max Brenner's chocolate by the bald man in N.Y., to name just a few. My child better like chocolate or we are going to have to have a conversation! I am not the type to overdo it when indulging in sweets so staying in shape is more of a constant in my life. I do it not only for my career so the product "me" looks good but also so I can stay healthy and active my whole life. I practice hot yoga, I train with a trainer and have a gym at home so that I have no excuses!
Anything else you'd like to say?
I am very much involved in the dog rescue world. I am currently funding and in production of my own documentary about rescuing helpless, abused and abandoned dogs across the USA. Our problem in this country when it comes to homeless dogs is massive! Shelters can't even provide enough of or the best services to better the problem. I have been an advocate for the movement of rescue for years now but I felt like I needed to get the message out on a larger scale. We are shooting in different states across the United States and learning about all we as a people can do and what is already being done to better this problem which literally trickles down and affects everyone in this country whether they are dog lovers, pet owners or not. I think we have a responsibility as a society to step up and be the voice of helpless animals who didn't ask to be here much less be abused, or abandoned. Wow, not to be a downer but it's the truth and I see it every day. Once you know something THAT wrong is happening you can't turn a blind eye to it. I know I can't. I give a shout out to all the wonderful dog rescue organizations and dog rehab programs that have opened up to us (me and my crew) on our film's journey. There are so many people who help rehab, heal and home hundreds of dogs every year and with this film I want get more people on board so more Americans can actually make a real difference in regards to animal welfare.
Calling all HuffPost superfans!
Sign up for membership to become a founding member and help shape HuffPost's next chapter