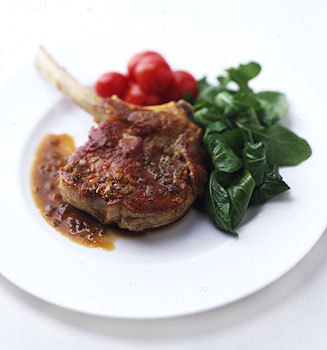 Something I always have on hand in the kitchen is a roll of aluminum foil -- it's super-convenient for baking (and sometimes, after a long day at work, I'll wrap my fish in it before popping it onto my George Foreman grill) -- hello, zero cleanup.
Speaking of cleanup, did you know that if you ball up some foil, you can use it to scrub uncoated pans? Yup, it's true. If you don't have any scrubby sponges or steel wool (rough) on hand, balled-up foil is a great alternative -- just combine it with a bit of water and salt for a soap-free clean.
And after you scrub up that uncoated pan, why not make some of your favorite comfort foods? Like:
PAN-ROASTED VEAL CHOPS WITH ARUGULA
Ingredients
:
4 (1- to 1 1/4-inch-thick) veal rib chops (10 to 12 oz each), bones frenched if desired
2 1/2 tablespoons unsalted butter
1 1/2 tablespoons olive oil
1 garlic clove
1/4 teaspoon salt
1 1/2 tablespoons balsamic vinegar
3 tablespoons minced shallot
1/2 cup dry white wine
1 cup low-sodium chicken broth
3/4 teaspoon minced fresh rosemary or 1/4 teaspoon dried, crumbled
2 small bunches arugula, trimmed
Preparation:
Preheat oven to 425°F.
Pat veal chops dry and season with salt and pepper. Heat 1/2 tablespoon butter and 1/2 tablespoon oil in a 12-inch heavy skillet (see cooks' note, below) over moderately high heat until hot but not smoking, then sear chops until golden brown, about 3 minutes on each side. Transfer skillet to middle of oven and roast chops until an instant-read thermometer inserted horizontally into a chop registers 155°F (do not touch bone), 10 to 15 minutes (depending on thickness).
While chops are roasting, mash garlic to a paste with salt using a mortar and pestle (or mince and mash with a large heavy knife), then transfer half of paste to a bowl and whisk in 1/2 tablespoon vinegar, remaining tablespoon oil, and salt and pepper to taste.
Transfer chops to a plate and keep warm. Add shallot and remaining garlic paste to skillet and cook over moderate heat, stirring, until softened, about 1 minute. Add wine and remaining tablespoon vinegar and boil, scraping up brown bits, until reduced to about 2 tablespoons, about 4 minutes. Add broth and rosemary and boil until reduced by half, about 4 minutes. Remove from heat and add remaining 2 tablespoons butter, swirling skillet to incorporate, then stir in any veal juices accumulated on plate. Season with salt and pepper.
Add arugula to dressing and toss to coat. Serve chops with sauce and arugula.