As October comes to an end, the pink martinis have been drunk, the pink pompoms have gone flat, and the grocery store is getting ready to change out their donation signage for another important cause. But breast cancer? It doesn't care one bit about the calendar.
I know this because if it did, when my friend Dana was 37 weeks pregnant with her first child and just beginning her maternity leave, she would have been thinking about things like art for the nursery walls or where to best enjoy a mid-day nap. A casual ultrasound would have proved the lump in her breast was simply a clogged milk duct, like she thought it was.
But it wasn't. On Friday, Sept. 7, 2007, she was told she had breast cancer.
Six days later, her life-affirming daughter, Isabella, was born. Six days after that, their precious breastfeeding and bonding time came to an end so that Dana could undergo surgery. Her lumpectomy and lymph node removal -- which showed 10 of 13 lymph nodes contained cancer -- confirmed that she had stage 3C cancer (ER+ with strong HER2 over-expression = aggressive!).
Of course being Bella's mom was the best medicine, but that still came with months of chemotherapy, radiation, pills, and monthly anti-estrogen injections.
And for 18 months, Dana was able to enjoy good health. Then she had a recurrence in January, 2010.
Because the cancer returned in the same breast, she had a mastectomy on her left side, as well as more lymph nodes removed. More cancer. More chemo. More follow-up pills and shots. And, finally, an oophorectomy (ovary removal surgery) last year.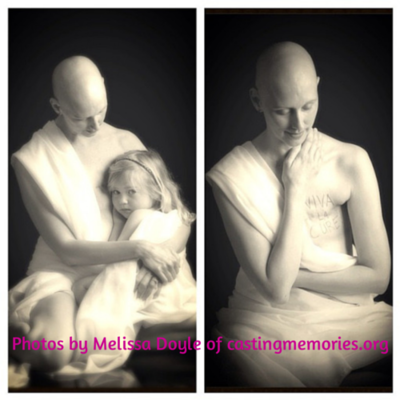 But here's the thing. Dana's story? It's not a sad one, it's a hopeful one. Because while she fought -- and continues to fight thanks to the spots on her lungs that are too small to biopsy, but present as possible metastatic breast cancer to her lungs -- she celebrates the happy moments that come in spite of the fear and struggle. And she continues to not only live, but inspire people around her.
Dana has used her journey to spread awareness and provide guidance and support to others going through their own battles. She's living proof that seven years, two battles, six surgeries, three missing body parts, 20 doses of chemo, 30 rounds of radiation, seven threatening shadows, hundreds of injections, numerous maintenance pills, tons of scans, and hour upon hour of scanxiety are no match for one very strong woman.
The message Dana shares loud and clear? Don't be blinded by the pink. Heed the message. Be proactive. Know that only 5-10 percent of breast cancers are thought to be hereditary, which means the rest are a total crapshoot. Like hers.
Don't simply donate to the cause. Be a crusader for you own cause. Know your breasts. Take note of changes. Trust your instincts. And, should you ever hear the dreaded words she did, "You have cancer," know that you're not alone.
Should it be me, I'll do my best to learn from Dana. The way she stays so very positive -- looking to the world with gratitude, appreciating the small moments. The way she humbly leans on others when she's in need. And the way she takes each step as it comes, one day at a time. I will see her vulnerable, yet strong picture in my mind, and hear her words echo in my thoughts, "You can and will beat the beast! Viva La Cure!"
Amy Heinz is a San Francisco Bay Area mom of three and the writer behind Using Our Words--her parenting blog filled with lessons she's learned (usually the hard way), laughs she's enjoyed (mostly at her own expense), and tears she's shed (this mama's got heart). You can also find her on Facebook.