"We are in virtual reality right here at Oculus Connect!"
On October 6, after days of mounting hints and rumors, Mark Zuckerberg took the stage at Oculus Connect 3 in San Jose, CA with big news to share. There were a variety of announcements throughout the keynote, by Zuckerberg and other Oculus executives, but the takeaway was simple: Oculus intends to build the Metaverse.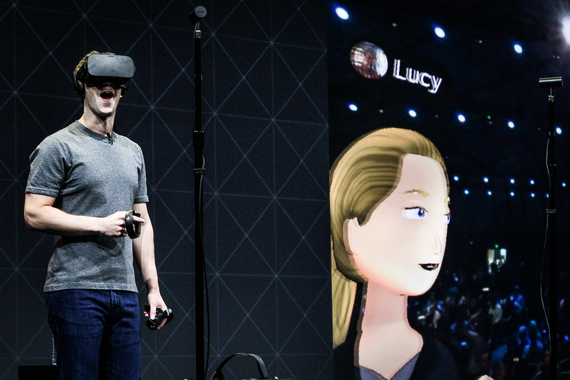 The Facebook CEO has made it clear since acquiring Oculus for $2 billion in 2014 that he sees VR as a medium with vast social potential, but the keynote at OC3 gave us a glimpse of his vision of Social VR. And it's a bit different than what's been depicted in the likes of Snow Crash or Ready Player One, most notable for its definitive push toward mixed reality (MR) -- enmeshing interactive digital elements with "base" reality. So how exactly is this all going to come about, and what does it include?
Oculus Avatars
An Oculus Avatar is your customizable, virtual self. You can tinker with a mix of different options for clothing, accessories, hairstyles, textures, and colors -- with over a billion possible permutations. Avatar VR is ground zero of Oculus's metaverse: it's how you "embody" yourself in their social framework. Using Oculus Touch, the avatar can match your hand and body movements with cyberpunk surreality, and witnessing it happen offers an immediate sense of how "you" could exist in cyberspace.
Oculus Parties & Rooms
Once you're all dressed up, you need somewhere to go. That's where Parties and Rooms come in. Parties lets you start a voice call with up to eight people from anywhere in VR. Imagine chatting from within VR, as an avatar, with your real-life bestie...or vice versa. Meanwhile, Rooms gives you the chance to instantly meet up with your friends in VR. So, using your own Avatar, you can enter a Room with your pals, and then the lot of you can transport to a 360° video. When live 360° feeds become commonplace, this means you'll be able to exist virtually, virtually anywhere, in real time. The video from VRScout below gives a clear sense of how it works.
Parties and Rooms will be available for Gear VR in the coming weeks, and for Rift in early 2017.
Better Tools, Cheaper Costs
Oculus's push into Social VR is something we've been expecting for the past two years (given the apparent connection to the mightiest social network on the planet), but for it to take off, a few necessary things have to happen first. We need powerful solutions in our hardware and software -- and at cheaper price points to boot -- to make VR a plausible option for the average consumer. Oculus has a few ideas about how to make that happen. Since high-end VR continues to run on a tether, this means we need better, cheaper computers, so Oculus has announced Oculus Ready laptops (from AORUS, ASUS, Gigabyte, and Lenovo, all powered by NVIDIA) to join the family of Oculus Ready PCs announced earlier this year.
These computers are built to align with Asynchronous Spacewarp (ASW) -- which in human-speak is a new technology that allows systems to deliver more fluid VR on less powerful hardware (numbers for this improved minimum specification can be found here). By working to drop the CPU and GPU requirements, Oculus makes itself available to a broader audience. For new customers, the AMD-based machine from Cyberpower they introduced to run Rift will retail for $499.
Cutting the Cord
The dream, of course, is to get high-end VR off the tether altogether. To that end, Oculus is developing Santa Cruz, a standalone headset that requires neither a cord nor a phone to run VR. It's still in development, but early reviews of the prototype suggest a bright future for the HMD. When you consider how this system will dovetail with their developments in Social VR, the implications here are enormous.
WebVR
The key to integrating all this amazing new tech lies in WebVR. This is why the likes of Envelop VR, JanusVR, Venn.Agency, Sketchfab, and many, many others who have been working in the WebVR space have been so well-received to date. Oculus is launching the developer preview of their Carmel VR web browser. When finished, this will be available to all Oculus users for their myriad web needs.
Growing the Ecosystem
The VR consumer base in the Western world isn't yet able to sustain content production at the level it will in a few years, but the Oculus team isn't about to sit around and twiddle their thumbs. They've already invested $250 million in VR content, and at OC3 they announced that they'll be doubling that number. In seeking to draw out the best voices and perspectives from a variety of communities, they're committing $10 million to diversity programs such as Launch Pad, VR for Good, Amplified New Voices, and the newly launched Diverse Filmmakers Project. For those hungry to learn how to start developing VR content, Oculus NextGen will offer Unity workshops and equipment to top universities to encourage VR content creation in the academy.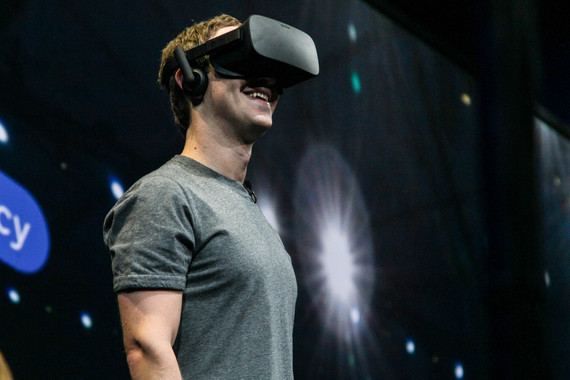 There were a few other notable announcements. The long-awaited Oculus Touch system was given official dates -- the controllers are available for pre-order October 10 and will ship by December 6. The $199 price tag includes a two-game bundle of Unspoken and VR Sports Challenge. Arktika.1 from 4A Games, Lone Echo from Ready at Dawn, and Robo Recall from Epic Games were also announced as newly available Touch-enabled titles. Oculus Earphones, an earbud substitute for the existing over-ear option, will be available on the same dates as Touch for $49. The latest Oculus news and updates, including videos from OC3, can be found on their official website.
Next up: a recap of the top VR experiences we saw at OC3.
Related
Popular in the Community