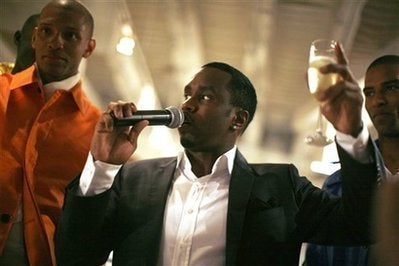 Hip hop impresario, marathon runner, and entrepreneur Diddy wants you to be safe this New Year's Eve. In fact, so much so that he's gonna pay to help you do it.
The artist formerly known as Puff Daddy and the makers of CIROC Ultra Premium Vodka will be distributing thousands of debit cards worth up to $15 around New York City to ensure that holiday revelers get home via taxicab.
The cards only work in the city's yellow cabs and will be available in "high-traffic" locations, wherever they may be.
The full press release is below:
NEW YORK, Dec. 30 /PRNewswire/ -- In an unprecedented effort to promote sophisticated celebration this holiday season, the makers of CIROC Ultra Premium Vodka -- the "Official Vodka of New Year's Eve" -- and Sean "Diddy" Combs will provide thousands of New Yorkers and visitors to the city with a chance for a safe ride home on New Year's Eve by helping to pick up Yellow Cab fares.

(Photo: http://www.newscom.com/cgi-bin/prnh/20081230/NY54910)

In partnership with the New York City Taxi & Limousine Commission (TLC) and E! Entertainment, Diddy and CIROC will distribute thousands of debit cards, valued up to $15, in high-traffic New York City locations for use in one of the city's 13,000-plus taxicabs on New Year's Eve, so adult revelers can get home safely. CIROC and E! Entertainment are further supporting the initiative with a message from Combs currently running on taxicab televisions in New York City through January 1, 2009.

"As the 'Official Vodka of New Year's Eve,' we have a responsibility to remind everyone to get home safely on this most celebratory of nights," said Combs, who entered into a strategic marketing alliance with the spirit brand more than one year ago. "New York is the world's most iconic New Year's Eve city, so let's lead by example and show everyone that a sophisticated holiday celebration doesn't just end when the ball drops, but when everyone gets home safely."

"It is always good to see companies like CIROC highlighting the importance of safety and responsibility," added Matthew W. Daus, Taxi and Limousine Commission Chairman. "Social responsibility and the taxicab industry have always gone hand in hand, so we appreciate CIROC's partnership with the industry to ring in 2009 by helping people to celebrate in a thoughtful and intelligent way."

CIROC street teams will distribute thousands of debit cards to adult consumers (while supplies last) in Manhattan between 11:00 p.m. on New Year's Eve and 3:00 a.m. on New Year's Day. Each debit card will provide up to $15.00 in cab fare -- the approximate cost of a single taxicab fare within New York City.

CIROC also debuted recently a social responsibility-focused television spot as part of the brand's widely publicized "Art of Celebration" campaign. The campaign encourages consumers to "Celebrate Life Responsibly" by always making sure to have a designated ride home.

E! is also extending the message nationally with the network's "Drive Safe" campaign, including on-air spots that feature some of today's hottest celebrities encouraging responsible choice making and offering people a solution to find a safe ride home. Viewers can text "Drive Safe" to 37373 from their wireless devices to receive taxi contact information in their area. Standard text message rates apply.

"E! is committed to providing an easy way for people to party responsibly not just on New Year's Eve but any time, any where," said Suzanne Kolb, Chief Marketing Officer, E! Entertainment and The Style Network; General Manager, E! Online. "We are thrilled to be working with CIROC and Sean 'Diddy' Combs to highlight this important cause."

For more information, visit http://cirocvodka.com.
Support HuffPost
The Stakes Have Never Been Higher
Related
Popular in the Community