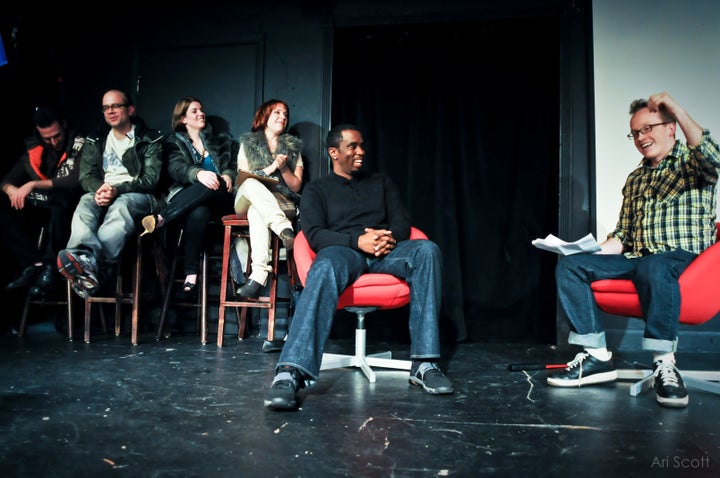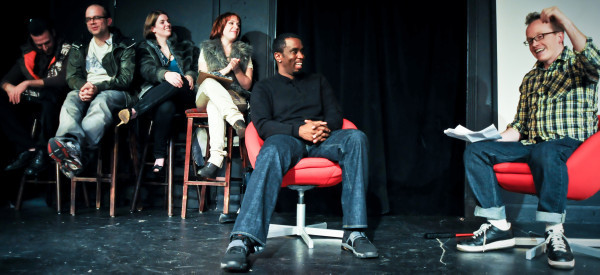 (L-R) Don Fanelli, Will Hines, Shannon O'Neill, Bethany Hall, Sean "Diddy" Combs, Chris Gethard. Photo courtesy Ari Scott.
If you ever want to book Diddy on your comedy show, all you have to do is ask him on Twitter. At least, that was how Chris Gethard did it.
On Friday just after midnight, Sean "Diddy" Combs, one of entertainment's most high-profile moguls and a seemingly untouchable celebrity, appeared through the curtains on the stage of the Upright Citizens Brigade Theatre for a special installment of The Chris Gethard Show. He walked out alongside Gethard to thunderous applause and a standing ovation that was equal parts elation, amusement and anticipation.
"It's still an amazing thing that it actually happened," said Pat Baer, the house manager at UCB the night of the show. "We all thought, 'Oh, that's funny, every month or so we all tweet at Diddy to do The Chris Gethard Show.' Other than Chris, I don't think any of us suspected that it would actually happen."
The image of the two entertainers standing side-by-side in a black box theater, within mere feet of no more than 200 tightly-packed comedy devotees, was as unlikely as the two men are different. Gethard, a 29-year-old New York-based comedian who recently starred in Comedy Central's "Big Lake" and is a longtime mainstay in New York improvisation circles, is a boyish, immensely likable performer whose own website describes him as "a well-known weirdo."
Diddy, alternatively, is a Grammy-winning rapper, producer and businessman known as one of hip-hop's most noteworthy impresarios. The artist, formerly known as Puff Daddy and P. Diddy, has extended his empire to a clothing line (Sean John) as well as celebrated acting roles (Broadway's "A Raisin in the Sun," last summer's "Get Him to the Greek"). According to Forbes, Diddy earned $30 million in 2010 alone.
And yet despite their monumental differences, for about an hour on Friday night, they shared the stage of a basement theater. "I would say that this is the biggest person to ever do a show on our stage, as far as someone who is in-the-moment of pop culture," said Baer, who has been involved with the theatre since 2004. "Even Alec Baldwin doing monologues for ASSSSCAT [UCB's weekly improvised showcase] is huge and amazing, but he's in a sitcom, so it makes more sense. But with Diddy, it's just crazy."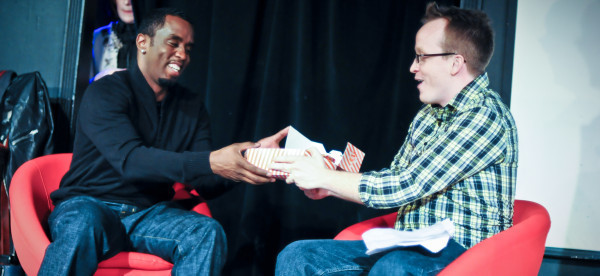 Diddy and Gethard. Photo courtesy Ari Scott.
The Upright Citizens Brigade Theatre has been a hotbed of New York comedy for over a decade. The theatre stages shows seven nights a week, and counts writers and performers on "Saturday Night Live," "The Daily Show," "The Colbert Report," and scores of other comedy outlets among their active members or alumni or their training program.
The evening was the culmination of a 13-month Internet campaign to get Diddy to appear in The Chris Gethard Show, a freewheeling talk/comedy show that touts itself as "the most bizarre and often saddest talk show in New York City." Gethard began his personal mission of getting Diddy to appear on his monthly show on Christmas Eve 2009, in the form of a YouTube video of a personal plea to Diddy to appear on the show.
"I want to live in a world where I can make a video like this, and you'll somehow see it," Gethard said in the video, addressing Diddy. "And you'll come and make an appearance on my show. Even if that appearance is thirty seconds long."
Gethard encouraged his followers to use the Twitter hashtag #diddygethard -- the logical way to reach the rapper, whose Twitter account, @iamdiddy, boasts over three million followers and is updated with remarkable frequency. Within days of posting his video, Gethard was on the phone with Diddy explaining the barrage of #diddygethard tweets. (Gethard's last name rhymes with "tethered," which clears up a more unseemly interpretation of the hashtag.)
"Twitter is weird," Baer said. "This show could not have happened three years ago. Three years ago, Gethard might have said, 'Who knows how to contact Diddy? I would like to get Diddy on my show.' And people would have said, 'Maybe? No! How would you do that?' But now you can."
Soon, Gethard reached an even larger audience to promote this idea that was slowly turning into a reality. During an appearance on "Late Night with Jimmy Fallon" to promote "Big Lake," Gethard spoke at length about his intent to book Diddy on his show using Twitter. That night, #diddygethard was a Trending Topic in New York City. Now that the campaign had gained enough traction, the comedian approached Diddy backstage at "SNL," where Diddy formally promised, on camera, that he would appear as a guest on The Chris Gethard Show. Soon after, the show was officially booked for January 14th, 2010.
Up until that point, many were skeptical the show would happen. "I absolutely thought it could happen, but I didn't think that it would," said Bridgid Ryan, a regular performer at UCB who helped campaign for the show on Twitter.
But when it became clear that Diddy was serious, Ryan and other members of the tight-knit UCB community saw cause for celebration. "The fact that he was coming to this theater that I go to three or four times a week was really uplifting. It reminded me of that feeling you have when you actually believe in Santa. It creates anticipation of the unknown and renewed possibilities."
"I couldn't believe it," said Will Hines, a performer at UCB and a regular cast member on the show. "I was totally excited and bewildered that it was going to happen. That somebody like him was going to come do this show, which is often by design very slapdash and low-fi."
But when Diddy and Gethard appeared through the curtain, there was no turning back: Gethard had achieved his goal. After the shock and novelty of seeing Diddy on the UCB stage died down, it was time to actually perform a comedy show. One of improv comedy's central mantras is the concept of "yes, and?", meaning that performers should try to build on any idea thrown their way, no matter how crazy. Diddy had said "yes," so it was up to Gethard and his cohorts to provide the "and."
The show, which in addition to Gethard included the show's normal cast of Hines, Shannon O'Neill, Don Fanelli, and stage manager Bethany Hall, included comedy bits that revolved around Sean John and Diddy's favored vodka, Ciroc, followed by a christening of nicknames on each cast member by Diddy. (Hall's given nickname of "Nice Tight White Lil' Booty" got perhaps the biggest laugh of the night.)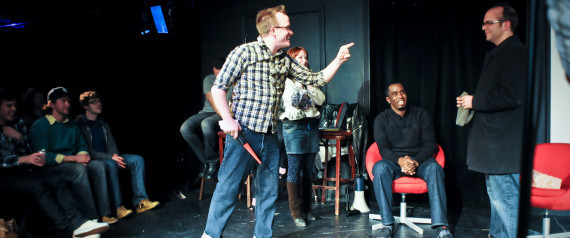 Gethard, Diddy and Will Hines. Photo courtesy Ari Scott.
Gethard then conducted a genuine question-and-answer session with his new friend, where Diddy convincingly gave a crowd composed of mostly white twentysomethings advice on show business, creativity, and work ethic.
"I was so proud at how restrained the audience was," said Ryan. "Everyone was silent. You could hear the people just taking it in."
Diddy then presented a care package for Gethard, who is currently on tour -- a care package that included a stack of cash, an apparent handgun, three strippers, Diddy's own designer sunglasses, and breath mints ("I believe fresh breath is important"). The show ended with a staged reading of Gethard's imagined post-show friendship between himself and Diddy, a very funny tale of outlandish partying that concluded with a return to normalcy.
After the show, the crowd was buzzing -- not only had the impossible had been achieved in booking the show, but it was met with an overwhelmingly positive reaction. The word "inspirational" was uttered frequently and unironically.
"I was blown away!" said Ryan. "[Diddy] has a presence and a magnetism. He was really in the moment. He wasn't trying to change the show or affect the show, he wasn't trying to steer it or anything. He was just as open-eyed towards us and the UCB in this comedy basement as we were to this megawatt star."
The performers also were pleased by the show.
"Felt great. Elated. Excited," said Hines. "I was worried -- probably not as worried as Chris -- that we wouldn't make good with the opportunity of having this excitement. But I felt like most of the show went really great."
During the show, Gethard spoke of how the phrase "Diddy Gethard" started off as a joke, but 13 transformative months later, represents the achievement of the impossible in the face of daunting and seemingly insurmountable odds. Such a sentiment could seem corny or trite under different circumstances. But Gethard was validated in his belief that he lives in a world where not only would Diddy see his original YouTube video, but agree to perform at a small improv theater solely based on the tenacity and enthusiasm of Gethard and his friends and fans.
So what is it about UCB that allowed for this event to happen? According to Ryan, "People that are willing to ask for the things that they're scared of. Comedians have to. The only way they're going to be funny is if they reach down into themselves and find what connects them to others. Their wants and desires for themselves are things that they're very scared of accomplishing, and scared of failing at. But the only way to make it happen is to ask."
If anyone has demonstrated the value of asking (and re-asking), it's Chris Gethard. As Diddy told Gethard in one of their early phone conversations, "Ask and ye shall receive, motherf***er."
Related
Popular in the Community