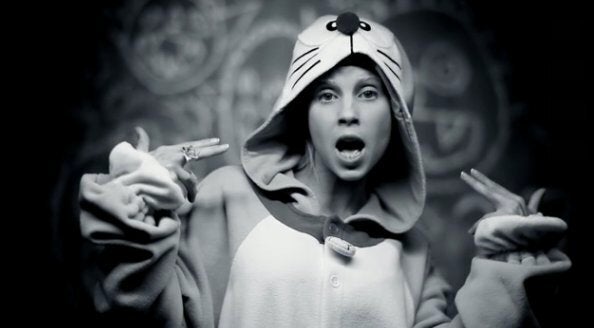 Our favorite joke rap band turned surprise!-they're-really-legit rap band is back with a new single, and an old-school attitude. The South African trio is ditching the Interscope label they signed to after hitting viral fame, and self-releasing their new album, TEN$ION, on their own label, Zef Recordz. To inaugurate their move back to the basics, the rave-rappers -- Ninja, Yo-Landi Vi$$er and DJ Hi-Tek -- announced a new single/video on Twitter, and posted the following on their online diary, Boing Boing reports:
So anyway... Interscope offered us a bunch of money again to release our new album TEN$ION.

But this time, they also tried to get involved with our music, to try and make us sound like everyone else out there at the moment.

So we said: 'U know what, rather hang on to your money, buy yourself something nice...we gonna do our own thing. Bye bye'
Their single, "Fok Julle Naaiers," translates to "Fuck you all," which they explain in their equally offensively titled video interview with Ninja titled "Faggot." Ninja addresses the fact that using this word may offend American listeners, but offers four reasons why it should not:
I'd like to set the record straight here once and for all. Number one: DJ Hi-Tek is gay. So there you go. Now you all know. Number two: Dj Hi-Tek says the word faggot doesn't hold any power over him. Hi-Tek says faggot all the time cause he's like, kind of taken that word and made it his bitch. Number three: Just to be fucking clear, the Antwoord is not homophobic… Number four: It comes across to us that some people from America are heavy sensitive about the use of certain words. But the thing is, what you need to understand is, we're not from America. We're from South Africa. And South Africa people aren't so pumped up about these words.
By the time the interview ends, you've received an unexpected cultural lesson on language, with Ninja suggesting we learn a thing or two from our friends in South Africa.
On that note, watch this Not-Safe-For-America video, followed by the interview:
Popular in the Community