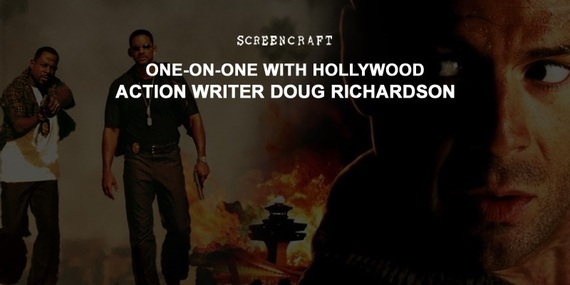 Doug Richardson first garnered national attention as the first screenwriter in Hollywood to sell a spec script for a million dollars. His first feature film was the first sequel to the original Die Hard, Die Hard 2: Die Harder, which was produced in 1990. He also wrote the box office smash Bad Boys, as well as Hostage, and has many uncredited rewrites on some of Hollywood's biggest action movies. Collectively, Doug's features have grossed over $800 million dollars worldwide. He writes a weekly blog sharing his screenwriter war stories and is an accomplished author as well. You can find his published works on Amazon and follow him on Twitter @byDougRich.
ScreenCraft: How, when, and where did your storytelling roots begin?
Doug Richardson: How? Good question. Who knows when the urge to invent fiction began? Closest I can come was sixth grade. My teacher, Mrs. Corbett, held three writing contests -- for Halloween, Christmas, and Easter. After I'd performed the middle school hat trick of winning three in a row, she told my parents that she was certain I'd grow up to be a famous author. I'm still working on the famous author part. In May 2016 I'll be publishing my sixth novel.
ScreenCraft: What was your first big break as a screenwriter?
Doug Richardson: Boy. Was it one big break, or a bunch of little breaks? I suppose one could obviously say Die Hard 2. I was unproduced and was hired to write the screenplay. But there were some before that. For me it was going from broke and living on coupons to having an office at Warner Brothers and one of the last "paid by the week" studio writer gigs. It was my graduate screenwriting program.
ScreenCraft: How did you become attached to

Die Hard 2

?
Doug Richardson: Attached is the wrong term. I was hired to write the sequel by the brilliant Larry Gordon. Brilliant because this was barely three weeks into the original Die Hard's theatrical run. Larry knew the studio would want a sequel. They just weren't ready to order one yet. Larry had a book in mind called 58 Minutes. Because he was the former studio president and a significant producer on the lot, it was no big deal to hire a baby writer -- me -- to adapt the novel with only a select few knowing what I was really writing.
ScreenCraft: In my eyes,

Die Hard 2

is clearly the best of the

Die Hard

sequels, and is the only one that captures the concept and spirit of the original. What was it like trying to capture that while making the sequel stand on its own as well?
Doug Richardson: First let me acknowledge it was a co-writing venture. I wrote the initial drafts then after the picture was officially green lit and producer Joel Silver came aboard, he repeated the original formula by firing me (on the original, it was Jeb Stuart he canned) and bringing on Steven d'Souza. I'd already seen Die Hard twice and was a fan before being called in to work on the sequel. Using the novel 58 minutes as a rough sketch, it was about putting John McClane in the middle of it. Wrong place wrong time. And let the natural suspense drive the action without winking at the audience. Essentially, it was about making it a stand alone.
ScreenCraft: What was the process of developing and writing

Bad Boys

like?
Doug Richardson: Bad Boys was originally a screenplay titled Bullet Proof Hearts by the very clever and talented George Gallo. It was in development for eleven years with loads of writers coming and going. Six months before I came aboard, John Lovitz and Dana Carvey were set to star in it with Michael Bay directing. Imagine how that would've turned out. Different? I came aboard after the movie was moved from Disney to Columbia and Martin Lawrence and Will Smith had been cast and there was a hard production start coinciding with both actors' hiatus from their respective sitcoms. Jerry Bruckheimer wanted somebody who could turn the original cop farce into an action comedy. The line in the movie where Joey "Pants" Pantoliano says to the boys, "Do what you do. Only faster!" was Jerry's answer to me asking him "How am I supposed to do this in just a few weeks?" Days later, I'm on a plane to Miami. There were days when I wrote on Monday what we shot on Wednesday.
ScreenCraft: Were there any major elements of your

Die Hard 2

and

Bad Boys

scripts that were changed or left out?
Doug Richardson: Always. On Die Hard 2, I was rewritten and from that came loads of changes. Too many to list. The same goes for Bad Boys, but because I was the last to the party, what I wrote was essentially what was filmed. In the end, it was very different than George Gallo's original. I'm glad, though, he retained story by credit. George is a great guy and deserves the continued accolades.
ScreenCraft: How do studio screenwriters handle being rewritten?
Doug Richardson: Poorly. Or at least, they should. Otherwise, our hearts wouldn't be in it. That said, it's part of the business. Something you learn to live with, but should never ever like.
ScreenCraft: Do you have many uncredited rewrites and assignments that most don't know about? If so, would you be willing to share some stories?
Doug Richardson: I do. But not so much that I want to share. Too many writers, upset over not receiving credit while maybe some of their work remained in the finished picture, feel the need to publically air out their grievances. Some have practically taken credit for most of the movie while the on screen credits read otherwise. There are bits and pieces of me in Die Hard with a Vengeance and Live Free or Die Hard. Neither film did I seek credit, knowing my final contributions were minimal. In fact on Live Free or Die Hard, while some eleven writers sought some form of official credit, I made an appeal for Mark Bomback receiving sole credit because, in my view, his was the movie that was made.
ScreenCraft: The 90s was clearly the decade of the screenwriting boom. What was it like being a screenwriter during those times and how is it different now?
Doug Richardson: The eighties were different because studios would invest in talent and ideas and develop them into makeable movies. There was more risk on untested writers. The nineties was where spec scripts were the rage. At least the early part. I'd co-written a screenplay called Hell Bent and Back with Rick Jaffa (after he was my agent and before he teamed with his wife Amanda Silver) and we'd sold it for a record one million dollars. That started the spec boom. Or at least gave it some serious topspin. After three or four years of working on assignment, I penned my first spec in what felt like eons. That same week I put the new spec on the market, Variety led with a big headline that read "SPEC SCRIPT SALES - FROM HEYDEY TO MAYDAY."
Today, neither writers nor their stories are developed by studios. At least not to any serious degree. A screenplay needs to be almost fully cooked before marketed, revised to the point that it nearly squeaks. Studios are so risk averse, they don't even trust themselves to develop anything that isn't pre-digested or pre-marketed. To them, a screenplay is just a marketing scheme to be eventually realized as a movie. Sad.
ScreenCraft: Could you tell us about your time with Robert Shapiro and Warner Brothers? It's a very interesting story.
Doug Richardson: I like to call that period The Robert Shapiro Graduate Screenwriting Program. As I alluded to earlier, I was broke and driving on fumes when the Warner Brothers deal materialized. Robert Shapiro, the former president of production at the studio, wanted to have a writer on staff. It was an old fashioned notion. Perhaps he thought he'd throw projects at me. Instead, I got an office and a weekly check. I pitched to him and the studio. Wrote a lot and learned more. I've written a few blogs that cover that period. One is called The Shneid.
ScreenCraft: What are some secrets or tips to writing great action scripts?
Doug Richardson: Here's one. And it's the most important. A great action movie is merely a suspense movie where the consequences unwind into physical action. Ergo, action for action sake is dull. A set piece scene that doesn't resolve then create more problems for your characters is dull.
ScreenCraft: What's one of your go-to Hollywood war stories as a screenwriter?
Doug Richardson: There are loads of those. Again, most of which have been turned into blogs. The best being The Smoking Gun, a series following the theft of one of my movie ideas. It's a thriller unto itself that could only be told in Hollywood (Part 1, Part 2, Part 3, and Part 4) or in my book of my most entertaining blogs titled -- you guessed it -- The Smoking Gun: True Tales from Hollywood's Screenwriting Trenches. Click on the title to purchase. I promise not to disappoint.
ScreenCraft: So you've adapted some novels in films with

Die Hard 2

and

Hostage

. What is that process like as far as taking a book and making it cinematic?
Doug Richardson: For me, it's really been no different than writing an original. I take what's on the page of the book and use what I think best translates to the screen. It can be both expansive and reductive. I think my experiences also differ from writers who've adapted famous or popular fiction into film. There, the writer needs to satisfy both the picture's needs as well the dedicated fans of the author's original work.
ScreenCraft: You've written some great novels of your own. What would you say are the major differences between writing a novel and writing a screenplay?
Doug Richardson: The obvious one is this; screenplays are schematics for picture and sound only. Thus action and dialogue. Writing straight narrative fiction is obviously far more elastic. You can go inside a character's head. Read their thoughts without worrying about the actor blowing the voice over. Another difference is the audience. I write novels for an audience who loves to read. I write movies for a reading audience that is looking to quantify my work into something that could be turned into a money making enterprise. Will the star like it? Does it fit the studio's present idea of what's marketable? Can it be made for a price? And on and on and on...
ScreenCraft: What is your process like when developing and writing a script, be it an assignment or something on spec?
Doug Richardson: My process only changes in this way; what must I do to make this the best screenplay possible. Spec or assignment. No different.
ScreenCraft: What, if any, is your dream project?
Doug Richardson: Whatever is in front of me at the moment. Right now it's my Lucky Dey series of thrillers. Couldn't be happier or more dreamy.
ScreenCraft: What words of advice and wisdom could you share for up-and-coming screenwriters?
Doug Richardson: Read my blog and everything else they can get their mitts on. Learning how to navigate Hollywood is as or more important than learning to write. Assuming their work is worth making into a movie, writers need to "learn how to learn" how to survive.
---
We'd like to thank Doug for an excellent conversation. It's amazing to look back to a screenwriting era that thrived during the eighties and nineties, and see how much it differs from today's screenwriter experience. Screenwriters can learn from each and every era as they strive to be a part of the next.
Calling all HuffPost superfans!
Sign up for membership to become a founding member and help shape HuffPost's next chapter