**Updated Below**
WASHINGTON, D.C. -- Are die-hard Hillary Clinton supporters going to "make nice" and support Barack Obama, now that Clinton's name will be placed in nomination alongside the nominee-in-waiting?
"Alas, no," PUMA spokesman Will Bower told OffTheBus on Aug. 24. "We're here to see Hillary Clinton emerge as the party's nominee. Even if that doesn't happen, we still won't be voting for Obama in November."
Obama's lack of experience is his biggest weakness, according to 62 percent of Clinton delegates.
Although Democrats have planned for months to nominate Obama at the national convention this week, state delegations plan a traditional roll call for Clinton, his vanquished opponent. As a leader in the movement to nominate Clinton over Obama, Bower spent last week circulating a floor-nomination petition to ensure that the decision to put Clinton's name on the ballot doesn't simply fall into the hands of DNC chairman Howard Dean.
"We now have well over the required 300 delegate signatures in hand," says Sue Castner, a Clinton delegate from Portland, Ore. "We don't know if this has anything to do with the joint campaign announcements made last week and we'll probably never know. But it certainly makes us feel good."
"Signatures started pouring in during all the mainstream media attention PUMA received last week," says Bower, who told OffTheBus that signatories include a governor, several county democratic party chairs, members of the diplomatic corps, and a number of Obama delegates.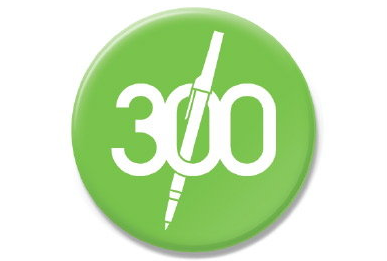 Currently their names are a mystery. But each delegate who signed the petition will be given a green lapel pin to wear at the convention. It features the number 300, skewered by a ball-point pen.
Clinton -- herself a superdelegate who gets a vote -- will likely release all her delegates to Obama. The senator will meet with her delegates at a reception in Denver on Wednesday afternoon -- before that evening's vote on the nominee, spokesman Philippe Reines said.
Because Clinton suspended her campaign instead of dropping out, she was able to keep the pledged delegates she earned in the primaries and caucuses. Obama needs these Clinton supporters in order to beat John McCain in November. Polls show Obama has won over most of the Clinton faithful, but not all. A small-but-vocal group doesn't like Obama. They think Clinton was treated unfairly during the primaries, and disrespectfully during Obama's V.P. search.
So what happens if the woman-of-the-hour orders her die-hard fans to support Obama?
"Hillary Clinton is/was/will be our preferred candidate," says Bower. "We are free-thinkers. We made this decision for ourselves. Nothing she says will change our minds."
---
**UPDATE: Emerging from a Women Count/Women Vote meeting with Hillary Clinton on Tuesday afternoon, Bower told OffTheBus that although Clinton will be releasing her delegates on Wednesday, she will "NOT be asking them to vote for Barack Obama. She will be advising them to vote their conscience." Many Hillary die-hards are still hoping Clinton will emerge as the nominee. "We only need a small number of Obama delegates to have buyer's remorse, and change their mind," Bower told OffTheBus.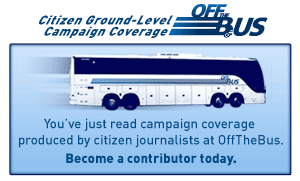 Calling all HuffPost superfans!
Sign up for membership to become a founding member and help shape HuffPost's next chapter