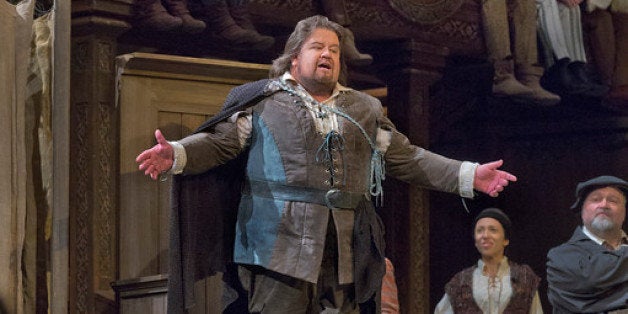 The world of grand opera is generally not known for its comedies, and few are quite as grand, funny or poignant as the Metropolitan Opera's magnificent production of Die Meistersinger von Nurnburg, which returned to the house last night with James Levine in the pit to draw out every nuance of Wagner's radiant and rousing score.
A cast full of mastersingers, led by a brilliant James Morris as the cobbler-poet Hans Sachs, a strong Johan Botha as the lovesick knight Walther von Stolzing, and the lovely Annette Dasch as the girl of his dreams Eva, captures all the opera's grandeur and humor.
If nothing else, just hearing Levine conduct the excellent Met orchestra in an inspired reading of what Wagner's only comic opera. From the robust opening notes to the final chorus, and especially in a soul-searching and moving prelude to Act III, it is an outstanding orchestral performance of an opera that is close to Levine's heart.
It is a special operatic treat that the Met will make available on Dec. 13 when it simulcasts its matinee performance of Die Meistersinger to more than 2,000 theaters in 68 countries around the world as part of its Live in HD series.
Die Meistersinger represents a major departure for Wagner. No longer is he immersed in the realm of Germanic legend and myth but in a very human world where mortals fall in love, rivals deceive one another, lie, and cheat. In his specific world of 16th-century Nuremberg a smitten knight (Walther) is wooing a beautiful maiden (Eva) but facing some competition from a jealous older man (Beckmesser) who is not above chicanery to press his own suit.
There are added complications. The shoemaker Hans Sachs has his own feelings for Eva and they are reciprocated to a degree; Hans's apprentice David is courting Eva's friend Magdalene; and Eva's rich father has promised to give his daughter to the winner of the annual St. John's Day songfest competition sponsored by the Guild of Mastersingers.

In order to pursue his quest for Eva, therefore, Walther must become a Mastersinger. But the Guild has some very specific rules and regulations on what should and should not be in a song, and Walther knows none of them. When he auditions for the Guild he breaks them all and is ridiculed by Beckmesser and the other Mastersingers, and his application is rejected. Only Hans sees some promise in the young knight's new kind of song and decides to help him.

Wagner wrote Die Meistersinger over a period of six years that included a low point in his career. His portrait of Beckmesser as a stodgy fuddy-duddy and the rest of the Guild as a group of stuffy old fogies unable to adapt to change was certainly meant in part as a satire on critics who faulted his own musical innovations.
The hero of the opera is Hans Sachs, a character based on a real-life shoemaker-poet who also wrote music and plays. Hans is the one Guild member able to embrace new ideas while still respecting the old traditions.
Morris, a stalwart bass-baritone at the Met, delivers a fully realized performance, and is especially moving in the pensive third-act solo "Wahn! Wahn!" ("Madness! Madness!"). It is a demanding role, and Morris is in strong voice throughout, mellifluous and shaded at times and powerful and authoritative at others, whether pondering his future and that of singing or hammering away at his cobbler's bench like a metronome.
Bohta is commanding as Walther, determined in his pursuit of Eva and confident as he sings his "beautiful morning dream" song. Dasch is charming as the object of Walther's affections, and a fine all-round cast includes a richly sung Pogner by Hans-Peter Konig, a solid Magdalene from Karen Cargill, and a lovely David by Paul Appleby.
In an impressive Met debut, the German baritone Johannes Martin Kranzle is hilarious as the buffoon Beckmesser. It's a tricky role, singing well while appearing to sing badly, and Kranzle carries it off wonderfully.
Die Meistersinger has something for everyone: solos, ensembles, choruses, processionals, and Otto Schenk's 1993 production with its picture-postcard sets is still a charmer. And Levine is still the Masterconductor to bring it all together.
Calling all HuffPost superfans!
Sign up for membership to become a founding member and help shape HuffPost's next chapter