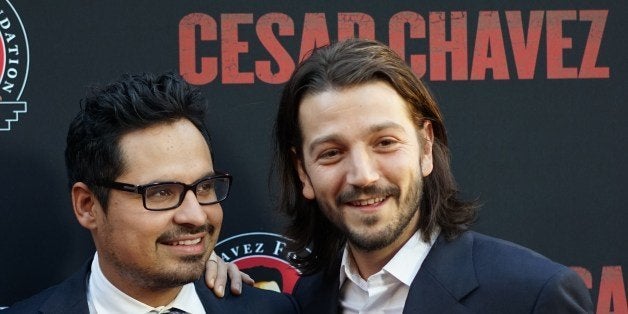 In my home growing up, there were four heroes -- John F. Kennedy, Robert Kennedy, Martin Luther King Jr. and César Chávez. Chávez was a hero to the Kennedys, so naturally was a hero to us. He fought the odds for what he believed was right and that resilience and courage deserved respect. Those real-life stories like Chávez's were often what inspired my brother and me early on in our careers to choose films that we knew needed to be seen, even if they weren't guaranteed safe box office successes. Diego Luna's new film César Chávez is one of those films.
For decades, many directors and studios have wanted to create a film about Chávez, but it was Diego Luna, an actor who I've admired since Y Tu Mama Tambien came out well over a decade ago, who finally got a "yes" from the Chávez family. His production company Canana was behind another amazing film that I saw and loved at Cannes in 2011 called Miss Bala. Looking at the extreme violence taking place in Mexico's ongoing drug war, that movie had scathing visuals and even more cutting subject matter, and proved that Luna was the right man to be behind the camera of another socially-conscious film. This film has been in the works for more than four years, but we're finally able to see the fruits of Luna's painstaking efforts. He does a standout job as director, and has the support of cast that deserves applause as well. Any actor will tell you that the portrayal of a historical figure is one of the most difficult roles to play simply because of the weighty responsibility. Michael Pena, America Ferrera, Rosario Dawson, and John Malkovich rise to challenge.
I'm a great admirer Pantelion Films, Lionsgate and Participant Media and applaud them for putting out this film. I know we live in a world of competition, but I don't see my colleagues as simply competitors. My love for movies supersedes competition. Especially when it comes to a movie about someone as significant as Chávez -- competition doesn't matter. Pantelion and Lionsgate have a great history of bringing Latino films to the world's stage including Instructions Not Included, which went on to become the highest-grossing Spanish-language film in America. Teaming up with Participant Media rounds out the powerful trio behind this film. Jeff Skoll and Jim Berk have taken only one decade to amass a proven track record for great films at Participant -- The Help, Syriana, Good Night and Good Luck, An Inconvenient Truth, and Lincoln -- and those are just a few. If they were a baseball team, they would give the 1927 Yankees a run for their money.
This is a movie that demands and deserves your attention. Sitting and watching the movie over the past weekend, I was mindblown at the idea that there are probably millions out there who are completely unaware of who Chávez was and what he accomplished. This was a man who led a 300-mile pilgrimage on foot from Delano to Sacramento, California to prove how serious he was about improving the wages and quality of life for farm workers. This was a man who was so adamantly opposed to non-violence in his protests that he endured a 25-day, self-imposed fast until his party agreed to strike peacefully. The film does not idolize Chávez, but rather depicts his strengths along with his weaknesses to accurately portray the truth of human frailty.
Diego Luna's film reminds you what persistence and sacrifice towards a worthy cause can accomplish. Luna is part of a group of emerging Latino filmmakers that I've rebranded the Mexican mafia. Of course there's still the other one, but this new Mexican mafia that we can all be proud of. Luna, Alfonso Cuarón, Guillermo del Toro, Gael García Bernal, and Alejandro González Iñárritu have revitalized filmmaking for the better. I don't know if it was something they learned growing up that led to their string of successes, but if so then I am making a trip to their hometowns.
All kidding aside, this movie should be required viewing for all Americans. At a time when immigration reform is on every news channel and in every newspaper, this film shows a piece of the sacrifice so many made to come and live in America. While President Obama echoed Chavéz's mantra "si se puede" in 2008, I worry that our kids don't have the heroes today that I had growing up. President Obama and Secretary Clinton stand as proven leaders on the political stage, but where are today's leaders outside the political arena? This generation needs the inspiration I saw from Martin Luther King Jr. and Chávez when I was growing up. Parents should take their kids to see this film and make it a double feature. See MR. PEABODY or the MUPPETS film, but see CÉSAR CHÁVEZ too. Teachers should all go see this and tell their students to do the same. I know that sounds dictatorial for a film about a man who championed freedom and fairness, but I'm going ahead and declaring it.
Popular in the Community