There's an incredible scene very early in Peter Davis's award-winning documentary Hearts and Minds (1974) when Georges Bidault, who served as the French Minister of Foreign Affairs in 1954, matter-of-factly reveals that then U. S. Secretary of State John Foster Dulles offered the French two tactical nuclear weapons to use against the nationalist forces of Ho Chi Minh they were fighting in Vietnam.
But his meaning is clear. The United States was so obsessed with stopping the spread of Communism in Southeast Asia in 1954 that it was willing to let the French use atomic bombs to destroy the Viet Minh.
At the time, the French were being routed by nationalist forces at Dien Bien Phu in the highlands of northwest Vietnam. The end of that battle occurred 60 years ago this week (May 7 to be exact), and among its many legacies are the beginning of the end of colonialism, the pronouncement of the Domino Theory, the eventual arrival of hundreds of thousands of U. S. soldiers (myself among them), and the correlation between Dien Bien Phu and defeat (for the west).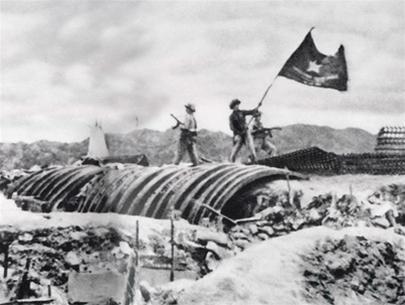 Even though with hawks like Dulles and his own Vice President Richard Nixon hounding him, President Dwight D. Eisenhower was hesitant to intervene on France's behalf. Still, he was apprehensive enough about the loss of Vietnam and the possible spread of Communism from one country to another that he articulated the infamous "domino theory" about Communism.
"You have a row of dominoes set up," Eisenhower pointed out in April 1954, "you knock over the first one, and what will happen to the last one is the certainty that it will go over very quickly. So you could have a beginning of a disintegration that would have the most profound influences."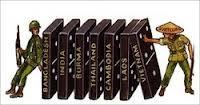 Here in America, the battle of Dien Bien Phu is overshadowed by our own subsequent catastrophe in Vietnam in the 1960s and early 1970s. That's the war I fought. I only became familiar with the harrowing eight-year war the French had fought to hold on to their colonial empire when I encountered a French veteran of Vietnam in Paris in 1977. My wife and I were hitch-hiking and backpacking through Europe, the Middle East and North Africa and were spending our one-year anniversary in "La Ville-Lumière" We travelled to a working class area of Paris for lunch one afternoon and were seated at a table with other patrons, many of whom were workers from a nearby construction site.
Long story short, Nicholas Ferrario, a heavy equipment operator and Vietnam veteran, sat at our table, and we became fast friends. Over the next two days, Nicholas showed us "his" Paris, one that I'm pretty sure most tourists have never seen. It was a once-in-a lifetime gift, and the day we parted company with Nicholas, he and I posed for a photograph in front of Centre De Conferences Internationales, the place where the Paris Peace Talks between the U. S. and North Vietnam took place.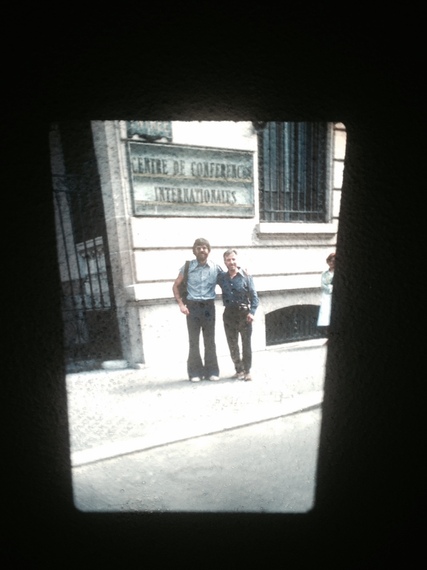 The photo has long since faded and Nicholas has long since died, but there we are - two veterans of two Vietnam wars, finding it hard to smile, not just because we'd each lost our war against the Vietnamese.
But because we'd both lost our belief in our respective countries in the process.
REAL LIFE. REAL NEWS. REAL VOICES.
Help us tell more of the stories that matter from voices that too often remain unheard.