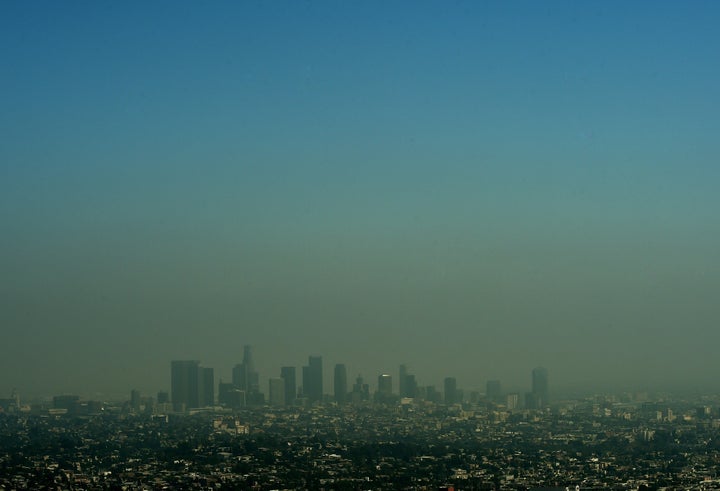 WASHINGTON -- Environmental groups are asking Environmental Protection Agency Administrator Gina McCarthy to take actions to reduce toxic diesel exhaust pollution near ports, rail yards and highways, which they said disproportionately hurts blacks and Latinos.
The Moving Forward Network, a national alliance of more than 40 local and national environmental organizations, urged the EPA administrator in a meeting on Tuesday to create a special committee to identify ways to curb pollution from freight facilities before the Obama administration leaves office. They also asked EPA to encourage zero-emission technology for heavy duty trucks.
McCarthy embraced the environmental groups presentation "as an opportunity to see us as partners," said Leticia DeCaigny, a community coordinator at the Diesel Health Project in Kansas City, home to the second-largest U.S. rail yard. DeCaigny lost her 8-year-old son to brain cancer in 2007, which she fears was related to the rail yard. She said she has discussed ways to reduce pollution with rail yard management, to no avail.
An EPA spokesman said the agency is already taking steps to mitigate the disproportionate impacts of freight facilities on poor and minority communities. Under the Diesel Emission Reduction Act, which allocates millions to emission-reducing projects, the EPA "prioritizes projects in socially and economically vulnerable areas in its grant competitions," spokesman Nick Conger told The Huffington Post. "In addition, projects which include community outreach and support, and are sustainable in the future also receive priority."
In Baltimore, for example, Conger said EPA created a port working group that "brought together environmental and community organizations, leaders from state and local governments, port authorities and their private sector business partners" to advise the federal agency.
Some of the activists who met with McCarthy this week said they worry how much she can do in the final months of her job.
"I think Gina McCarthy definitely cares about the issues," said Amy Goldsmith, of Clean Water Action. "I think she wants to figure out what can she do, not just setting up the agency beyond her term, but what can she do now."
Regardless of who's EPA administrator, "these problems stay here," said Mark Lopez, executive director of the East Yard Communities for Environmental Justice in Los Angeles. He recalled being surprised when a doctor issued his 6-month-old daughter an inhaler during a routine checkup.
"I asked, 'What is this for? Does she have asthma? Is this because she's sick?'" Lopez recounted. "And they were like, 'Where y'all live, she's going to need that.'"
The coalition was backed in January by Sen. Cory Booker (D-N.J.), who asked McCarthy in a letter to take action under existing federal laws to reduce air pollution at ports and freight facilities. Booker cited his experience as mayor of Newark, where low-income families who live near the city's port are "disproportionately impacted by large volumes of air pollutants."
In February, 17 Democratic House members also sent a letter to McCarthy, asking that her agency do more to address pollution from freight transportation, including support for zero-emissions transportation technology.
Goldsmith said McCarthy is well aware of the issues.
"She can't deny what harm is being done," Goldsmith said following Tuesday's meeting. "It's just whether she's going to take action."
Popular in the Community