Earlier this year, the U. S. Food and Drug Administration (FDA) proposed revisions to the Nutrition Facts Label. The label was introduced on food and beverage packaging in 1993 but the only change made since that time was in 2006 when trans fat labeling became mandatory. Research shows anywhere from 47 percent to 65 percent of consumers are using labels to make purchasing decisions (1,2). Only 57 percent of Americans, however, claim to "mostly" understand the label.
The proposed changes to the food label are an attempt to update the information with the latest science and expert opinion as well as increase the likelihood that Americans will make purchasing decisions that lead to improved health. While the proposed label has received mixed reviews some of the changes are likely to be beneficial, including the enlargement of the calorie and serving size statements. However, several other proposed changes may only further confuse consumers, including recommendations to adjust serving sizes and include added sugars on the label.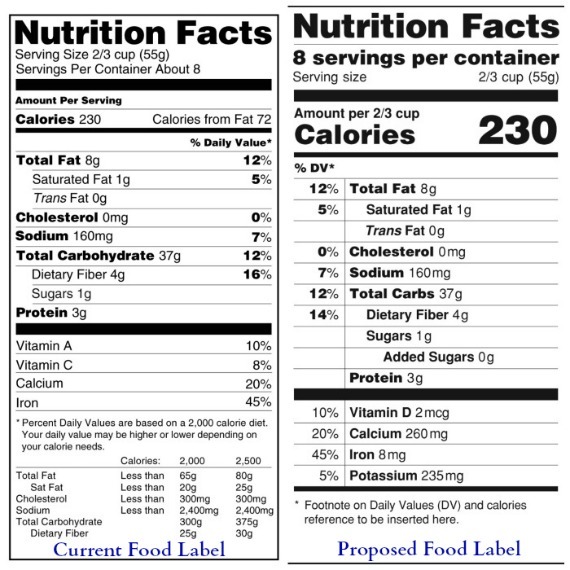 Proposed Change: Serving size reflects common consumption, not what people "should" be eating. Examples: A 20-ounce soda would be considered one serving instead of 2.5 servings. A pint of ice cream would be considered two servings, rather than four.
Unintentional Consequence: Consumers may not understand serving sizes are not based on appropriate amounts for diet and health so increased serving sizes may inadvertently give consumers a green light to eat larger portions.
Is basing serving sizes on what people actually eat the right decision in light of current rates of obesity and chronic disease? Or will it only further confuse consumers on what is an appropriate serving size, adding to the education burden that already exists?
Including Added Sugars
Currently: Added sugars are not separated on the label but contained within the "Sugars" amount.
Proposed Change: Added sugars would be listed under "Sugars," which is a subset of "Total Carbohydrates."
Consumer Confusion: Distinguishing between sugars naturally present in foods and sugars added during food manufacturing only adds to the common misconception that one is treated differently in the body than the other. Science has shown that even among caloric sweeteners, whether it is sucrose (table sugar), honey or high-fructose corn syrup, the body metabolizes each the same way according to its monosaccharide constituents.
Are consumers going to readily understand that added sugars are included within total sugars, rather than additional? Will labeling added sugars perpetuate a single-nutrient concern that is not science-based? Is it not better to continue to educate consumers to eat sugars in moderation as part of an overall healthy diet, understanding that some foods containing added sugars, such as yogurt, are nutrient-dense choices?
Because consumers are using food labels less than in previous years (2) and label comprehension is still problematic, a comprehensive consumer education plan to teach people how to truly understand and use the label should accompany all proposed revisions. Thorough consumer research should be conducted prior to the development of the final rule to understand how the proposed changes will impact comprehension and if the information presented can influence smarter purchasing decisions. Only then will we know whether the food label can be an effective tool for improving health outcomes, and that important unintended consequences will be avoided. For more thoughts on how the proposed label is unlikely to result in improved understanding and consumer behavior change, see this article by Burkey Belser, the designer of the original label.
Related