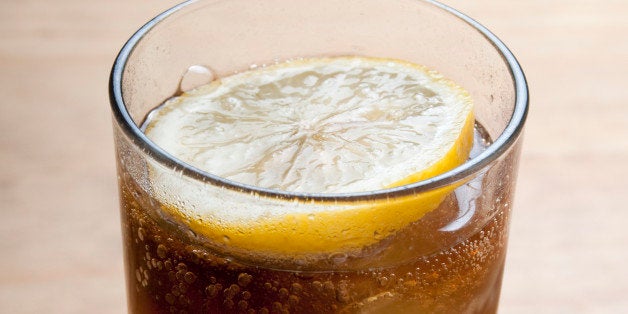 WASHINGTON, Jan 16 (Reuters) - Heavy Americans who drink diet beverages rather than those sweetened with sugar appear to eat more, according to a study released on Thursday that raised questions about the role lower-calorie drinks play in helping people lose weight.
Researchers at Johns Hopkins University analyzed data from a U.S. survey of 24,000 people over a period of 10 years. People who were overweight or obese generally consumed the same amount of calories a day no matter what they drank, but those who chose diet drinks got more of those calories from food.
Outside experts were quick to caution that it is not clear what role, if any, diet drinks such as low- or no-calorie versions of sodas, sports drinks and teas played for people who ate more.
In the study, published in the American Journal of Public Health, overweight drinkers of diet beverages in the United States ate 1,965 in food calories a day compared to 1,874 calories among heavy people who drank regular sugar-sweetened beverages.
Among obese diet beverage drinkers, those who consumed low- or no-calorie drinks ate 2,058 calories a day in food versus 1,897 food calories for those who had regular drinks, researchers said.
Such differences were statistically significant, they added.
Lead author Sara Bleich said the results, when paired with other research, suggest that artificial sweeteners may affect people's metabolism or cravings, although more study is needed.
She acknowledged that people could be deciding to eat more since they are saving calories with their diet drinks.
"The push to diet soda may not make a lot of sense if you are then also eating more solid food," Bleich said. "The switch from a sugary beverage to a diet beverage should be coupled with other changes in the diet, particularly reducing snacks."
Critics said the analysis, based on data from the National Health and Nutrition Examination survey between 1999 and 2010, is flawed and that it is too early to say what, if any, role the low-calorie drinks or their artificial sweeteners play in weight loss.
Several researchers noted that the study did not track a set group of people over time and only looked at a 24-hour snapshot of what any individual consumed.
The beverage industry, which has long promoted diet drinks as an alternative to full-calorie beverages, defended such alternatives to help manage weight.
"Losing or maintaining weight comes down to balancing the total calories consumed with those burned through physical activity," the American Beverage Association said in a statement on Thursday.
Low- or no-calories drinks contain artificial sweeteners such as aspartame and sucralose. Many beverage companies are also turning to other alternatives, such as the extract of Stevia.
Kelly Brownell, a professor psychology and neuroscience at Duke University and dean of its Sanford School of Public Policy, said while the study was compelling and there are still many questions about such sweeteners, more data is needed.
"People need to separate the biology from the psychology," he said.
Bonnie Liebman, the director of nutrition at the Center for Science in the Public Interest, said while her group may have other questions about artificial sweeteners, "it's premature to conclude that it's something going on in your brain."
In the meantime there are other ways to watch your weight, she said: "You're much better off with water - or coffee or tea, if they're unsweetened." (Reporting by Susan Heavey; Editing by David Gregorio)

Related