If Dieter Meier is known in this country, it is for his dark crooning voice over the synthetic rhythm track in the song, "Oh Yeah," made famous in the teen comedy film, Ferris Bueller's Day Off. Like Meier himself, "Oh Yeah" is a mix of electronic and pop styles, and it is hard to pin down exactly what is so appealing about the song; nevertheless, it's one of those tunes that stays with you. But Meier is much more than a singer and musician. He's an elusive Swiss polymath: a millionaire, an industrialist, a technological entrepreneur, a professional poker player, a songwriter, an organic farmer, pioneer of MTV videos and, yes, a performance artist. And perhaps it is in his work as an artist, where he best melds his chameleon-like thirst for adventure with his comic sense of the futility of any endeavor. For underlying all of Meier's multifaceted enterprises is a post-modern embracement of the mutability of the self. Now, his evolution as an artist and performer is on view in a show, Dieter Meier the Yello Years, on view at the Watermill Center in Watermill, New York until September 1.
Beginning in the late '60s and early '70s, when Meier was in his mid-twenties, he began performing conceptual art pieces that were staged gestures of pointless, non-actions. In Backyard Standing Meier stood with his back turned towards the world and in Walking, Meier announced that he would show up and walk for an hour on a stretch of 20 meters on a public square. In 1971 in 2 Words, Meier stood at the subway entrance at 57th and 8th Avenue in New York and for the payment of one dollar, a passerby could choose to hear Meier utter either the word "Yes," or the word "No." Performance acts like these had been around since the late '50s, when they were called Happenings. At places like Black Mountain College in North Carolina, artists like John Cage performed open-ended, organic events, reading poetry on a ladder while Merce Cunningham danced; in France, Yves Klein threw gold coins into the Seine; in Tokyo, Yoko Ono draped herself in fabric and presented the audience with a pair of scissors and the instructions to cut the cloth from her body until she deemed the artwork complete. These time-based art pieces were embodiments of the immaterial as a form of art.
What sets Meier's work apart right from the beginning was his use of photography, as not just a source of documentation for his actions, but as an aide for transformation. By 1974, when Meier created 48 Personalities he was using photographs no longer as just secondary documentation to record his performance acts, but as integral components to the art he was creating. 48 Personalities is a series of images of fictional personalities whose biographies Meier later developed further in 2005, in the work he titled, As Time Goes By. In each of these diptych pieces, Meier has taken two shots that document the evolution of his characters. The first shots, snapped in '74, are of Meier transformed into young men just as they were starting out in life. Thirty years later, transforming into the personality again, Meier took the second photograph that crystalized who they had become. Favio "Pio" Razzetti, first seen hunched over a chair as a young cocaine addict, later is snapped as a drug trafficker disappearing into the crime underworld of Bogotá; Pat Leblanc from the Bronx is a chiseled young boxer with a towel over his sweaty shoulders; years later he emerges as trainer and social worker; Peter Hampel starts off as a young short-story writer from Austria who, after finally getting out from under the thumb of his domineering father, is snapped 30 years later in front of his bookcase as a scholar of German literature in London.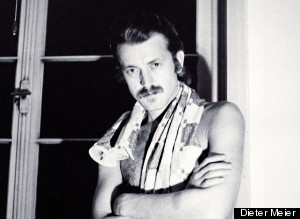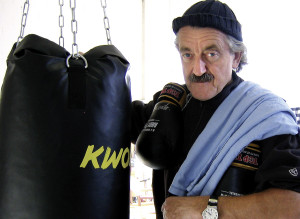 PAT LeBLANC, THE BIOGRAPHY
Pat LeBlanc was born in upstate New York and grew up in the Bronx, where his father owned a small scrap metal yard. He started boxing in high school and was selected for the US Student Olympic Team in 1968. After becoming a finalist in the US Amateur Championship in 1970, he turned professional. He was a brilliant technician, but never the great puncher it takes to get an important title fight. He felt left out and cheated by the WBO and ended his professional career as an undefeated middleweight prize fighter in 1981. Since then he has successfully run his own boxing school. He took revenge by creating many great champions throughout the years. Pat LeBlanc never left the Bronx and became a legend, not only as a trainer, but also for his social work in the black community. In 2010, he stopped working as a coach and now concentrates on the management of new talents.
As an art form, performance art has often incorporated the banality of everyday life, slowing down routines until they become ritualized acts. By the mid '70s, the body as a medium of lived experience was being explored by artists like Dieter Meier and Lynn Hershman Leeson who, in 1974, created Roberta Breitmore. Roberta was an alternate personality that Hershamn Leeson bestowed with everything from a drivers license, credit cards, to her own therapist. Later, the work of conceptual portraitist, Cindy Sherman, developed this idea of whole characters whose objective was to personify the unknowns and the nobodies among us, further. These concept driven performance images focused on the tenuous quality of identity in the Age of 15 Minute Fame. They were the precursors of our age of reality T.V.
All this time, Meier was also busy with his other lives. In the '80s he was producing experimental film clips and videos for his band, YELLO. As part of the group that helped brand the early MTV channel, Meier created stylistic and staged performances that were set to music. He became a pop star decked out in velvet and silk scarves, another identity. He was a celebrity, his own creation.
In the spirit of constructing his own legend, Meier created El Monte Dorado -- Geschichte Einer Erstbesteigung (The Golden Mount -- History of the First Ascent), in 2007. This was a display of 32 photographs along with texts that documented Meier's successful assent of a cursed mountain of the Incas. At the opening talk in Basel, Meier delivered his talk with pictures before 700 people. Except it wasn't real. Not a real mountain, not a real climber. "The whole thing is an invention," Meier confessed. "I made the mountain landscape myself, out of caster and cube sugar, and superimposed myself photographically."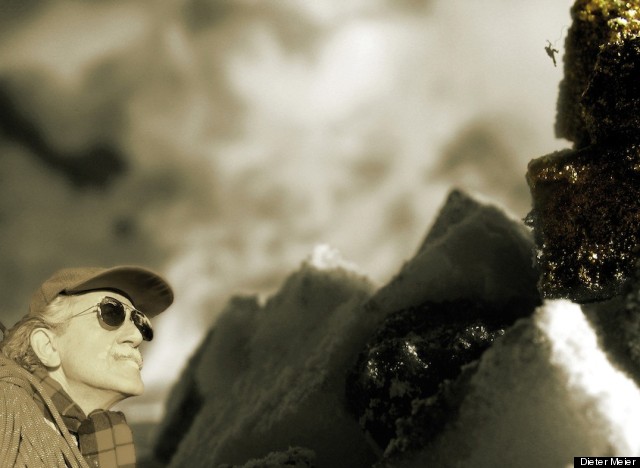 Was it a joke? Certainly. And interestingly, Meier's art prefigured the Instagram craze we now inhabit. Who's to know what is true or not true when any image can, with the click of a filter, be manipulated? Not only can a sunset background be added behind us, but our faces, too, can be altered. But Meier is less interested in celebrity and more intrigued with upending expectations. Meier is president of the Association des Maitres de Rien (Association of the Masters of Nothingness), a gathering of artists devoted to the realization of insignificance. His manifesto, Des Maîtres de Rien from 2007, reads: "Man is a senseless coincidence who circles a sun like a piece of intergalactic driftwood for a fraction of a cosmic second, desperately struggling to make sense of the nonsense between birth and death."
In Meier's world, once one is born, death becomes the only certainty and everything in between is up for grabs, including identity. His special gift is for making things up as he discovers them and discovering things as makes them up. His work blurs the lines not only between reality and fantasy, but also between failure and success, and how we, as a culture, tend to judge events from mere appearances.
REAL LIFE. REAL NEWS. REAL VOICES.
Help us tell more of the stories that matter from voices that too often remain unheard.