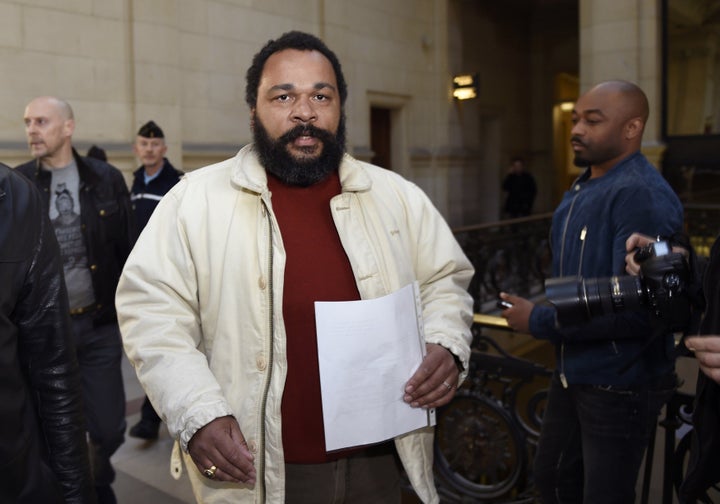 BRUSSELS, Nov 25 (Reuters) - A Belgian court sentenced controversial French comedian Dieudonne M'bala M'bala on Wednesday to two months in prison and a 9,000 euro ($9,534) fine for making anti-Semitic jokes during a comedy show in 2012.
Dieudonne, known for his use of jokes based on ethnic stereotypes, has repeatedly been convicted of racism in France and fined for hate speech. He insists he is not anti-Semitic.
The court in Liege found the comedian, known by the stage name Dieudonne, had spread racist ideas by making discriminatory, anti-Semitic and holocaust-denying remarks in the 2012 gig in nearby Herstal, a court spokeswoman said.
He was not in court on Wednesday.
Judges said that the remarks, made in front of an audience of 1,100 people in the town of Herstal, were clearly calls to hatred and violence. By calling on Christians and Muslims to unite to kill Jews, he had incited genocide.
He was also ordered to pay for the entire text of the judgment against him to be printed in two leading French-language Belgian newspapers.
In March, he was given a two-month suspended sentence for condoning terrorism in a Facebook post shortly after Islamist attacks that killed 17 people in Paris in January.
He was later fined 22,500 euros for a jibe against a radio journalist in 2013, suggesting that hearing the broadcaster speak made him think of Nazi gas chambers.
The comedian, who began his career with a Jewish sidekick in the early 1990s, is credited with inventing the "quenelle," a downward Nazi-like salute.
Originally active with anti-racist, left-wing groups, the Paris-born son of a Cameroonian father and French mother began openly criticizing Jews and Israel in 2002, and ran in the European elections two years later for a French pro-Palestinian party.
Related
Popular in the Community