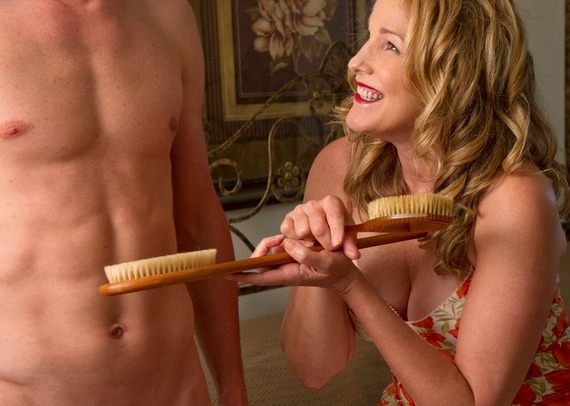 Photographer: Barbara Nitke
I clearly remember the first time I heard the word "kinky." I was 19-years-old at a club hanging out with a bunch of musician friends. While the band was on a break and we were all sitting around having a Tom Collins, one of the guys used the word "kinky" in a story he was telling. I interrupted, "What's kinky?" He didn't flinch, laugh, or make fun of me, but simply explained:
"Kinky is when you're having sex with your boyfriend, and you decide to try something fun like rubbing whipped cream all over each other and then licking it off." The first time I heard the word "fetish" was 36 years later when I went to work at a BDSM dungeon in NYC at age 55.
You may have the same question I had then, as a relative rookie in the complex world of nontraditional, authentic sexuality: "What's the difference between being kinky and having a fetish?" And, in my years as a dominatrix, I learned that although there aren't any solid black and white boundaries between the two, there is one key difference.
Being kinky usually means enhancing sexual intimacy with your partner by adding new and creative elements to sex, such as covering each other in whipped cream and licking it off. In that example, the whipped cream is secondary to the sexual experience that you and your partner create together. In other words, you could have just as much good, kinky fun by wearing Star Trek costumes or speaking in different accents. Having a fetish, on the other hand, means that you as an individual are sexually aroused by a specific object, body part, or role-play even without a partner. A person with a fetish might masturbate while they hold, smell, rub, or taste the object, or they might ask their partner to wear it or use it during sex.
Let's go back to the whipped cream.
Imagine that you and your partner are out shopping and, upon seeing a can of whipped cream, you both decide it might be fun to cover yourselves with the cream and slide all over each other. That's kinky. On the other hand, if the whipped cream itself is sexually arousing you or your partner, that's a fetish.
Sexual fetishes are frequently misunderstood and stigmatized because they're so specific and can be so intense, but as long as the experience is positive and both the fetishist and partner feel good about the fetish and experience, it's healthy. In my practice, I found that the majority of the people who have fetishes are just like you and me: they are your fathers, mothers, brothers, sisters, doctors, fitness instructors, dentists, lawyers, best friends, and next-door neighbors.
Unlike kinkiness, which can change freely along with preferences, interests, and partners, fetishes tend to have deeper roots in the psychological and physiological levels of our being. In other words, a fetish is a part of us. Many clients that I work with tell me they've had their fetish for a long as they can remember from early childhood, and some fetishes developed through a personal life experience.
In any adult sexual relationship, we should have the freedom to be authentic and to experiment with new or unexplored desires. And, although kinks and fetishes have been stigmatized by more traditional voices in society, the good news is that thanks to the Internet, there are thousands of websites dedicated to kinky ideas, Meetups, parties, and communities specifically for like-minded kinksters and fetishists. These networks can be helpful tools for exploring your own sexual desires and also for introducing and normalizing kinky ideas or your fetish to a curious or hesitant partner.
Whether you and your partner decide you're ready for a kinky experience or you decide that you're ready to share a fetish with your partner, it all boils down to a more loving, trusting relationship, and having the exact words for your desires, whether they're kinks or fetishes, will help you communicate those desires well.
Sandra LaMorgese Ph.D. is an expert in bridging the gap between sexuality and a lifestyle that focuses on holistic health of the mind, body and spirit. She is the author of Switch: Time for a Change, a memoir of her journey from holistic practitioner to professional dominatrix at 55-years-old, and her passion and purpose is to empower others towards healthy authentic living. To learn more about Sandra and receive your FREE eBook "5 Steps for Better Communication, Sex, and Happiness (Did I mention better sex?) visit www.sandralamorgese.com.

Calling all HuffPost superfans!
Sign up for membership to become a founding member and help shape HuffPost's next chapter