It's a fact we all know, but often choose to ignore: the juicy grass-finished beef steak on our plate was once part of a bovine. At the farm, we strive to make our animals comfortable and content so that they will grow and develop in a stress-free environment. This is good for the animal, the forages, the land and for the farmer. The cycle of life moves along until the measure of creation is fulfilled for the animal -- and we omnivores continue that cycle at the dinner table.
A significant part of the field-to-fork process in the meat industry is the butchering of an animal. So I spent some time with my butcher the other day in order to share a behind-the-scenes look at butchering. The cutting of meat is somewhat of an art form, with lots of cultural variations. The standard American cuts that you see at the grocery store or on a chart such as this one distributed by the Beef Council tell only part of the story. Meat cutting is the art of identifying and separating the muscle groups from the bones and sinews. Once the muscle groups are separated, they can be sliced and trimmed into the familiar cuts of beef. Here's a look at some of the most interesting beef cuts.
Work with your local butcher to get your favorite cuts! What's your go-to cut of beef, and how do you like it prepared?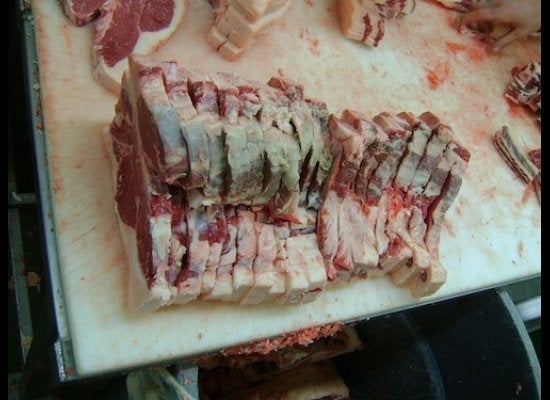 Note: All butchering images courtesy of John Brady.
John Brady is one of a now-rare breed of farmer-ranchers who comes from an unbroken chain of family farmers going back multiple generations. He is the third generation currently farming the same land in Idaho. After earning a degree in Agronomy and a Master's degree in Agricultural Economics, borrowing money, and participating in USDA farm commodity programs during the 1970s, he has finally overcome most of that to be a maverick in doing things the "new old-fashioned" way, working with nature to raise beef the way it was intended: on grass, legumes and forage. Watch John move cows at BradysBeef.com, read the Brady's Beef blog and keep up to date on all things Brady's Beef on Twitter.