Two major works of musical theatre (one an opera, the other an oratorio) received their world premieres in San Francisco last month. One had been commissioned by the San Francisco Opera, a 90-year-old arts organization that, in addition to being a mainstay of San Francisco's cultural life, is currently being helmed by David Gockley (who has commissioned nearly 40 operas during his career).
The other was commissioned by the San Francisco Gay Men's Chorus (the group most often credited with launching the international LGBT choral movement) to commemorate the 35th anniversary of its founding while honoring the 35 years since Harvey Milk was assassinated in his office in San Francisco City Hall on November 27, 1978.
Because these productions were staged in theatres two blocks apart (with only Louise M. Davies Symphony Hall standing between them) -- and close to a City Hall lit up in rainbow colors to celebrate Gay Pride Month -- there was no escaping the fact that a certain overlap exists between the audiences for the two presenting organizations. While one work proved to be effective and the other inspirational, some obvious similarities quickly come to mind:
Both composers are American artists with solid track records of writing music for the human voice.
Each composer wrote the libretto for his new piece.
Both works depict a patriarchy facing radical change (one with regard to gender roles; the other with regard to the political awakening of a sexual minority).
Each premiere took place in a municipally-owned auditorium (San Francisco's War Memorial Opera House was the first municipally-owned opera house in the nation).
Each work featured a pivotal character who, having been slain ahead of his time, subsequently achieved martyrdom.
Prior to their untimely deaths, Jesus and Harvey Milk were both "nice Jewish boys."
Two new works for voice written by two contemporary American composers, commissioned by two leading Bay area arts organizations to be performed in two theatres located two blocks away from each other. While that might prove to be just too (two) much for some people to handle, the occasion presented music lovers with a rare opportunity to think about how we approach an important new work of musical theatre.
Do we take into account its political relevance and cultural timeliness?
Do we consider the community involvement that helped raise money to pay for the commission and performance of the new work?
Do we take note of educational outreach community events that were done for each new work prior to its premiere?
Do we measure each work's success by its artistic aspirations, the reaction of its audience, or its future stageworthiness?
No matter what lens one uses to compare these works it's crystal clear that one has a bright future ahead of it while the other does not. As usual, a great deal of the explanation can be found in their two most important ingredients: the words and the music.
First, some important disclaimers are in order.
I'm an atheist. While I may occasionally have a spiritual moment, my life and worldview have not been shaped by organized religion.
As a secular Jew, I was not the least bit titillated by Mark Adamo's use of the word "mamzer" in his libretto (some Jews in the audience were thrilled by it).
While I have not "come to know" Jesus, I did know Harvey Milk (who wrote the political column in the Bay Area Reporter when I started writing my opera column there).
Although some people can become deeply immersed in scholarly debate about religious hypotheticals (like how many angels can fit on the head of a pin), I have yet to see such mental masturbation transformed into a gripping piece of musical theatre. Although a man seated in front of me during the performance I attended of The Gospel of Mary Magdalene was rocking back and forth in exultation at some lines in the libretto, my reaction leaned more toward one of Nancy Pelosi's finer moments.
Performed on a unit set that was pragmatically designed by David Korins and effectively lit by Christopher Maravich, Adamo's opera takes place in two radically different historical periods. One is a modern day archaeological dig in the Holy Land; the other is the same site during Biblical times.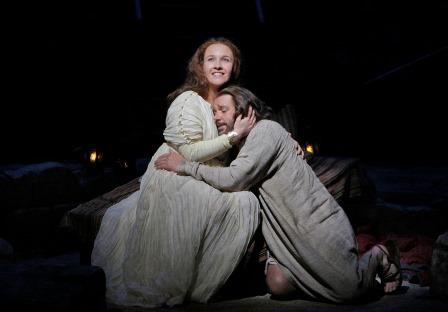 Mary Magdalene (Sasha Cooke) with Yeshua (Nathan Gunn)
in The Gospel of Mary Magdalene (Photo by: Cory Weaver)
Kevin Newbury's direction (particularly with regard to the chorus) often made it difficult to follow any kind of cohesive narrative. Nor was there any way to ignore the fact that Act I is a long, hard slog through a musical score that may be intellectually strong from a compositional standpoint, but does not offer much satisfaction in theatrical terms. Adamo wrote in his program note:
"n this piece, themes supporting the language of losing and finding oneself, of knowing and telling, of forsaking and being forsaken, and of being 'part of a design,' bring us, I hope, as close to the core of the drama as the words do. And in this opera, too, the music's soul is the vocal line -- focused and refracted, but never dominated, by the orchestra that upholds it -- while the silence against which that line is sung is never far from my mind's ear. (Were I a painter, I would use acres of white space.) But never has my simple music been simpler, nor my dense music been denser, than in this score.

In The Gospel of Mary Magdalene, a confession murmurs over only a pair of quiet woodwinds, then thickens into an anguished, grinding orchestral polychord. A postlude for mezzo-soprano and baritone unfurls against a string texture so diaphanous, and made so ambiguous by disjunct harp and piano figures, that it seems less a harmony than a timbre. Then, four scenes later, the chorus stacks up the tones of its savage incantations into clusters of granitic solidity. I believe the drama demanded this textural range. I thought the surging, restless sounds over which Mary Magdalene first sings of the blessedness of erotic love needed to feel drastically different from the hovering sonorities, burgeoning from a single tone, that illuminate the anointment monologue she sings much later in the score. But I spun both textures from comparable triads. Similarly, the two sermon scenes, one baleful, one open-hearted, obviously needed distinct harmonic colors. But both required an immediacy of melodic address, that, precisely because it implied preaching to a multitude, couldn't be further removed from the oblique dissonances, in dry, offbeat accents, with which one character, in private council, excoriates another for betraying a cause in which they both believe.
While that all sounds great in theory, it did nothing to make me care about any of the characters in Adamo's opera. Unfortunately, there are times during many opera performances when a fierce combination of boredom and disinterest leads to bad thoughts.
After listening to Yeshua (Nathan Gunn) repeatedly implore Mary (Sasha Cooke) to "Look at me," I found myself wishing she would shrug her shoulders and sing "Look at me, I'm Sandra Dee." In moments when Adamo's opera failed to exert a dramatic grip on its audience, it became remarkably easy to see Yeshua's mother, Miriam (Maria Kanyova), as the original meddling Jewish mother.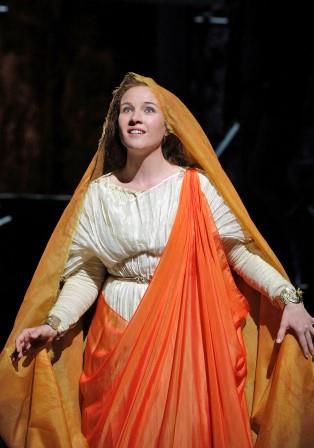 Sasha Cooke as Mary Magdalene (Photo by: Cory Weaver)
Despite the strong work of conductor Michael Christie and costume designer Constance Hoffman, much of Adamo's opera underwhelms. Where it does succeed is in creating a wonderful new role for a mezzo-soprano (a rarity these days) which, when blessed with Sasha Cooke's powerfully expressive voice and radiant performance, can occasionally lift this opera from its doldrums. There is no doubt in my mind that Adamo's second act is a much stronger piece of writing.
Whether or not The Gospel of Mary Magdalene has much of a future remains to be seen. Because the production costs of this world premiere were not shared with any other opera companies (to my knowledge, no performances are scheduled beyond the San Francisco run), I don't expect it to be seen on too many other stages.
However, in May, the San Francisco Opera signed an agreement with Euroarts Music International for television and home DVD distribution of productions that have been recorded in high definition (HD) format. In the meantime, here's the trailer:
Where Adamo's opera fizzles, Andrew Lippa's hour-long oratorio, I Am Harvey Milk, sizzles. This new work (a co-commission with the Atlanta Gay Men's Chorus, Dayton Gay Men's Chorus, Gay Men's Chorus of Los Angeles, Heartland Men's Chorus, Twin Cities Gay Men's Chorus, and Vancouver Men's Chorus) also struts, sasses, soars, and comes close to breaking hearts before reaching the kind of rousing climax ("Tired of the Silence") that brings an audience to its feet roaring with approval.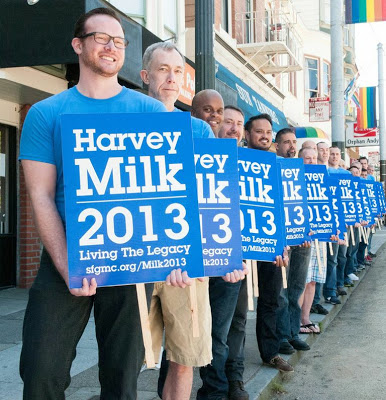 Members of the San Francisco Gay Men's chorus
As most people know, Harvey Milk loved a circus. He would have certainly loved the media circus that took place just prior to this world premiere with the United States Supreme Court invalidating Prop 8 and the Defense of Marriage Act and his beloved City Hall bathed in rainbow lighting. One can rest assured that Harvey would have been thrilled with Andrew Lazarow's timely (almost up-to-the-minute) video and projection design and would have laughed his head off at music director Tim Seelig's hilarious podium speech explaining why there were no toilets available in the newly-refurbished 1600-seat Nourse Theater.

Lippa's 12-movement oratorio begins with young Harvey Milk (Noah Marlowe) as an 11-year-old boy discovering his sexuality while wrestling with a mother (Laura Benanti) who's not exactly sure she wouldn't have better off without having given birth to him. Accompanied by a scratchy recording of Puccini's La Bohème, the opening number ("An Operatic Masterpiece") pays tribute to Harvey's future as a devoted opera queen.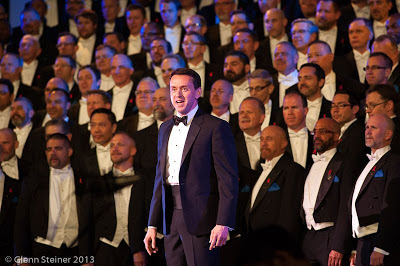 Composer Andrew Lippa performing I Am Harvey Milk with
the San Francisco Gay Men's Chorus (Photo by: Glenn Steiner)
Although Lippa's libretto does not follow Milk's life in chronological order, each movement is headlined "I AM" and devoted to one of the months of Milk's short-lived tenure on the San Francisco Board of Supervisors. Some movements may shock ("I Am The Bullet," "Sticks and Stones") while others capture the growing political momentum of the 1970s and the impetus for Milk's early achievements ("A Decent Society," "Lavender Pen"). No musical number was composed to celebrate Milk's famous piece of "Pooper Scooper" legislation.
Accompanied by the Bay Area Rainbow Symphony (with excellent orchestrations by August Erksmoen), Lippa's score covers a broad range of musical styles from hushed crooning to Benanti's near-operatic solo ("Was I Wrong?"); from the boisterous beat of the disco era ("Friday Night In the Castro") to the full force of several hundred stout-hearted men raising their voices in song. In addition to a poignant tribute to the city of San Francisco, "Thank You, Mrs. Rosenblat" offers a tender nod to the teacher who pushed Milk to study harder.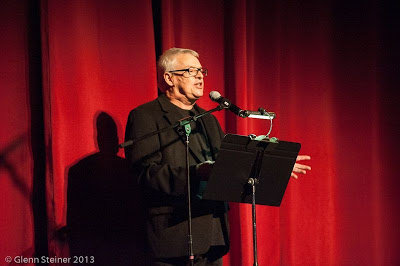 Gay activist Cleve Jones addresses the audience
(Photo by: Glenn Steiner)
Prior to the premiere, Cleve Jones gave a moving speech in which he recalled how, as he held Milk's bleeding body, he was convinced the struggle for gay rights had ended on that horrible morning. With that evening's candlelight march from the Castro District to the steps of City Hall, Jones realized that the LGBT movement had taken on new life.
Lippa's full-blooded performance as the adult Harvey Milk was authentic, deeply moving, and inspiring from start to finish (the composer hopes to be able to perform I Am Harvey Milk in New York City and at The John F. Kennedy Center for the Performing Arts in Washington, D.C. at some point in the future). I have no doubt that this powerful piece of musical theatre will enjoy a long life and be performed in cities all over the world. Here's the trailer:
Calling all HuffPost superfans!
Sign up for membership to become a founding member and help shape HuffPost's next chapter