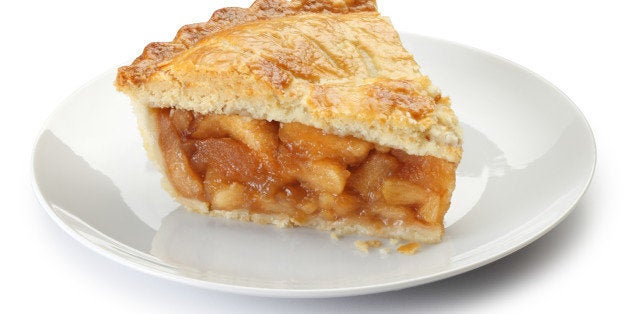 My Dad's mom, "Gramma," came over from Germany when she was very, very little. Although the family left the country, they brought their traditions with them, including recipes and a penchant for cooking enough to feed a small nation. Gramma was always encouraging us to "have some more," something she herself didn't have -- "more" -- growing up in the early part of the 20th century on a Midwestern farm.
"Did you have enough to eat?" was always asked at the end of every meal at Gramma's, and always followed by dessert regardless of your answer. If you were lucky, it was Gramma Pie (also known as homemade apple pie) which was the absolute best as far as us 10 cousins were concerned. Gramma continued to make those pies into her 90s because she knew we all loved her cooking, and that was the way she spoiled all of us. Gramma Pie wrapped us all in a big, comfortable hug from that tiny little woman.
It wasn't until later in my own life that it dawned on me that cooking and baking with love and from scratch was one of her many unspoken ways of saying "I love you."
She never wrote down her recipes -- cooking and baking were second nature to her. But I watched her on several occasions, making those pies. And somehow my young brain etched a general outline into memory, so that years later, after Gramma had died, I was able to create a relatively close facsimile of Gramma Pie. For many years after, I experimented, and one Thanksgiving, I remember my Dad bragging about my pie to other guests gathered at that dinner years ago: "This is as close to her Grandmother's recipe as anyone in the family has been able to get!"
I don't cook or bake nearly as much as my Gramma did. My family is smaller, and I don't enjoy it as much as I believe Gramma did. For her, I think feeding her family as well as she did was a source of great satisfaction and pride for her. And when the question "Did you have enough to eat?" was met with smiles, happy groans, and a chorus of "Yes!" she knew she had taken good care of all of us.
So, I got to thinking about other ways we say "I love you." Even in everyday phrases we use, we say them because we care. Things like:
Where will you be/with whom/what time will you be back?
Do you need anything while I'm out?
And showing our love can come in wrappers other than hugs:
Writing a note on a card where they'll find it first thing.
Washing their car unexpectedly.
Doing their laundry unasked.
Making a donation to their favorite charity in their name.
Buying their favorite movie on DVD and watching it with them(multiple times!)
Sitting by their bedside when they're ill.
Going to a concert/sporting event/lecture/play you know they like, even if you don't (and not complaining even once).
Putting down the electronic device(s) and making eye contact, actively listening.
Calling or texting in the middle of the day just to say "I love you."
Sharing and passing on family traditions.
Regardless of how we all say it, the important thing is that the ones we care for KNOW it.
Calling all HuffPost superfans!
Sign up for membership to become a founding member and help shape HuffPost's next chapter