Playwright Jeff Talbott on his Emotional New Play, The Gravedigger's Lullaby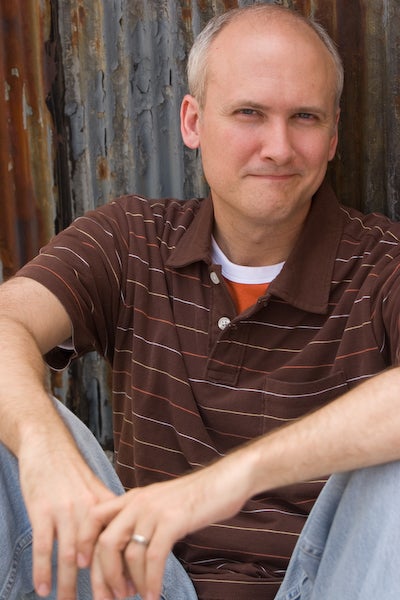 How about this: let's explore a typical assessment of a new play making its Off-Broadway debut. First, you mention the writer's history, how the piece came to be and then how it graduated from draft to reading to workshop and then to that ever-elusive-yet-much-sought-after opportunity to rise to full production. It all ends up nicely shrink-wrapped as a conveniently packaged story that tends to leave out the sturm und drang which is commonplace for birthing a new play. Moreover, there's an expectation that the proclamations made by the play in question need to be boiled down to pithy one-sentence summaries.
Jeff Talbott's new play, The Gravedigger's Lullaby, which is being presented by TACT in New York's Beckett Theatre, makes a myriad of statements about love, marriage, children, friendship and a heartbreaking commentary about poverty. It also serves as an elegy for the occupation of gravedigging, which has since become overtaken by the technological evolution of western civilization.
"It's a profession that's now, because of its implementation, become more of a construction job," Talbott says. "But there was a time where there was a guy with a shovel who would become intimately involved with human beings who he would not ever be involved with in any other way for a very brief and an intense time."

Born in small town Nebraska, Talbott's self-deprecating disposition has served to maintain a strong sense of clarity regarding his call to write plays. His first effort, The Submission, won the inaugural Laurents/Hatcher Award for Best New American Play in 2011 and the NY Outer Critics Circle John Gassner Award for Outstanding New American Play in 2012. It premiered off-Broadway at MCC Theater and has since been performed all over the country.
"I find writing so hard and I never know what's going to get me there," he says. "It's about what I'm feeling emotionally."
According to press notes, Gravedigger is the story of "a working-class man trying to keep food on the table in a world where other people make the rules. There's a baby who can't sleep at home, and plenty of holes to be dug. But a chance encounter with a rich young man may bring the hope of a different life."
Despite extreme polarization, today's political climate has turned the country into a breeding ground for hyper-potent artistic expression. Talbott's play is hardly soapboxing, and while the play was programmed to be part of TACT's 2017-18 season long before the election results had been unveiled, it's hard to watch the play's gut-wrenching 90 minutes without seeing its three impoverished characters as victims in a Trump America and the wealthy one as a representation of the gilded one percent.
"The wealth gap has always been a conversation," Talbott says. "I started writing the play over three years ago."
Because of the overwhelming bevy of opinions being hurled out on television, in print and across social media platforms, a large portion of our country has woken up from the sleepwalking era of the second Bush administration. Audiences are approaching art with a more informed lens. They might have read something on Twitter or watched something on MSNBC. They watched Saturday Night Live or they read an article in the New York Times. Granted, we live in a time of clicktivism and 'Alternative Facts,' so we're hardly on the same page as a culture. News coverage is reduced to crisp soundbites which people can take en masse onto the online battleground. As the national divide swells, vicious invective and ardent protestation have been the order of the day. We might not be asleep anymore, but our circumstances keep us separated.
Talbott, along with director Jenn Thompson, were very aware that the audience's perception of the play would be influenced by the current political climate, but rather than pointing fingers, their inclination is toward starting conversation. Both the rich and poor stumble, and at their core, have wounds from which they are desperate to survive. Audiences will no doubt take their varied opinions of the state of America in 2017, but Talbott is unafraid of that.
Ultimately, while Gravedigger's hero, the hardened and gruff Baylen, is brought low by the threat of ongoing poverty, his rescue comes from surrendering to his own humanity and the love of his family. In the end, perhaps it is for that theme more than any mere political echoing, that audiences should champion Jeff Talbott's effort: love does conquer all.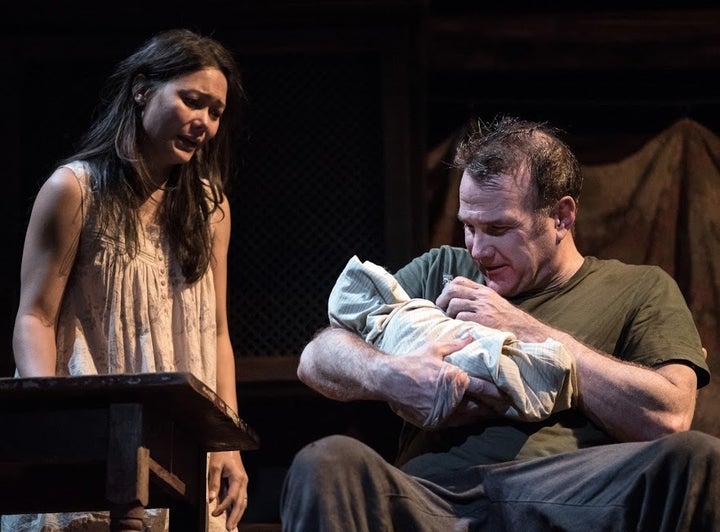 The Gravedigger's Lullaby
directed by Jenn Thompson
February 28 – April 1, 2017
Use code TRGLCM for $44.25 tickets.
Use code TRGLH for $33.25 tickets.
Popular in the Community