One look at a photo of musician Dan Tillery and his newly adopted dog, Diggy, and it's easy to see why the exuberant picture went viral.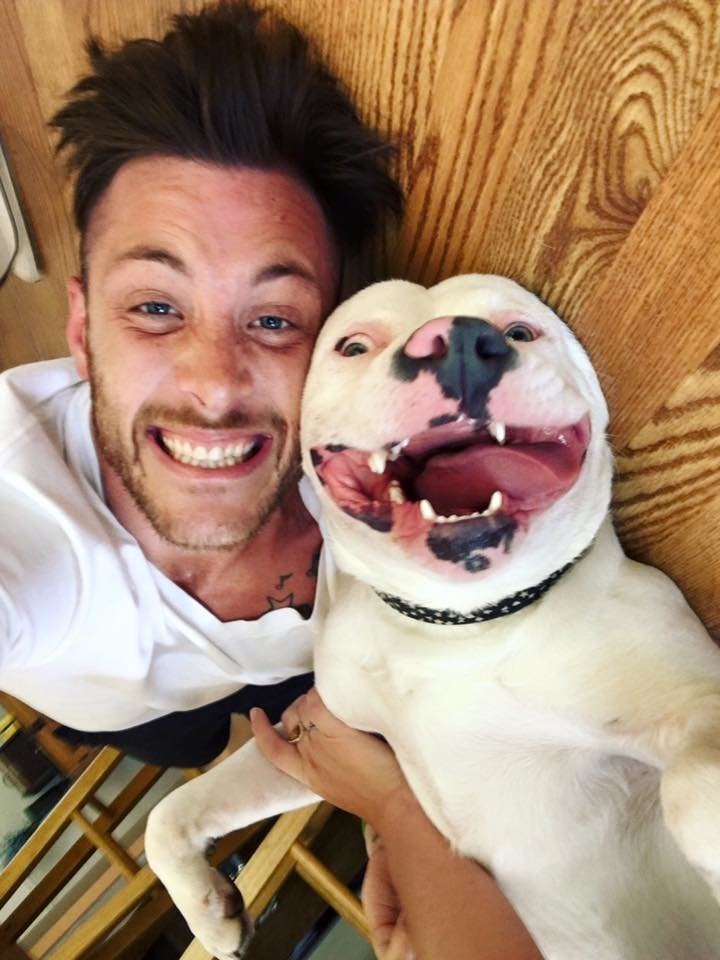 But on Thursday, just four days after Tillery brought his new best friend home, local police showed up at his door, BarkPost reports. Waterford Township, Michigan, where Tillery lives, has a ban on pit bulls. Apparently, some folks who saw the photo thought Diggy looked sufficiently pit bull-like to call the cops.
The officer who responded to the call agreed Diggy seemed like a pit bull, and Dan, fearing that authorities would confiscate his pet, agreed to have Diggy out of his home in three days.
But here's the thing. Diggy is not a pit bull and has the papers to prove it, said Kristina Millman-Rinaldi, executive director of Detroit Dog Rescue, where Tillery adopted the pup.
Waterford Township defines pit bulls as dogs that "substantially conform to the breed standards established by the American Kennel Club" for American pit bull terriers, Staffordshire bull terriers, or American Staffordshire terriers.
But Diggy has papers from a veterinarian identifying him as an American bulldog, Millman-Rinaldi said. And since the rescue obviously didn't want to send a dog to a place where he'd be banned, they even called township officials ahead of time to ask if Diggy would be allowed.
She said officials told them that if a veterinarian determined he was not a pit bull, he'd be fine. And when Tillery collected Diggy, he even got the dog licensed with the township as an American bulldog.
So then what's the problem? A loophole in the town allows police officers to essentially ban any dog they believe to be a pit bull at their personal discretion.
"This is the craziest ordinance you'll ever hear in your life," Millman-Rinaldi said, explaining that it allows a police officer or animal control officer to make a "visual determination" about whether or not a dog is a pit bull.
The Huffington Post was unable to reach anyone at the Waterford Township Police Department who could comment. But Police Chief Scott Underwood told The Oakland Press, "From our standpoint, it's a pretty clear case of an ordinance that makes it clear what's permissible and what's not, and our job is to enforce the ordinance."
"Great dogs like Diggy are the ones that are set up to fail," Millman-Rinaldi said, noting that he passed a temperament test from a certified dog trainer with "flying colors."
If the town goes through with kicking Diggy out, the rescue group will take him back. But neither Tillery nor Detroit Dog Rescue wants to see the pair split up.
"Right now we're waiting to hear back from the township," Millman-Rinaldi said. "I don't want to bash Waterford. I think Waterford is a great place … We can come to an agreement."
Before You Go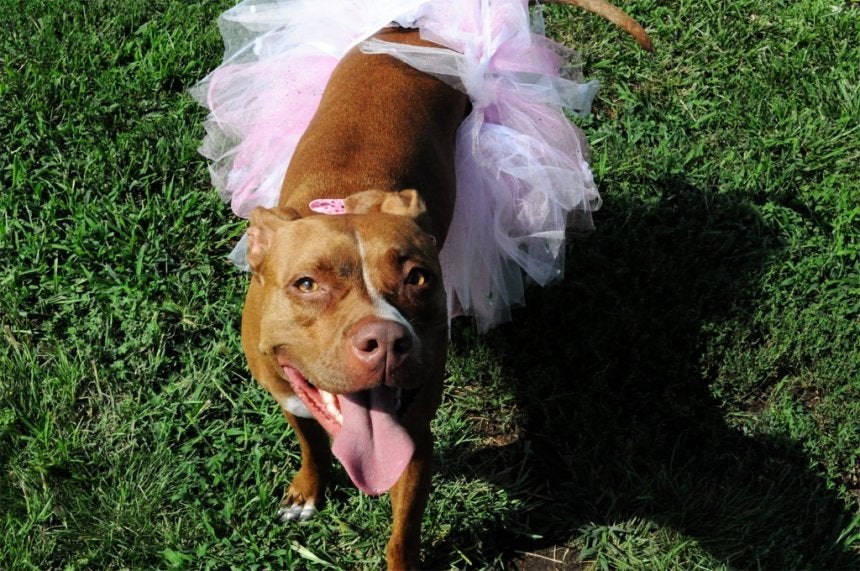 Pit Bulls At Weddings
Popular in the Community