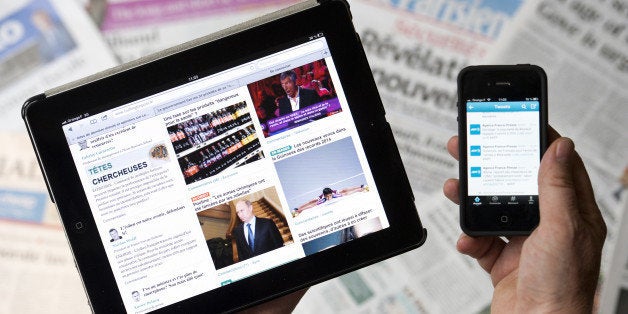 Well, the good news is that marketing agencies are expected to spend a total of $540 billion worldwide on advertising in 2015, led by a 15.7 percent growth in digital media.
The bad news, however, is that advertising dollars in television, newspapers and magazines are either on the decline or showing stunted gains, offering further proof that traditional media may be on its way out.
According to a new report by media agency Carat, TV is still by far the most commanding platform for advertising spending -- making up roughly 42 percent of worldwide expenditures -- but growth is expected to be minimal in 2015 and 2016.
Digital media is now second in line, accounting for nearly 24 percent of advertising spending, while newspapers (12.8 percent) and magazines (6.9 percent) bring up the rear in third and fourth place.
The magazine industry seems to be in the most dire trouble at the moment. Carat predicts that in 2016, advertising in radio could eclipse print magazines for the first time.
The news is only the latest installment in a series of depressing headlines out of print media in recent years. In December, MediaFinder, an online database of publications, reported that while 190 new magazines launched in 2014, 99 also ceased operations, accounting for 43 more closures than the year prior.
Still, with advertising spending expected to rise by 4.6 percent in 2015, there is reason for optimism in the media world as a whole. Digital just seems to be taking the bulk of the credit.
"Carat's latest advertising forecast gives us increased optimism for the outlook for global advertising spending," Jerry Buhlmann, CEO of Dentsu Aegis Network, which owns Carat, said in a statement. "With harder times behind us, negative growth markets are pleasingly now a minority, and collectively we can look ahead to 2016 with positive growth predicted for all key markets."
"The strength of Digital continues to dominate discussions and the new distribution of spending," he continued. "With a quarter of the global population now owning and relying on their smartphones daily, they are our second brain in our hands."
Popular in the Community