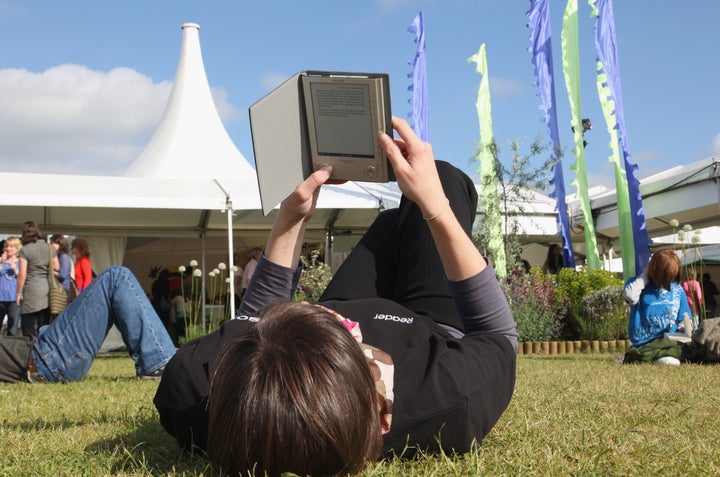 About seven months ago David Nussbaum and Sara Domville of F & W Media approached the publishing industry's top tech guru, Mike Shatzkin, about putting together a new kind of conference on digital change, one that would address immediate business challenges instead of long-term development issues. The result of that conversation, and much intervening effort, is the Digital Book World conference, a two-day affair that launched yesterday (January 26, 2010) at the Sheraton Hotel in midtown Manhattan to a packed audience representing the wide community of publishers and agents.
Introducing the opening session of the first annual Digital Book World DBW conference, was Mike Shatzkin, the fuzzy haired, bespectacled, and high-energy visionary most responsible for pulling together the conference. Shatzkin said he "tried to pack value into every presentation" with a "relentlessly practical focus," and for the most part he--and his speakers and panelists--succeeded.
As most veterans of the industry would affirm, "time honored ways of book publishing are rapidly becoming obsolete," Shatzkin said, and "the biggest publishers are the most challenged" because they are, almost by definition, "the least vertical," while the smaller, more nimble houses are focused on targeted communities of readers.
Mike Shatzkin, the founder of The Idea Logical Company, has been consulting with publishers about the coming digital revolution for decades, long before many of his clients knew what he was going on about. They just knew he was smart and funny and passionate, and were likely hedging their bets, in case he was right--as he's proven to be time and again.
The morning's keynote was delivered by the day's only non-book industry professional: Shiv Singh, Global Social Media Lead for Razorfish, whose presentation addressed "engaging readers in the digital age." At first his clip-on microphone didn't function; "digital audio technology never works," he quipped. Once that technological glitch was overcome his address built from the none-too-revelatory foundation that "social media is exploding" and went on to construct a map of how the publishing industry--moving from "Product Manager Driven" to "Customer Manager Driven" and ultimately to the long-term goal of a "Community Manager Driven model"--can effectively capitalize on the new opportunities and tools afforded by the tectonic shifts that emerging technology is fueling, rather than fearing or avoiding them. By bringing readers into the entire book development process (the concept, the development of the content, spreading the word), instead of simply at the end (as bookbuyers), publishers will build awareness, engagement, interest and even loyalty far beyond what the current workflow process affords. He cited the Huffington Post's ability to change story titles in order to maximize click-throughs as an example of the new tools digital technology offers to help understand what engages the customer and then providing it.
Singh spoke most pointedly about leveraging social influencers at every step of the process, but beyond his discussion of "SavvyAuntie" as a twitterer with 15,000 followers and stating that there are tens of thousands of SavvyAunties (sorry SavvyAuntie), his guidance on the topic of garnering the support of social media influencers like SavvyAuntie was not quite as relentlessly practical as some of us might have hoped. (He ended with a measurement paradigm he created, called "The SIM Score," that boils down to "SIM Score = Conversation Share + Sentiment (adjusted for Influence)", but as someone who can barely recall pi to the fourth digit, let alone basic algorithms from my university days, I'm the wrong person to explain what on earth he was talking about.)

Webs and Clouds
Dominique Raccah, the gregarious and charismatic founder of Sourcebooks, spoke with great excitement about the first 90 days of www.poetryspeaks.com, a site her company launched that currently presents the work of 170 poets and is already viewed in over 100 countries. The community is growing, and they have a smart multi-pronged plan to build engagement, but the long-term revenue model was not as clear as her enthusiasm for the project.
Amanda Edmonds, who I worked with a decade ago at a non-profit company called Random House before she won the professional lottery with a job at Google, spoke eloquently from the Zeusian perspective of the clouds--specifically the benefits to eBook publishing that cloud computing provides for the end user. She pointed out that the siloed world that the plethora of devices and apps and channels and formats available today (and tomorrow) runs contrary to, and is solved by, cloud computing. Her mantra was "buy anywhere, read anywhere." And it's possible that only Google has the reach and capacity to pull off such a vision., and what the hell, it's Google we're talking about, so, as my grandmother was given to say, vy not?
Next up was the morning's most pointed and (I thought) influential--and in some ways terrifying--speaker: Brian Napack, from Macmillan, whose presentation on the rapidly-growing problem of digital book piracy was cogently presented, rigorously informed, and alarming. Macmillan first stumbled upon the problem when a textbook they published, Lehninger's Principles of Biochemistry (which retails for up to $200), experienced a notable increase in adoptions but a shortfall in sales. Scratching the surface they found it widely available in PDF formats for free downloads on a number of sites. Applying a similar search to trade books uncovered some disturbing realities, all confirming a recent Attributor study published this month that found 9 million pirated books downloaded in the past three months--that's not $9 million worth of books, that's 9 million individual books in just three months. They even found a CD of 37 titles by Janet Evanovich for sale on eBay for $10.99. The affable Napack himself was not an alarmist: he stated the facts, and then outlined the seven-point plan that Macmillan has implemented that has thus far been effective in combating the spread of piracy, and called on other publishers to join their efforts in an industrywide initiative to keep books from going the way of music.
Following Napack--not an easy job to begin with--was Steve Walker, from SBS Worldwide, who tried his best to enliven his discussion of transatlantic freight charges for books printed in Asia, but a packed house focused on digital books was probably the wrong venue, as many of us began wondering about lunch.
Are Enough People Reading Books, Digital Or Otherwise, To Keep An Industry Afloat?
During lunch (boxed sandwiches and chips--of the potato, not silicon, variety) Jack McKeown presented some of the findings of Verso Ad Network's extensive 2009 Consumer Book Survey. A significant amount of relevant and at times meaningful demographic information was run by us faster than the side effects in a drug company's ad, but the most pointed "relentlessly practical" seemed to be these salient points: 28% of the US population are "avid readers,", spending 5+ hours a week with a book, and the 65+ age group is twice as avid as those who are 25-34. (I can almost hear the instruction to consult your doctor if you experience a book that lasts more than four hours.) Piracy is a problem among younger readers (duh) that is not likely to go away. Independent booksellers have a great deal of good will among book buyers that they have not effectively capitalized on yet--in demographese that's 22% mind share versus 10% market share. There seems to be greater flexibility in eBook pricing than Amazon would have you believe. There's no near-term tipping point for eRreader adoption.
Bundled books and eContent provide a sweet spot of opportunities for publishers, as does the 65+ demographic in general.
After the lunch each hour held four separate and simultaneous panel discussions covering a variety of topics, but since it would be unfair to discuss only those I attended--and because they were of interest primarily to more focused niche audiences--I'll not address them here, except to say that Wednesday's panels include one at 2:30 on "eBook Challenges: Competing with Free and Getting the Timing Right" which promises to be particularly notable--at least to me, because I'm a panelist.
Related
Popular in the Community