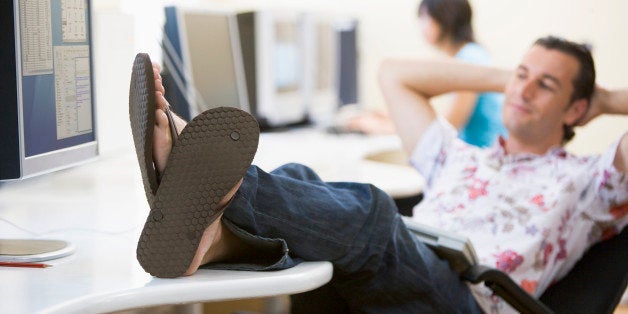 By: Chad Brooks
Published: 08/06/2014 08:25 AM EDT on BusinessNewsDaily
Making sure your employees carve out some time during their day to take a digital break might not have the negative results you may think, new research finds.
Online breaks at work can refresh employees and boost productivity, according to early findings from a University of Cincinnati (UC) study.
The study's authors found that there are three main consequences from online work breaks. The first is that they give workers a quick chance to unwind.
"Employees reported benefits [to] going online to balance their work and personal responsibilities, such as checking on their children," Sung Doo Kim, a doctoral candidate in the UC Carl H. Lindner College of Business and a co-author of the study, said in a statement. "After reassuring themselves about their children, they were better able to focus on their work."
However, the study's authors did find that workers whose jobs required extensive computer time or sitting at a desk for prolonged periods, versus jobs that required a good deal of physical activity or a lot of face-to-face interaction, were less likely to find online breaks rejuvenating.
A second positive result to online breaks is that some employees take the opportunity to learn more about their jobs or careers. Kim said employees going online for industry news or research felt that they were benefitting themselves in their careers.
The third major positive outcome of online work breaks is that employees report greater levels of satisfaction after taking them. Kim said this is perhaps because of the freedom they feel to be able to occasionally check in on their personal life.
There can be too much of a good thing, however. The researchers said that if taken in an undisciplined manner, online breaks could turn into cyberloafing, resulting in an excessive loss of time and productivity.
Kim said the study suggests that employers should consider organizational policies to tap into the positive potential of online work breaks, but also should establish policies that encourage responsible behavior, such as providing limits on the time spent on online breaks, or holding training on effective strategies that bring benefits from online breaks.
The research revealed that there are a number of triggers that lead employees to want to spend time online in a nonwork capacity. Kim said workers often took online work breaks when they reported feeling frazzled from an intense work period, or were physically or emotionally drained and wanted to break up the monotony of their day. Other top reasons workers spend time online during the workday included needing to check on demands at home or with their children, as well as emotional work-related events that triggered anger or frustration.
The study was based on extensive one-on-one interviews about online breaks with 33 professionals from a variety of industries and occupations.
The research, which is being presented at this week's annual meeting of the Academy of Management, was co-authored by Daniele Bologna, a UC doctoral student in psychology; Stacie Furst-Holloway, a UC associate professor of psychology; Elaine Hollensbe, a UC associate professor of management; Suzanne Masterson, a UC associate professor of management and doctoral program director; and Therese Sprinkle, an assistant professor at Quinnipiac University.
Funding for the research was supported by a grant from the Society for Human Resource Management Foundation.
Copyright 2014 BusinessNewsDaily, a TechMediaNetwork company. All rights reserved. This material may not be published, broadcast, rewritten or redistributed. ]]>
Related