Our smartphones and computers are indispensable to our daily lives. The internet provides us with information from around the world and connects us to other people, regardless of time or location.
However, there are many people who suffer from "SNS fatigue." They become anxious if they can't constantly keep up with the words and actions of others via Facebook, Twitter and other social networking platforms, or compulsively respond to a constant stream of incoming text messages.
Against this backdrop of excess connection, one solution that is drawing increasing attention is the concept of the digital detox.
The Ridilover Incorporated Association in Japan conducts a digital detox tour, in which participants relinquish their digital devices and enjoy a nature walk through Kamakura City. I paid the ¥2,900 (about $26.00) tour price and tried it myself.
Sadly, it rained on the day of the tour. The tour group, which included college students, married couples and a few men who joined on their own, assembled at the train station at 9:30 am.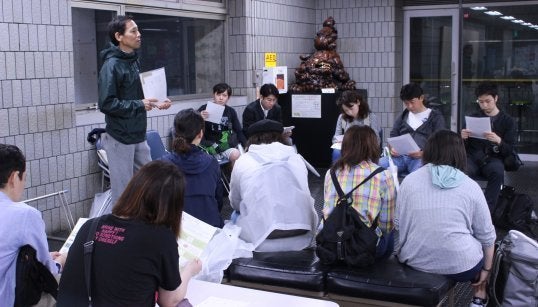 "The aim of this tour is to open up the five senses," said Ko Uji, the tour guide.
Before the tour began, we underwent an important ritual. Hisashi Namerigawa, another tour guide employee, passed a cloth bag around to all the participants and collected their smartphones. Relinquishing your digital devices is a condition of joining the tour.

Now we were finally ready.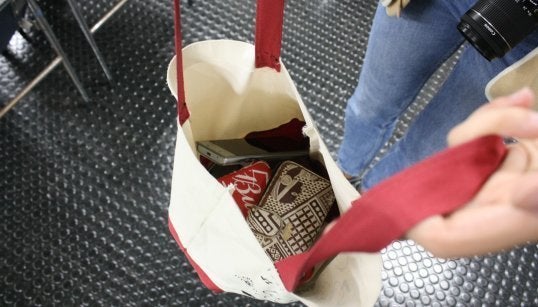 The tour headed east from the station. We entered a quiet residential neighborhood dotted with occasional temples, a far cry from the busier areas that are packed with tourists.
After crossing the impressive vermilion-lacquered Kotohiki Bridge, we headed toward Myohon Temple. This is one of the head temples of Nichiren Buddhism, and "it is also the place where the Hiki Clan, who were vassals of Minamoto No Yoritomo, were defeated by the Hojo Clan," explained Uji.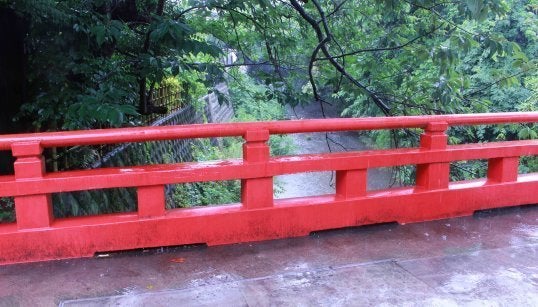 After we climbed the stone steps, we arrived at a group of flower beds full of hydrangea blossoms in front of the temple gate. Normally, when confronted by this "Instagrammable" sight of raindrops on pale blue petals, we would pull out our smartphones and start taking pictures. Prevented from doing so, we concentrated all the more on what was in front of us.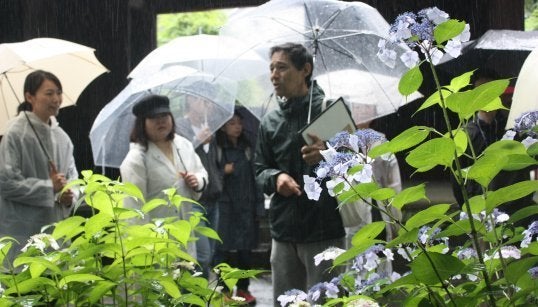 At the temple, we practiced meditation for 10 minutes. Sitting in the corridor beside the main hall, we straightened our backs, crossed our legs and closed our eyes.
"I want you to feel nature's message, and the feel of the air, and the smells," said Uji.
I listened to the chirping cuckoo birds and the singing frogs, which were audible in the brief moments of quiet between gusts of rain. These few minutes, which would have flashed by in an instant if I was using a smartphone, seemed to pass at a slower pace.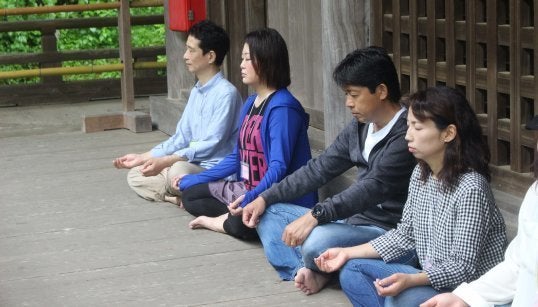 The original plan had been to hike Mount Gion, which towers over Myohonji Temple, but this part of the tour was canceled because of the weather. After walking around Joei Temple, we toured a market in the city where we saw shelves full of vegetables and bread. Here, Uji gave us a mission.
We were handed a map and told that we should go to a specific place on the map. I joined two men, who were also on their own, and we tried to reach our destination together.
Normally, this would be a matter of nothing more than putting the destination into Google Maps and following the directions. But without a smartphone, it suddenly became a much more involved task. The location didn't show up on a map, and the first thing we needed to do was to figure out where it was.
I have no sense of direction, and felt nothing but anxiety at the idea of heading to an unfamiliar place without the aid of a smartphone. This made me realize how thoroughly immersed I am in technology and digital devices.
We eventually reached our destination. Even though it was a small achievement, all the trouble it had taken to get there made me happy.
Once there, we composed haiku poems, drew pictures on a large length of cloth and looked back on our digital detox experience.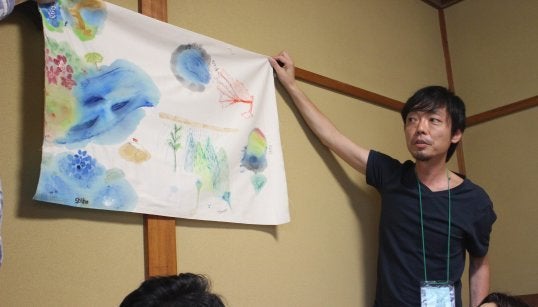 One of the college students on the tour composed the poem, "Surreptitiously / technology / invades us." After she read it aloud, her friend that came along with her gave her thoughts on the day: "[My parents] tell me I use my phone too much," she said, "and although I didn't think I was dependent on it, today, when I dropped it off, I realized they were right."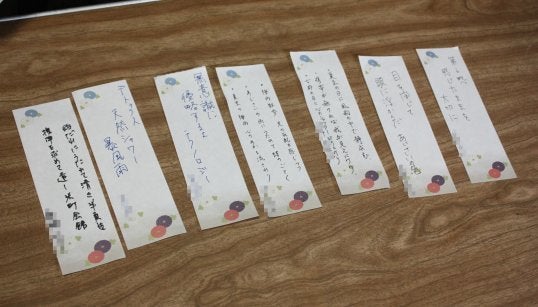 The tour ended at around 3 p.m. It seemed that these few hours of "detox" had taught all of us how to better interact without smartphones.
I returned to my smartphone for the first time in six hours. Feeling unwilling to look at it immediately, I waited until partway through the train ride home to turn it on. The several messages I had gotten on LINE (a chat app used in Japan) were all from various companies.
The chat app I use for my job had enough messages on it to make me want to cover my eyes. "I need to value my own time," I said to myself, and quietly turned off my smartphone.
The Digital Detox Tours began about six years ago. "Our over-reliance on convenience puts other important things at risk," Uji explained. "I wanted to get people out in nature to feel the joy of human connection and understand the reward of inconvenient tasks."
This was his motivation for launching the program. Uji doesn't own a cell phone.
"I think digital devices are fast and efficient, and are good in the business context and in other situations where they are really necessary," he said. "But people have gone beyond this level of use, and are becoming dependent on their devices. There needs to be a conscious effort to change."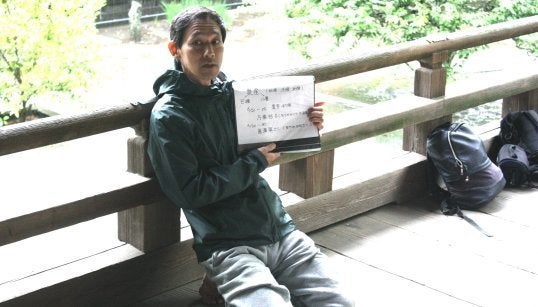 By challenging participants to distance themselves from their smartphones, Uji hopes to use the tour to encourage people to cherish the time spent face-to-face with themselves.
"Being conscious of your own breathing is about recognizing that you are alive. In a world where people are always turning on the TV or using their smartphones, there is no time left for quietly emptying your mind. I want people to remember how valuable that kind of time can be," he said.
At the same time, he uses ploys in his tours, such as the assignment of a "mission," to encourage people to interact with each other. He advocates for such face-to-face interaction as one solution to smartphone dependence.
"I think a lack of face-to-face conversation and warm, comfortable interpersonal relationships can lead to a dependence on smartphones as a method of achieving connection," he said. "That makes it even more difficult to interact with people out in the world and creates a vicious cycle. I wish people would differentiate more clearly between times when it is more appropriate to communicate over email or in person."
Even though at first, getting away from my smartphone made me incredibly uncomfortable, eventually I felt liberated from a version of myself that had sought to fill every spare moment with my smartphone. In the end, regaining the ability to just take in the scenery, or to spend time not really thinking about anything, turned out to be a very pleasant experience.