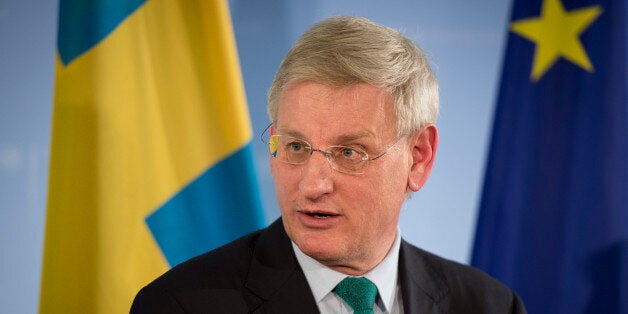 Digital diplomacy has been redefining itself since its inception. It has evolved from 140 characters to a myriad of opportunities embedded in the very nature of the digital era, from crowdsourcing to big data. While we have not yet outgrown Twitter and Facebook -- still key ingredients for any government's digital strategy -- foreign policy is fast moving towards more innovative ways to change its elitist undertones and become a truly participatory, collaborative forum.
We all agree -- although to different extents -- that in a hyperconnected, networked, super-speed, media-centric, volatile world, conventional diplomacy alone is not sufficient, and new ideas are needed to better tackle the challenges we are facing. Technology is certainly a factor in what will come ahead, but innovation has to lead our efforts.
A new innovative hub is shaping up in Stockholm, where Swedish Foreign Minister Carl Bildt has grouped diplomats and digital diplomacy practitioners from all over the globe to work together with some of the best minds from academia and research, business and the media, to produce concrete, feasible solutions for the diplomacy of the future: it's the Stockholm Initiative for Digital Diplomacy, coming up January 16-17.
"By bringing together an international group of people at the forefront of digital diplomacy in Stockholm, we hope to pave the way for stronger networks and new methods for the diplomacy of the future," Carl Bildt told me. "The idea is to further investigate the implications for future diplomacy of a growing culture of digital participation, and to look into what will be required of the diplomats of tomorrow. (Nobody has the answers yet, but it will certainly involve collaboration and learning from each other)."
In the past 10 years, digital diplomacy has gone through many transformations, names, tools, phases, and crisis. From a small task force incubated in 2002 by then U.S. Secretary of State Colin Powell to what his successor Condoleezza Rice championed as "Transformational diplomacy," to the era of Diplomacy 2.0 -- as some have illustrated -- with Hillary Clinton and Alec Ross's "21st Century Statecraft." Inside and outside Washington, digital diplomacy has expanded into very effective programs, involving new partners, regional and non-state actors, and the public as well. This is what British Ambassador to Lebanon Tom Fletcher calls "Naked Diplomacy;" what Philip Seib of the University of Southern California's Center on Public Diplomacy brands as "Real-Time Diplomacy."
Is Stockholm the next 3.0 step in digital diplomacy? It's hard to say, as digital diplomacy is still deeply rooted in social media.
In the Swedish capital, Bildt has envisioned a start-up environment aimed at crafting a more collaborative diplomacy around technology, tools, best practices, experiences and ideas. The aim is to look beyond social media, but not away from social media tools. It's a creative, stimulating environment built around DiploHack sessions and TEDx talks.
"By using the tools of digital diplomacy, we can reach out to people in a fast and efficient manner, particularly in consular matters," Bildt said. "In this dramatic and dynamic world, we can also receive information from those in the know and eye-witness reports that we wouldn't otherwise get."
DiploHack combines the specific know-how and skill sets of diplomats, tech developers and designers, along with that of journalists, academics, NGOs, businesses and social entrepreneurs to "hack" traditional diplomatic problems in start-up style groups. It is a way to explore the mutual added value for diplomacy and technology on one hand and, through a truly collaborative process, create technology-driven solutions to traditional diplomatic challenges.
The hack environment, presentations and case studies will complement the two-day event, alongside a special TEDx titled "The New Diplomacy."
"We live in a time of change, where we see nations closing themselves off and nationalism growing stronger," stated the organizers of TEDxStockholmSalon, hosted during the Stockholm Initiative for Digital Diplomacy. "And this despite the lesson from history that, in times like these, what we really need is more initiatives with the prefix pan-, inter- or uni-. But there is hope."
Bildt, who will personally take part in the Stockholm Initiative on Digital Diplomacy, said the world today needs modern diplomats: "We are continuously modernizing and improving our Foreign Service, and a modern Foreign Service must be ready to meet people in the arenas where they are present."
Related
Popular in the Community