While the vast majority of Americans now have access to the Internet and mobile devices, regional and economic disparities persist for wired broadband access in the largest 100 American cities.
That was the conclusion of a report on broadband access published last week by researchers at the Brookings Institute, a D.C.-based think tank.
"The American economy has gone digital," Adie Tomer, a fellow at the Metropolitan Policy Program, and Joseph Kane, a research assistant, wrote in the report. "Yet, the rapid transition to online content and services comes at a price. Buying cheaper goods directly from wholesalers, immediately accessing government services, and finding employment opportunities are increasingly only available to those who have an online connection."

Here are the four quick takeaways from Brookings' research on the digital divides that remain and what to do about them.
1) Internet adoption remains closely tied to education and income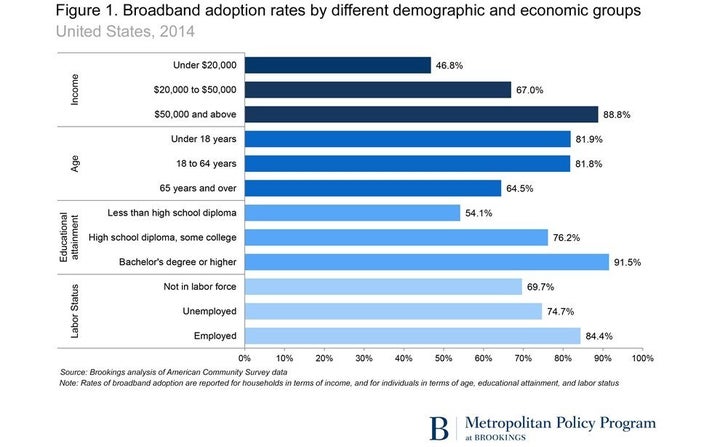 In 2014, 75 percent of American households had a broadband Internet subscription. That was true, however, of only 46.8 percent of households with incomes under $20,000 and for 54.1 percent of individuals with less than a high diploma. Digital divides persist across age and race, and for people with disabilities.
2) Broadband adoption varies across major cities, particularly across the South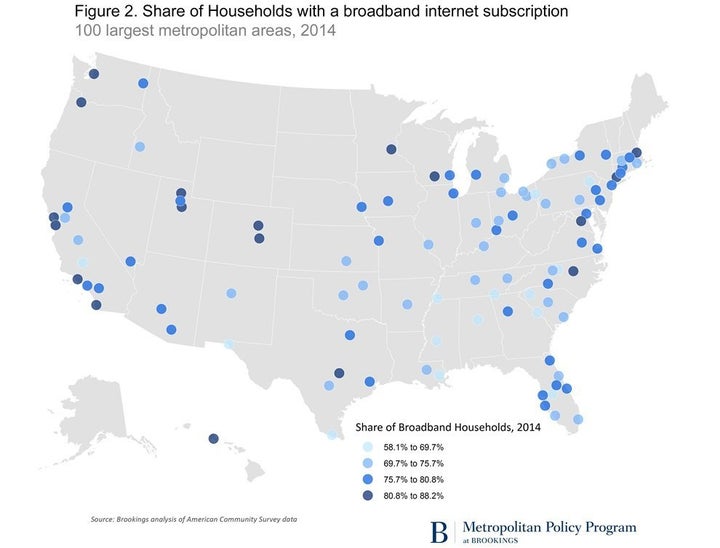 There is uneven service quality as well as differing rates of household adoption of broadband Internet use across the United States, with high penetration in the hubs of the tech industry, like Silicon Valley, Boston and Seattle, and low penetration across the South. The researchers noted that differences in price and speed limit growth opportunities for online entrepreneurs and industry. While access to food, water, power and heat remain paramount, online access is also critical.
3) San Jose, California, is the most wired. Laredo, Texas is the least.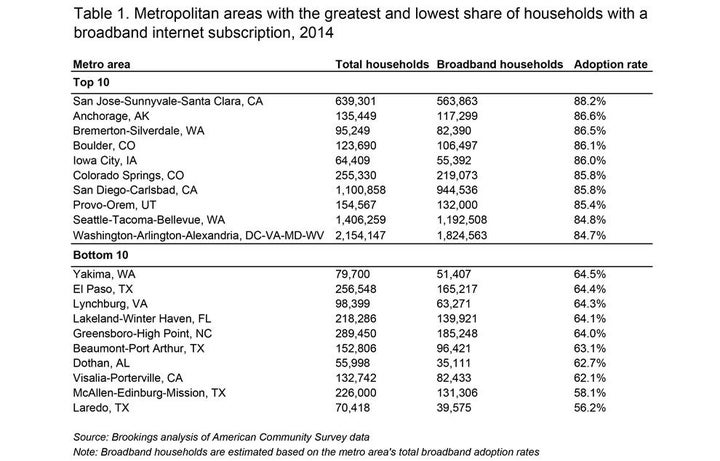 The researchers found that San Jose California has the most households that adopted broadband in the U.S. (88.2 percent). Laredo, Texas, has the lowest (56.2 percent).
Overall, there are two cities from California and two from Colorado in the top 10 most wired cities. There are 4 medium-sized cities from Texas in the bottom 10. Each of those cities, in fact, have household subscription rates comparable to rural areas in the Lone Star State.
According to research from Connected Texas, a nonprofit that tracks broadband access, 97 percent of Texans now have access to broadband Internet over mobile connections, but many are still not using it.
4) Increases in telecommuting drive broadband adoption more than any other factor measured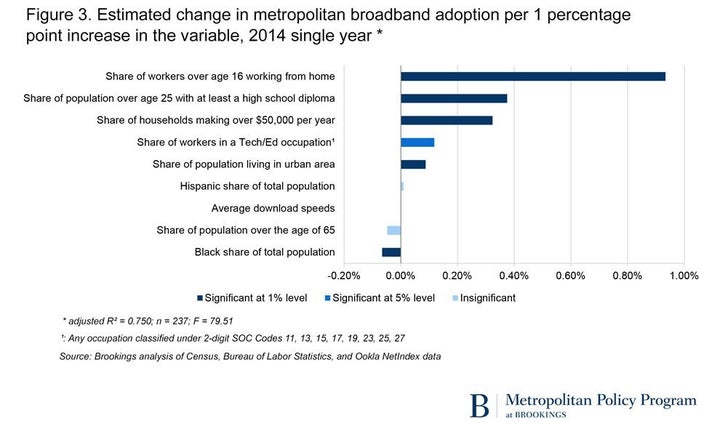 The researchers found that the percentage of adults working from home had the strongest correlation with household broadband adoption, followed by income and education. That makes sense: If you need Internet access to do your work, broadband is essential.
To address these disparities, the Brookings researchers recommended the following policies for federal, state and city officials:
Prioritizing targeted income assistance programs like the Lifeline program and ConnectHome to help close the "homework gap" for students who do not have Internet access at home to do research or collaborate on assignments.

Expanding digital skills curricula to help people make the most of that subsidized Internet access.

Investing E-Rate funds in libraries to serve as expanded hubs for public Internet access and training centers.

Forming public-private partnerships with local Internet service providers to work towards all of these goals.
If you're interested in a robust discussion of disparities in broadband access in cities -- and what could be done about it -- I moderated a panel of elected city officials and an equal opportunity advocate at a forum at Brookings last week.
We were preceded by Senator Cory Booker, who spoke about the impact of the digital divide on Americans.
"Imprisonment of the mind is as much a sin as imprisonment of the body," he said. "We must free people limited by the lack of Internet access."
Video of the entire event is embedded below. You can read a recap over at the Brookings' blog.
Correction: This article originally stated 54.1 percent of individuals with less than a college degree had a subscription for broadband Internet access. This statistic applies to people with less than a high school diploma.
Related
Popular in the Community